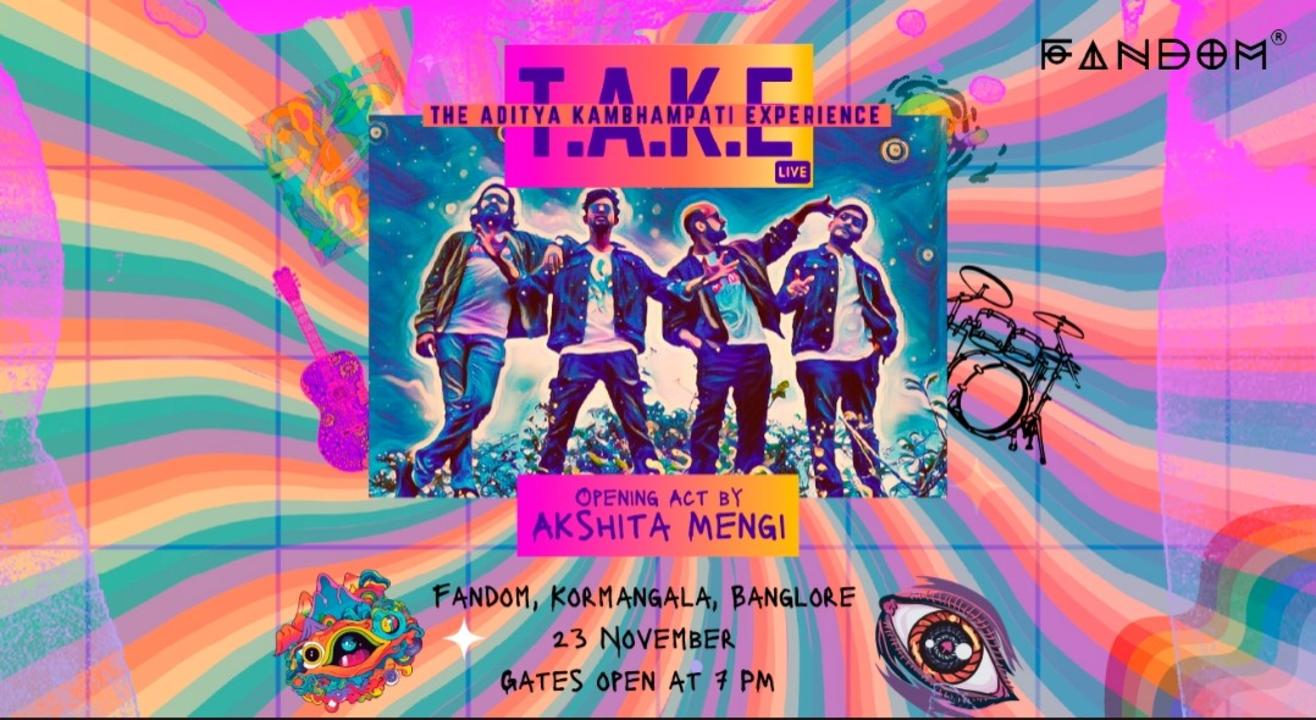 T.A.K.E - The Aditya Kambhampati Experience
Fandom at Gilly's Redefined, Bengaluru
Event Guide
Live Performance
Enjoy a unique experience
Invite your friends
and enjoy a shared experience
T.A.K.E - The Aditya Kambhampati Experience
Fandom at Gilly's Redefined, Bengaluru
Event Guide
Live Performance
Enjoy a unique experience
Invite your friends
and enjoy a shared experience
Event Guide
Live Performance
Enjoy a unique experience
Invite your friends
and enjoy a shared experience
Aditya Kambhampati is a Mumbai based singer, songwriter and producer. His songs talk about personal and random musings, relatable feelings, simpler thoughts and he tries to decode them using metaphors of life. Since releasing his debut EP in 2020 called "The Green Room Project", he has received only rave reviews by the most reputed music publicists like Rolling Stone India, Rock Street Journal and The Indian Music Diaries.
Most of Aditya's music has entered top editorial playlists on all the top audio streaming platforms like Apple music, Spotify, Amazon music etc and he has been featured on Red FM's Indie Special show called "Red Indies" multiple times.
Kambhampati, who has now released over 15 original indie songs has garnered decent fuel and listenership in a span of 4 years considering all of his music was released purely independently. His songs have raked over 1.5 Lac streams on all audio platforms and have been heard in over 50
Countries.
With the live act which goes by the name "The Aditya Kambhampati Experience", they aim at providing a mixed bag of good ol' Rock with a tinge of modern day melancholic Pop-Songwriter vibes. With this varied set of sensibilities, their live acts usually resonate a never seen before
soundscape and experience.
Come, T.A.K.E The Aditya Kambhampati Experience. It'll be epic, we promise!
Listen to Aditya Kambhampati
Fandom at Gilly's Redefined
1st floor of Gillys redefined,# 413, 100 Feet Road,, 4th Block, Koramangala, KHB Block Koramangala, Koramangala 4-B Block, 5th Block, Koramangala, Bengaluru, Karnataka 560034, India
GET DIRECTIONS
T.A.K.E - The Aditya Kambhampati Experience
Fandom at Gilly's Redefined, Bengaluru
Event Guide
Live Performance
Enjoy a unique experience
Invite your friends
and enjoy a shared experience