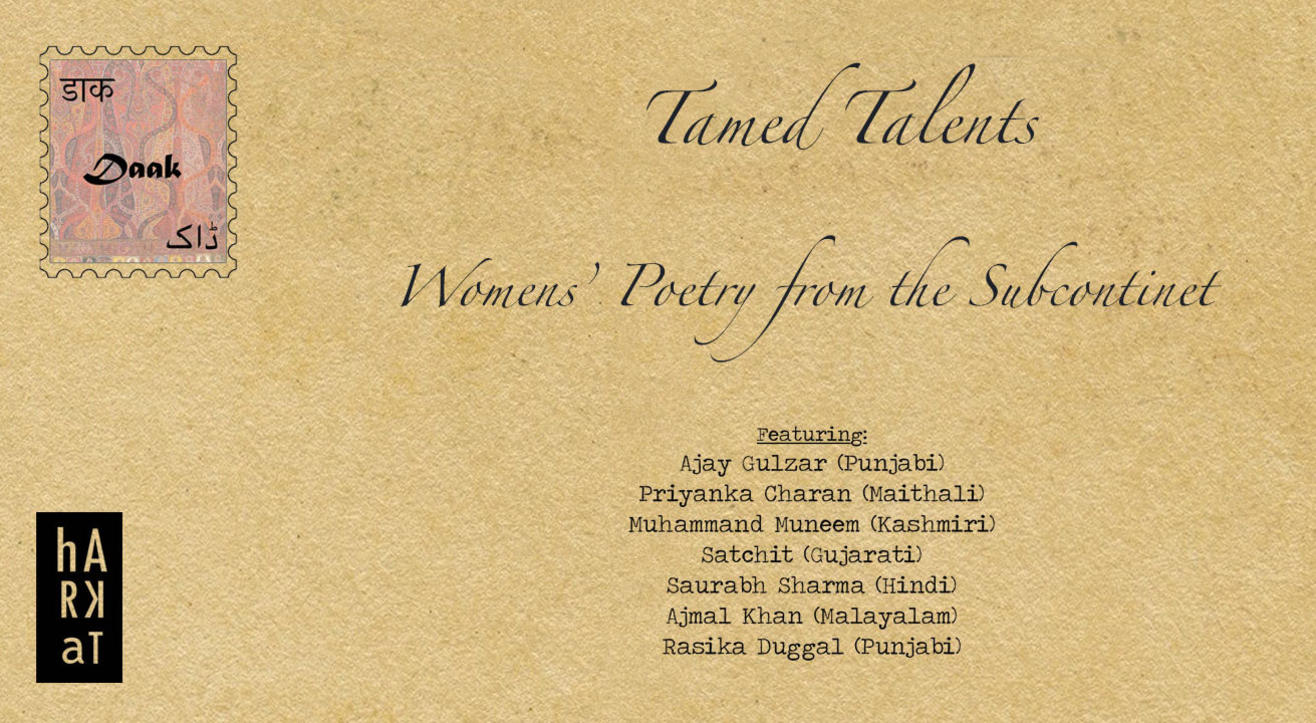 Poetry
Tamed Talents - Women's poetry from across the subcontinent
Harkat Studios, Versova, Mumbai
About
Daak is bringing together a curated evening of poetry readings in 6 South Asian regional languages.


The poems will selectively feature women poets of South Asia who wrote in languages of the subcontinent; their themes ranging from love, to inequality from patriarchy to the beauty of nature. Come together for a special evening that transcends time, space and culture and find yourself surrounded by words and feelings, all very peculiar but at the same time, very familiar. Contemporary actors, artists and musicians come together to create a performance of poetry that forges listening and conversation.


Daak is on a mission to read great works of poetry in a number of sub-continental languages. To do this together, they plan to bring together fellow lovers of literature for intimate evenings full of poetry in different languages. They read the poem in the original language to begin with, and right after, a translation in English. This is a great way to discover poetry in these tongues so familiar in everyday yet very alien at the same time. Kamala Das once said, "like other women writers of my class, I am expected to tame my talent to suit the comfort of my family." These feature some of the same tame women.


Punjabi – Ajay Gulzar

Bhojpuri/Maithili – Priyanka Charam

Kashmiri – Muhammand Muneem

Gujarati – Satchit

Malayalam – Ajmal Khan

Hindi – Saurabh

Punjabi/Hindi– Rasika Duggal.
Rasika Dugal
Language: Punjabi
Rasika is Bollywood actor, best known for her performance in the films 'Kshay' and 'Qissa'. As the radiant Neeli in Qissa and as Kshay's Chaaya, the housewife on a downward spiral, Rasika's performance has wowed audiences and critics at international festivals and in India.
A graduate of the Acting course at the Film and Television Institute of India, Rasika started her career with cameos in 'Tahaan' directed by Santosh Sivan, 'No Smoking' directed by Anurag Kashyup and Anwar directed by Manish Jha and then went on to play a pivotal role in 'Agyaat' directed by Ram Gopal Varma.
In Television, Rasika has been part of unconventional TV shows like 'Powder' and 'Kismat' produced by YRF and most recently, a historical detective series titled 'Dariba Diaries'.
Her versatility as an actor comes across in the varied roles she has played on stage. Best known for her performance as a boisterous sex worker in 'The Vagina Monologues', she also performs in a popular theatrical production, 'Bombay Talkies'. She is a storyteller with 'Dastangoi: An art of storytelling' in Urdu and an improviser with the troupe 'Improv Comedy Mumbai'.

Saurabh Sharma
Language: Hindi
Saurabh Sharma calls himself an RJ By Choice, Vocalist at Heart & Kahanibaaz by Birth. An award-winning media personality, he has won multiple recognitions for his humor and human interest stories both nationally and internationally.

Mohammad Muneem Nazir
Language: Kashmiri
Born 1983- raised in Srinagar, Kashmir, Mohammad Muneem Nazir, is a poet singer-songwriter and co-founder of the live act, Alif, (www.wordsofalif.com) a unique fusion of contemporary Urdu & Kashmiri music and poetry.

Alif's poignant and lyrical compositions are known for their colloquial references of society. Winner of IRAA Award for the single "Like a Sufi", Mohammad Muneem also teaches Urdu Poetry at Symbiosis College of Arts and Commerce and is co-founder of www.muziclub.com, a music training services company. Mohammad Muneem is also a storyteller and part theatre group Rangshila. An adept film-maker and scriptwriter, he conceptualizes and directs Alif's videos and is currently working on a music for an upcoming film starring Sanjay Dutt called Torbaaz, for which he has been commissioned to write dialogues too.

Priyanka Charan
Language: Maithili
A former corporate banker & consultant, Priyanka is now an actor, writer, trainer, theatre maker. She has written, produced, directed and/ or acted in over 20 productions and is training in clowning & mime, working with Rupesh Tillu in collaboration with Clowns Without Borders, Sweden. She Recently wrote and toured with a theatre piece on breast cancer titled 'Turmali'.
She is also, singing and performing with Sunil Shanbag in a theatre production on political dissent, "Words Have Been Uttered". She has acted in and composed/ co written her first song for a Hindi independent feature film, yet to be released, tentatively titled Murder on the road to Kathmandu (led by Atul Kulkarni ). Priyanka also works as a trainer with children across social strata, using theatre, story telling and other methods as a tool.

Ajmal Khan
Language: Malayalam
Ajmal Khan A.T is a bilingual writer who writes in English and Malayalam, his mother tongue. His English poetry collection My Tolerant Nation is published (forthcoming) by Wings & Roots 2017 and Malayalam one line story collection Museebat (2017) published by Monsoon books Mumbai. His poems have featured in Muse India, Bangalore Review, Peeking Cat Poetry Magazine, Tump Print Magazine, Beyond the Rainbow literary magazine, Café Dissenssus Magazine and the Sunflower collective amongst others. His poems have appeared in anthologies including GOSSAMER - An anthology of contemporary world poetry by Kindle Magazine.

Satchit Puranik
Language: Gujarati
Satchit Puranik is an actor and editor, known for Breakdown (2013), Ship of Theseus (2012) and Court (2014).

Ajay Gulzar
Language: Punjabi

Harkat is an international boutique arts studio with a passion for film, new media, community art spaces and contemporary art. Based in Mumbai & Berlin, Harkat takes many forms and identities across disciplines & related creative industries. As an alternative performance & arts space, they have hosted more than 150 shows in the past year in the mediums of theatre, film, music, community projects & contemporary art. Harkat supports the new, unheard, upcoming, exciting, cutting edge, the political, the forgotten, nostalgic, melancholic, soul stirring, the beautiful & more. And that's what Harkat is. Harkat.
Venue
Harkat Studios, Versova, Mumbai
Bungalow No. 75, JP Road, Aram Nagar Part 2, Machlimar, Versova, Andheri West, Mumbai, Maharashtra 400061, India