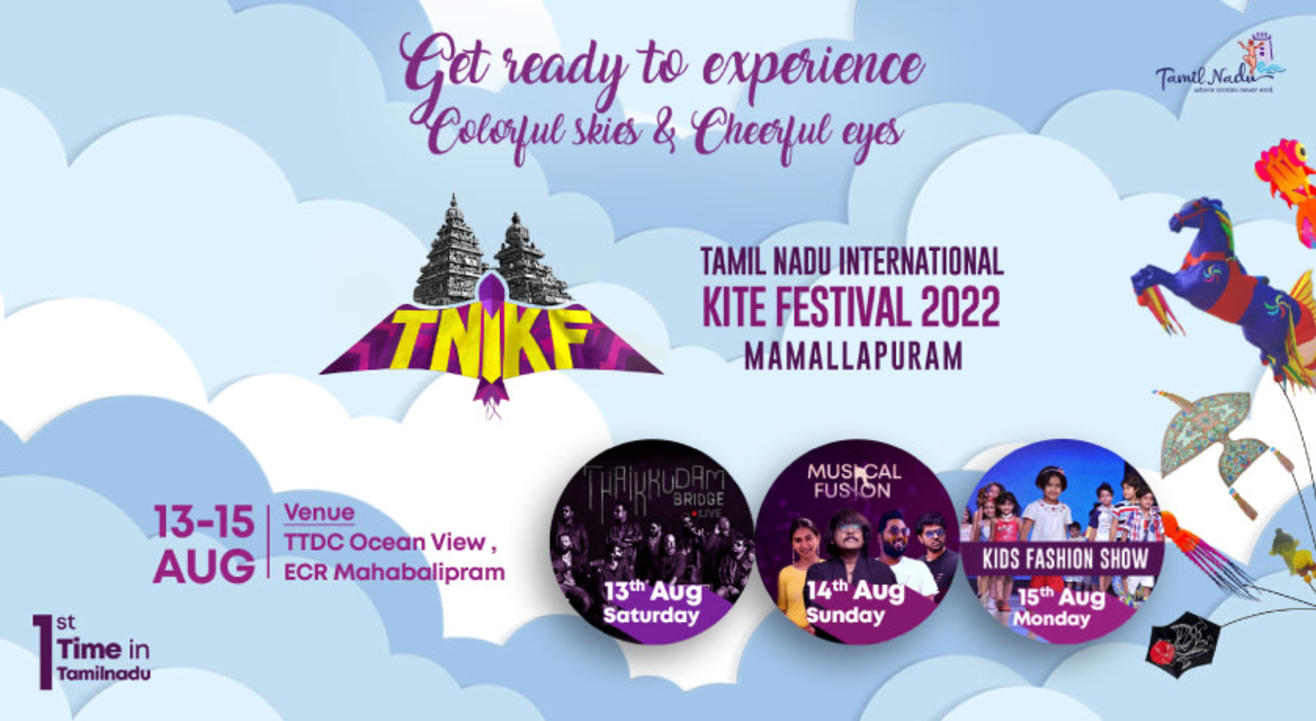 Tamilnadu International Kite Festival
Aug 13th, 14th, 15th From 12:00 PM To 9:30 PM
TTDC Ocean View ECR, Mahabalipuram
Step out and enjoy this event
Event Guide
For Age(s)
Family Friendly
Invite your friends
and enjoy a shared experience
Tamilnadu International Kite Festival
Aug 13th, 14th, 15th From 12:00 PM To 9:30 PM
TTDC Ocean View ECR, Mahabalipuram
Step out and enjoy this event
Event Guide
For Age(s)
Family Friendly
Invite your friends
and enjoy a shared experience
Event Guide
For Age(s)
Family Friendly
Invite your friends
and enjoy a shared experience
First Tamil Nadu International Kite festival (TNIKF) is organised by Global Media Box with support of the Department of Tourism Tamil Nadu scheduled from 13 - 15 August 2022 at TTDC Ocean View Mahabalipuram. During this 3 days festival, kites will be flown by professional kite flyers , some of which are domestic and some who have travelled internationally for this exciting event. At this first edition of TNIKF you will find all different types of kites, all beautiful and unique and some that have been handcrafted especially for the event. Flyers from Thailand, USA, Malaysia and India will be part of TNIKF's first edition. Visitors may also like to attend a demonstration of hand designed kites from Malaysia and Thailand.
Throughout the festival, there are also a variety of events planned aside from kite flying , Experience the Music Concert by Thaikkudam Bridge , Musical Fusion by on the Beach front Venue , children's activities, face painting and all-day-long Food Carnival , entertainment program on the main stage which will make TNIKF as one of the most exciting annual calendar event in coming years.
Events Schedule
13 Aug - Saturday 12 noon onwards - 9pm
Kite , Music Concert , Food , Kids Carnival
Music Band : Thaikkudam Bridge (6pm onwards)
14 Aug - Sunday 12 noon onwards - 9 pm
Kite , Music Concert , Food , Kids Carnival
Music Fusion (6pm onwards ) : An instrumental performance by the Veena Virtuoso Kalaimamani Shri. Rajhesh Vaidhya for 90 minutes accompanied by the band. Followed by a power packed Vocal based band performance featuring Singers Nithyashree, Anand Aravindakshan and Diwarkar.
15 Aug - Monday 12 Noon onwards - 8 pm
Kite , Music Concert , Food , Kids Carnival
Special Kids Talent Show by Alt
1."ENTRY PASS" is valid for the full carnival zone except for VIP Seating Area for Music Concert, Only GOLD SILVER or VIP have Seating.
2. Food, Beverages, Games, and VIP seating are not Eligible for this entry pass (Rs.150 / Rs.200).
3. Each day passes needed to be purchased separately
4. Entry passes, VIP, GOLD, SILVER Passes are non-refundable / non-transferable
5. Carnival Entry Opens from 12 Noon all days 13-15 Aug, Carnival Closes by 9:30 PM (21:30). Music Concert starts at 6:00 pm onwards
6. The Organizer reserves the right without refund or compensation to refuse admission to any persons whose conduct is disorderly or unbecoming.
7. The Promoter may add, withdraw or substitute artistes and/or vary advertised programs, event times, seating arrangements, and audience capacity without prior notice.
8. The Organizer may use the visitor's image or likeness in any live or recorded video display, photograph, or picture from the Carnival Venue.
9. The Organizer may postpone, cancel, interrupt or stop the event due to adverse weather, dangerous situations, or any other causes beyond their reasonable control.
10. The Pass Holder agrees to cooperate and do a security check for any prohibited items including but not limited to weapons, controlled, dangerous and illegal substances, and recording devices.
11. Timing for Kite Flying / Kite Shows may vary according to Wind Conditions and Weather Permitting. If Rain / Bad Weather Kites will be made for Ground Display.
Frequently Asked Questions:
Event Venue?
TTDC OCEAN VIEW, East Coast Road, Mahabalipuram
Entry Cost
Entry for Kids - FREE (up-to 12years old)
Adult Entry pass Early Bird Online Rs.150
Each day passes needed to be purchased separately
Entry passes , VIP Passes are non-refundable / non-transferable
Can we Bring our Kites ? Or Fly our Kites ?
NO ; Its Spectator show , Kite show done by Professional Kite Flyers
What time can we see Kites Flying ?
Weather permitting Kite will be Floating in Air from 12 noon onwards until Sunset all days
Kites cannot be Flown in Rain / Bad Weather .
What are the Events Scheduled ?
13th Aug - Kites + Music Concert -Thaaikuam Bridge + Food + Kids Carnival
14th Aug - Kites + Tamil Music Fusion By Super Singer Band) + Food + Kids Carnival
15th Aug - Kites + Music + Kids Fashion Show + Food + Kids Carnival
Entry Pass Includes?
Entry Pass allows you to access zones
(Kite show , Food Court , Kids Carnival , Music Concert General Area)
Expect VIP zone for the Music Concert.
TTDC Ocean View ECR
1, SH 49, Mahabalipuram, Tamil Nadu 603104, India
GET DIRECTIONS
Tamilnadu International Kite Festival
Aug 13th, 14th, 15th From 12:00 PM To 9:30 PM
TTDC Ocean View ECR, Mahabalipuram
Step out and enjoy this event
Event Guide
For Age(s)
Family Friendly
Invite your friends
and enjoy a shared experience