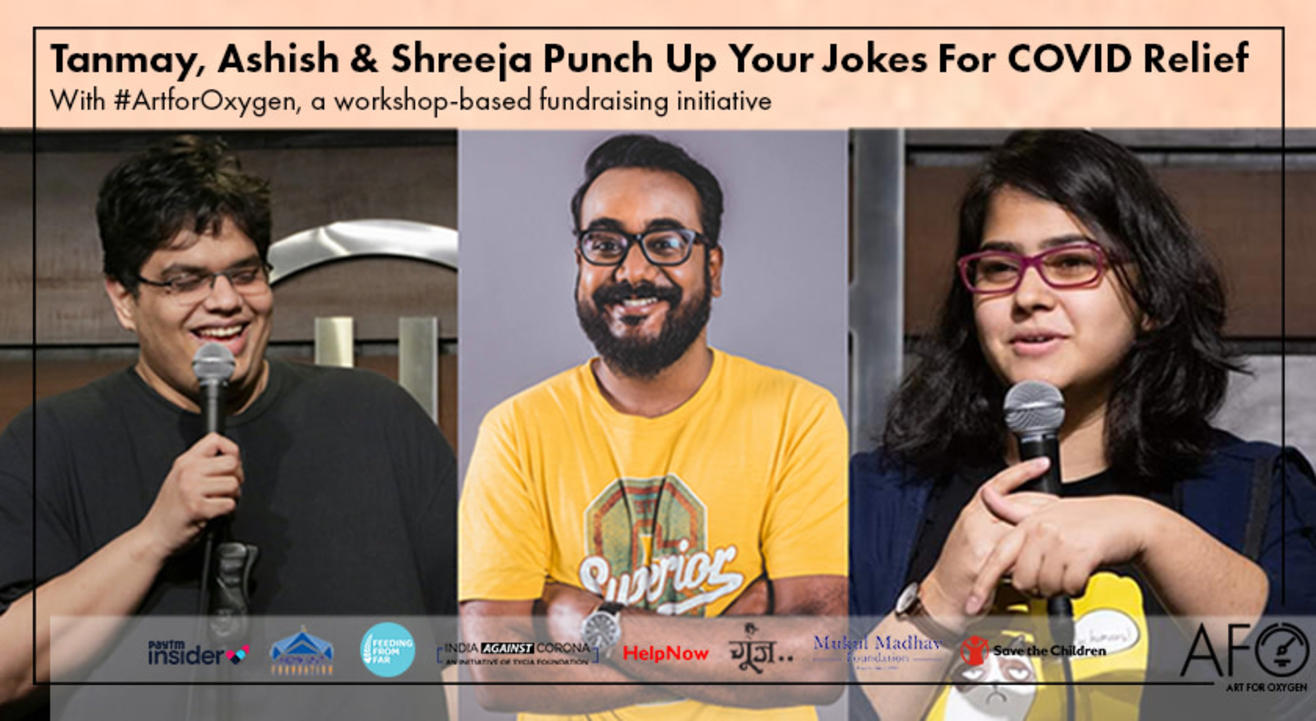 Tanmay, Ashish & Shreeja Punch Up Your Jokes For COVID Relief
Event Guide
Live Performance
Enjoy a unique experience
Invite your friends
and enjoy a shared experience
Tanmay, Ashish & Shreeja Punch Up Your Jokes For COVID Relief
Event Guide
Live Performance
Enjoy a unique experience
Invite your friends
and enjoy a shared experience
Event Guide
Live Performance
Enjoy a unique experience
Invite your friends
and enjoy a shared experience
About the Workshop:
In this interactive session, Ashish, Tanmay and Shreeja will get together to punch up - ie, refine, improve & feedback - selected jokes!
In the process, the audience will get to watch some of India's most famous comics jamming on jokes, live. Apart from sharing a glimpse into their process, they will also share their takeaways on what makes a joke land, how to identify what's funny and what needs work, and how to work on jokes! Post this, there will be a moderated Q&A session on the same.
Process:
When you get your tickets on Paytm Insider, you will receive the email ID to mail your jokes.
You can send in 10 of your own jokes, ie, original material. A few may be selected.
Selections will be based on the number of jokes received & time available.
You can request anonymity if you wish.
Audience can participate via live chat with their questions and suggestions on jokes too!
In case your joke isn't selected, you can still participate by viewing, listening, sharing your suggestions & asking questions on our live chat on the day.
Emails must be sent in by Thursday night, 11:59pm.
Date: 19th June, Saturday
Time: 5:30 - 7 pm
Fee: Rs. 499
Platform: Zoom meeting
RULES:
Please join the Zoom link 15 mins prior to the session.
Tickets allow 1 student, non-exchangeable.
Please use your best internet as we may request audio-video availability.
Request you all to follow all Zoom etiquette.
ABOUT ART FOR OXYGEN:
Art for Oxygen aims to raise funds for emergency COVID relief.
Inspired by Satyanshu Singh's fundraising workshops conducted last year, we will be hosting 3-5 workshops a week, for as long as we can (ideally 2 months). You can read more at @nisha.artforoxygen on Instagram.
The fee for the workshop will be a donation to one of the following NGOs. You can read more about them on their websites.
Hemkunt Foundation: https://hemkuntfoundation.com/oxygen-relief/
Mukul Madhav Foundation: https://www.mmpc.in/
Help Now 24x7: www.gethelpnow.in
TYCIA Foundation: www.tyciafoundation.org
Feeding from Far: http://bit.ly/FeedingFromFar
Goonj: https://goonj.org/support-covid-19-affected/
Save the Children: www.childrenincovid.in
Tanmay, Ashish & Shreeja Punch Up Your Jokes For COVID Relief
Event Guide
Live Performance
Enjoy a unique experience
Invite your friends
and enjoy a shared experience