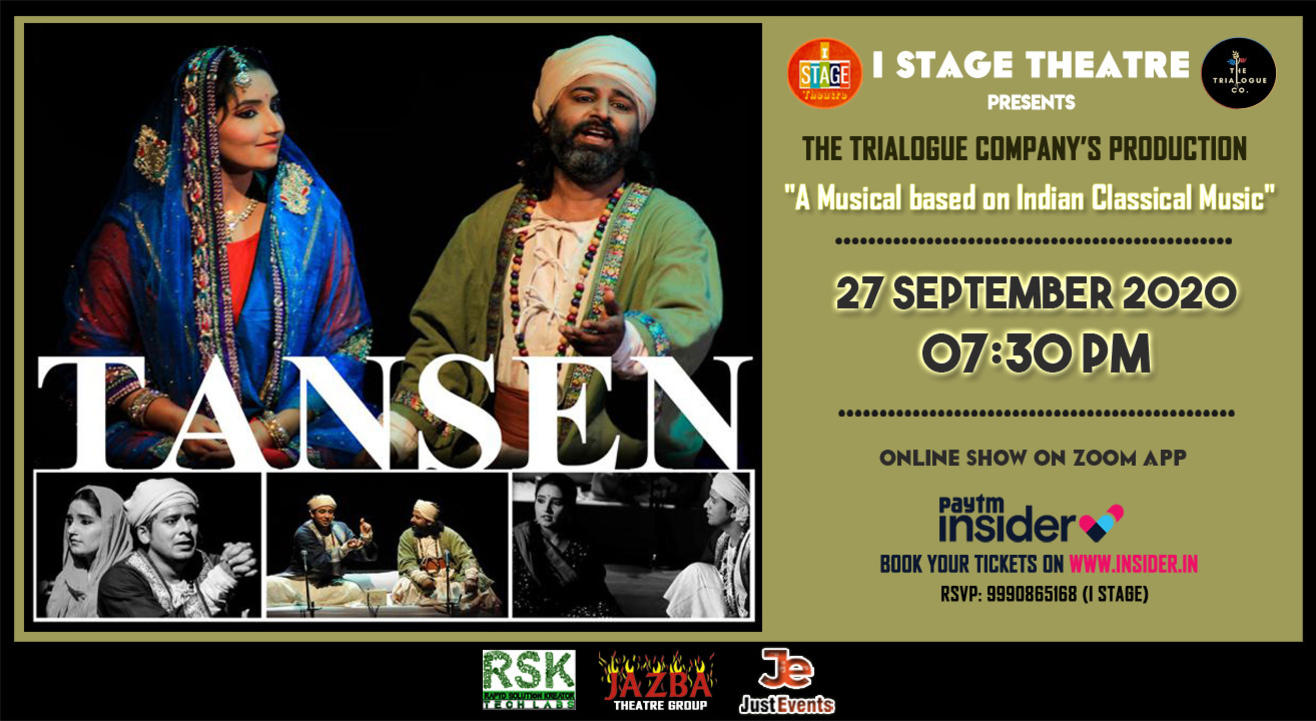 Event Guide
Digital Event
Watch on Zoom
For Age(s)
Family Friendly
Live Performance
Enjoy a unique experience
Invite your friends
and enjoy a shared experience
Event Guide
Digital Event
Watch on Zoom
For Age(s)
Family Friendly
Live Performance
Enjoy a unique experience
Invite your friends
and enjoy a shared experience
About the Event
I STAGE THEATRE FESTIVAL ( 08 AUGUST 2020 - 28 SEPTEMBER 2020)


PLAY: "TANSEN"
"A musical based on Indian Classical Music"
DESIGN AND DIRECTION- SUDHEER RIKHARI
GROUP: THE TRAILOGUE COMPANY
The company's first production "Tansen" has been performed over 40 times in two years in various festivals including Northern Meetings Theatre festival (Russia), Panna Bharat Ram festival (Delhi), Theatre for Theatre Festival (Chandigarh), Minerva National Theatre Festival (Kolkata), Theatre Olympics by the National School of Drama (Bengaluru), Windermere Festival (Bareilly), Ranglok Theatre Festival (Agra) to name a few. The company's second production "MEERA - Beyond Devotion" was also premiered in 2019 in Delhi and has won critical acclaim and appreciation from the audiences.
SYNOPSIS:
Every artist has a journey. A journey of an endless search. A journey
that is filled with ups and downs, acceptance and rejection, pain and
satisfaction. The play "Tansen" explores this journey through the life of
legendary Tansen. What was it that made him the great Tansen and what
was his search till the end of his life.
The play begins with a dilemma about "Ibadat" and "Ishq". What is
worship and what is love? Is the search of a destination called love or is
losing your ownself in that search called love? Are worship and love the
two sides of the same coin? Every artist comes across these questions at
some point in his or her life, where a thought comes, whether the love for
the art is enough or is it necessary to lose yourself in the worship of art. A
point comes when he can't decide whether he has achieved what he
wanted or should he continue the search. And when he feels that he has
achieved what he wanted, can he grow further? Also, can an artist feel
liberated when he expects something in return from his search?
The play "Tansen" explores these basic questions of every artist.
The intention is to talk about the dilemmas of an artist and explore along
with the audience, the factors that make an artist feel liberated and also
what makes him feel caught in his own emotions, expectations and pride.
"Tansen" is not only a documentation of Tansen's life but also a parallel
search of an artist that is never ending.
The performance aspect of the play includes a wide range of
theatrical devices. It consists of the three major elements of performing
arts namely music, dance and drama which are blend together to say the
story. The play also focuses on the journey of Hindustani classical music
from its origin where it was performed in the form of "Dhrupad" till
today's "Khayal Gaayaki". Therefore, it includes live music ranging from
Dhrupad, Qawwali, Hori to Khayal Gaayaki along with live instruments
namely Sitar, Tabla, Pakhawaj, Harmonium and Tanpura that give a
different flavour to the play.
CAST:
Mohammad Faheem
Ridhima Bagga
Sudheer Rikhari
Sudip Chowdhury- Tabla, Tanpura and Percussion
Roman Das- Pakhawaj
Sitar- Rashmi Dutt
Anil Mishra- Sarangi and Harmonium
CREDITS:
Writers- Mohammad Faheem and Sudheer Rikhari
Inspired by- Girish Chaturvedi's novel "Tansen"
Choreography and Costume- Ridhima Bagga
Music- Sudheer Rikhari
Music Credits
Tero gun gaawe (lyrics and composition)- Pt. Vinay Chandra Maudgalya
Moorat Mann Bhaaye (lyrics and composition)- Gundecha Brothers
Surr mein rame tu hi (lyrics)- Gundecha Brothers
Har shai pe tera noor hai (composition)- Pravesh Mallick
Jaagiye Gopal, Shubh mahoorat, Laal Gopal, Aavan keh gaye- Traditional Dhrupads and khayal compositions
Stage Management- Deepak Rana
Lights- Rahul Chauhan
Sound- Varun Gupta
DESIGN AND DIRECTION- SUDHEER RIKHARI