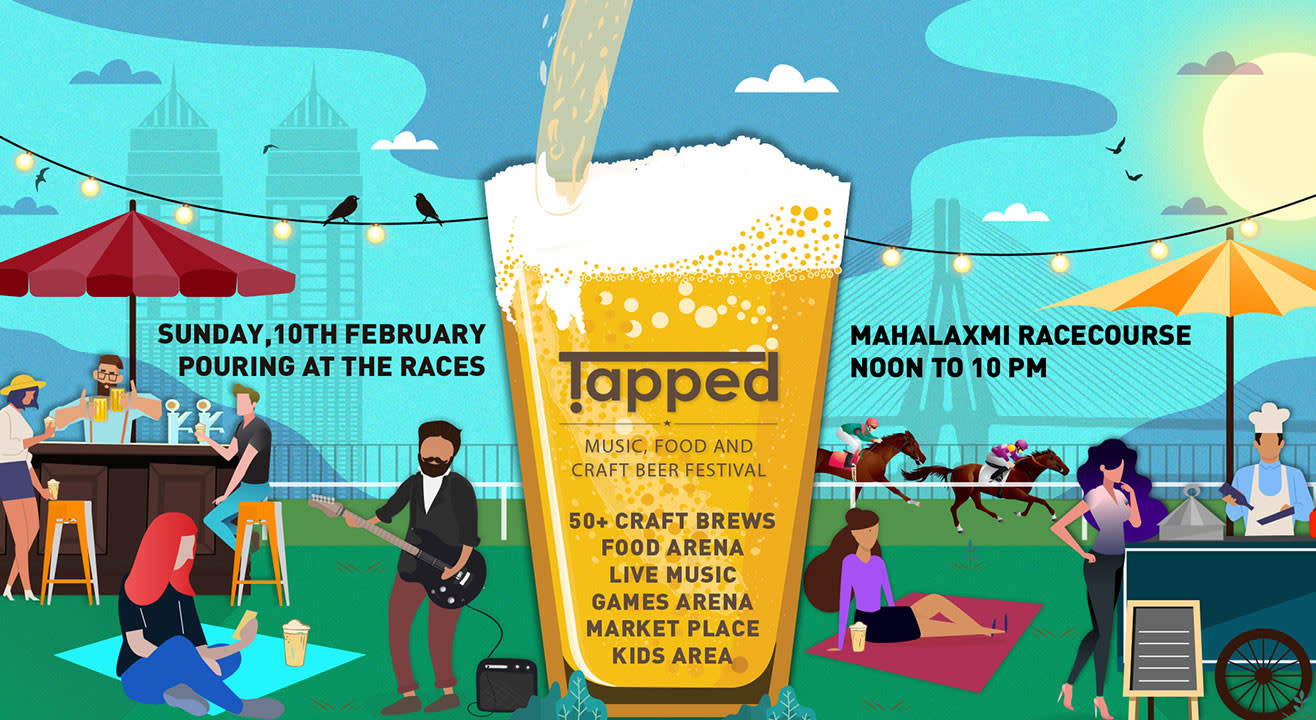 Experiences
Tapped – Music, Food & Craft Beer Festival in Mumbai - 10th Feb 2019
About
TAPPED - India's First & Biggest Craft Beer, Food & Music Festival - is coming to the Mahalaxmi Racecourse on 10th February 2019 for its 6th edition.
After 5 successful festivals in Mumbai, & Pune - India's first and biggest Craft Beer festival - Tapped is happening in Mumbai on 10th Feb 2019. A perfect Sunday picnic with craft brews from breweries across the state, beer friendly food, live music gigs, games zone & kids play area.
Here's what to look forward to:
- Tapped will showcase over 50+ craft beers on tap from over 10 breweries
- NEW brewery & beers will be launched at TAPPED
- Beer friendly food from some of the best in Mumbai & Pune
- Live Music performances (TBA) will include jazz, blues & rock & roll
- TAPPED Marketplace will showcase niche F&B products
- New games area with amazing games like golf beer pong, angry birds, etc
- Kids play area to keep the little ones busy with games & art / craft workshops all day
- Jury & Popular choice - Tapped Beer Awards
Come & bring along an spare liver & cheer for the Drinking Games Zone!
Beer jenga, mini golf & more..
Yavasura
Moonshine Meadery
Toit
Kimaya
Great State Ale Works
Effingut
Drifters
Innga Craft
Doolally
2 Down Beer Co

O Pedro
CinCin
El Mercado
Goila Butter Chicken
Baked & Wired
Xico
Zaatar
The Tight Slap
Posh fries
Bowl Baby Bowl
Hoppumm
Vegan Burger Kitchen
Parfait & Co
Waffle House
Brown Salt Bakery

Soft Spot Foods
Healthy Cravings Co
All Heart
Good Juicery
The Mumum Co
Teebites
Crunch It
Naagin Hot Sauce
Green snack co
DreamWeavers
Noroc

- Nikhil
- Adil Manuel Collective
- Boombay Djembe Folas
Ladder Ball
Giant beer pong
Giant snakes & ladders
Giant Jenga
Darts & more

Ball pool
Jumpoline
Mini cars
Messy art corner
Roller coaster

TAPPED - CRAFT BEER, FOOD & MUSIC FESTIVAL
TAPPED - Craft beer, food & music festival
Venue
Mahalaxmi Racecourse
Dr E Moses Marg, Royal Western India Turf Club, Mahalakshmi Nagar, Mumbai, Maharashtra 400034