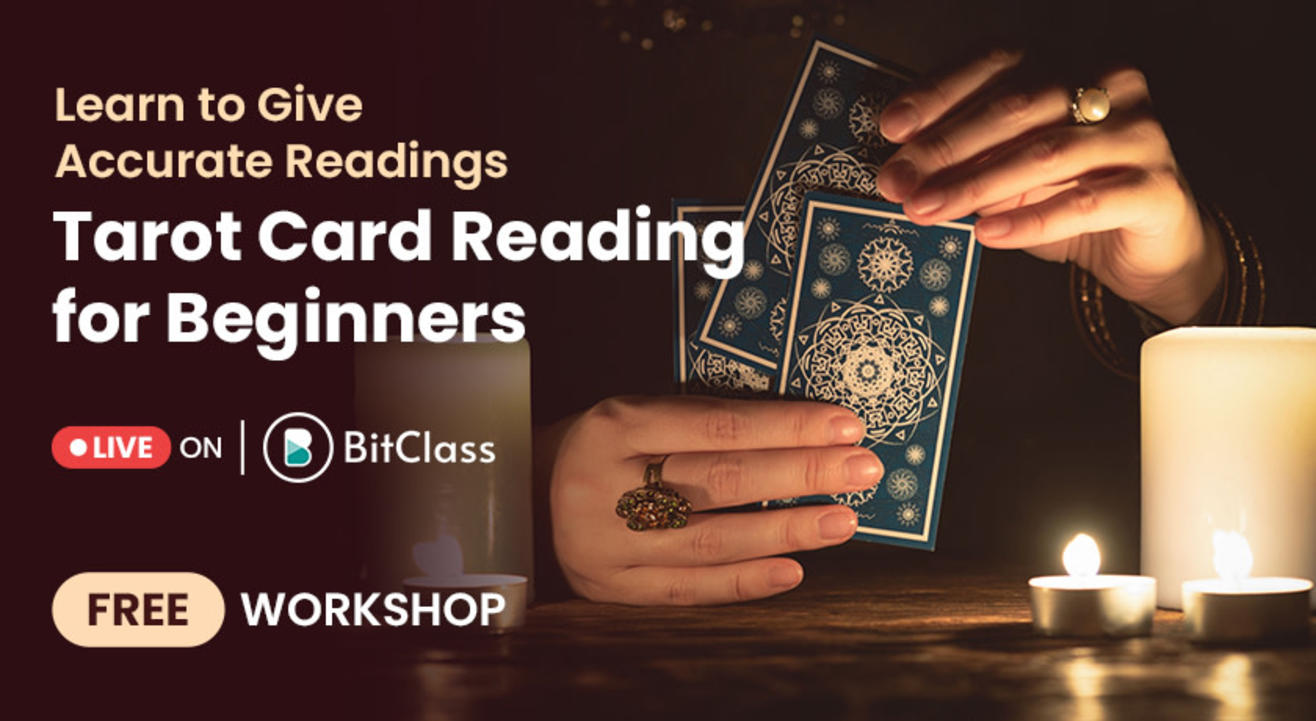 Tarot Card Reading for Beginners | Learn the Basics to Give Accurate Readings
September 9 | 5PM - September 17 | 5PM
Enjoy this event from your home
Event Guide
Masterclass
Learn from an expert
Invite your friends
and enjoy a shared experience
Tarot Card Reading for Beginners | Learn the Basics to Give Accurate Readings
September 9 | 5PM - September 17 | 5PM
Enjoy this event from your home
Event Guide
Masterclass
Learn from an expert
Invite your friends
and enjoy a shared experience
Event Guide
Masterclass
Learn from an expert
Invite your friends
and enjoy a shared experience
About this Course
Your personal insight and answers to your lingering questions will be answered right here!
Do you want to know how to do a basic tarot card reading? Do you want to make predictions for yourself or your friends? If you wish to learn all about tarot cards then you have come to the perfect place!
Welcome to Tarot Card Reading Workshop for beginners.
Tarot cards can be one of the most powerful spiritual tools for you once the right connections are made. You will learn about the deck of cards, the major arcana and minor arcana and
The best part about the workshop is you need no prior knowledge or experience to start reading tarot cards. However, all you need is a clear and composed mindset to build a spiritual bond with the cards in order to gain the most accurate guidance plus predictions.
What will you learn?
What is Tarot?
What are minor and major arcana?
What are court cards?
Reading one card with an explanation
What are the benefits?
Learn the history of tarot cards and how to apply it in real life
Use the cards to help you and your friends through difficult times
Know about prediction making with a spiritual frame of mind
Get the most accurate reading with practice
Make a home-based career reading the tarot, online, or as personal consultations.
Live class with the teacher to clear all your doubts
REGISTER NOW for FREE, and master basic skills of tarot card reading and predicting!
Tarot Card Reading for Beginners | Learn the Basics to Give Accurate Readings
September 9 | 5PM - September 17 | 5PM
Enjoy this event from your home
Event Guide
Masterclass
Learn from an expert
Invite your friends
and enjoy a shared experience