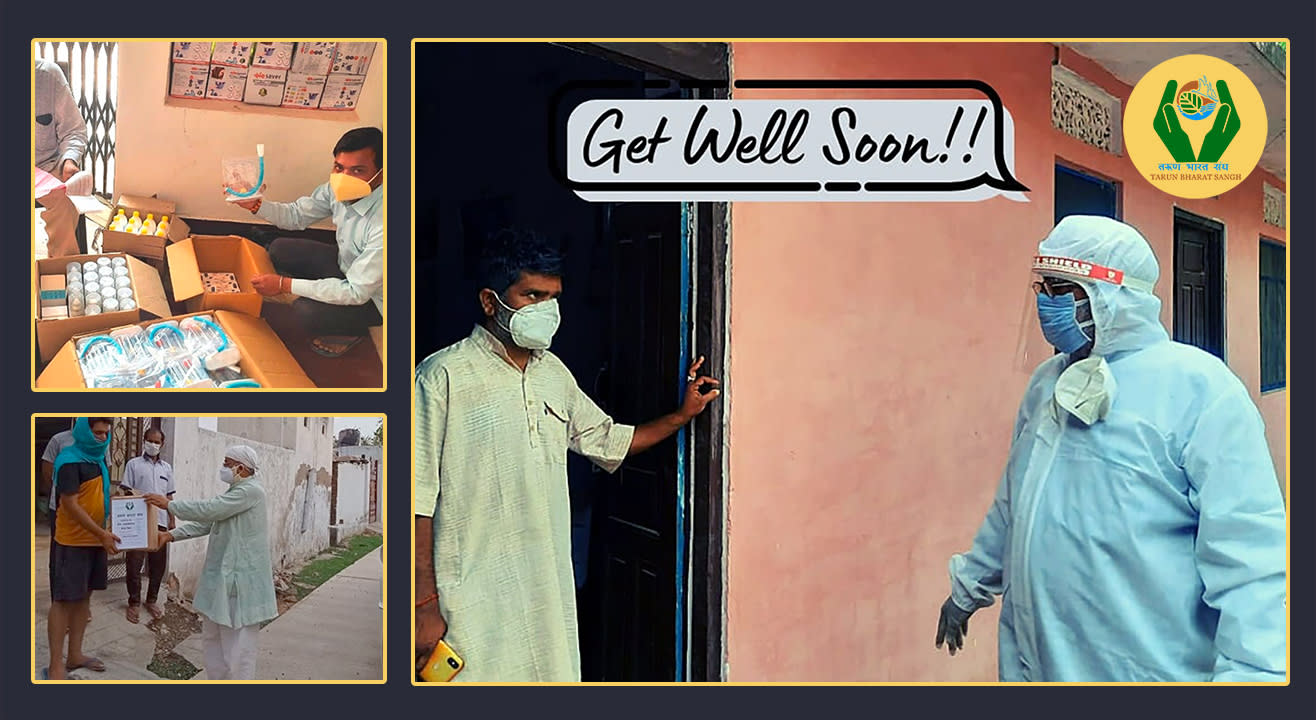 Tarun Bharat Sangh | Home Care-Kits | Covid - 19 Relief
Invite your friends
and enjoy a shared experience
Invite your friends
and enjoy a shared experience
About the Event
Tarun Bharat Sangh is assisting Covid-19 patients from impoverished families living in rural and peri-urban areas by providing Home Care-Kits to reduce their chances of being critically-ill.
Unlike the first wave it is not restricted to cities. Rural areas account for approximately 40% of all reported cases.
At this time, if Covid positive patients receive proper treatment and essentials, their chances of becoming critically-ill can be reduced. It will subsequently reduce the pressure on the hospitals at block and district level.
Home isolation requires proper care and monitoring of a patient that needs instruments and supplies like thermometer, pulse-oximeter, sanitizer, masks, etc. that create a financial burden on the already struggling poor and marginalized families, especially that of the jobless migrant workers, daily wagers and debt-ridden farmers.
Tarun Bharat Sangh is providing Home Care-Kits to covid patients, front-line health workers at village level. Each kit contains- Digital thermometer, pulse oximeter, steam inhaler, spirometer, topical balm, N95 masks, sanitizers, floor disinfectant, soaps and waste disposal bags, a notepad and a pen for recording temperature and oxygen levels.
During the first wave, TBS helped the 15,000 vulnerable families during lockdown due Covid19 in 2020 by providing three months dry rations in the remotest villages of the Rajasthan. 1000 pregnant women were provided with special nutrient kits. As sustainable mid-term Covid19 relief initiatives, we gifted Goat and a kid to 100 widows and poor women who lost their livelihood sources due to COVID impact. Seeds of Wheat, Gram, Mustard were distributed to 1000 small and marginal farmers and Employment camp for 5000 migrated labourers in villages during Covid19 lockdown.
About Tarun Bharat Sangh
Tarun Bharat Sangh (TBS) is a non-profitable organization situated in Rajasthan, with the vision of a world where dignified and self-reliant communities live in harmony with nature. It has a mission to revive nature, create livelihood and strengthen communities. We are deeply rooted in the Gandhian Philosophy of 'Gram Swaraj' or village self -rule working in the arid and semi-arid regions of India for water and environmental conservation, education, health and community welfare. TBS stands on its core values of Equity, Justice, Non-violence and Truth.
Dr. Rajendra Singh (Waterman of India) is the founder member and current Chairman of TBS. Under his leadership, TBS is credited with the revival of 10 rivers and transformation of the 10,000 sq km of drought-prone landscapes of Rajasthan into flourishing eco-systems through indigenous water harvesting methods and community mobilization. He has counselled governments and NGOs around the world on a variety of water conservation strategies. He has received the prestigious Ramon Magsaysay Award for community leadership in 2001 and Stockholm Water Prize, also called the Nobel Prize in Water in 2015. The Guardian, in 2008, has listed him in the list of '50 people who can Save the Earth'. In its journey of 40 years, TBS has ensured Water, Food and Livelihood security of more than One million families.