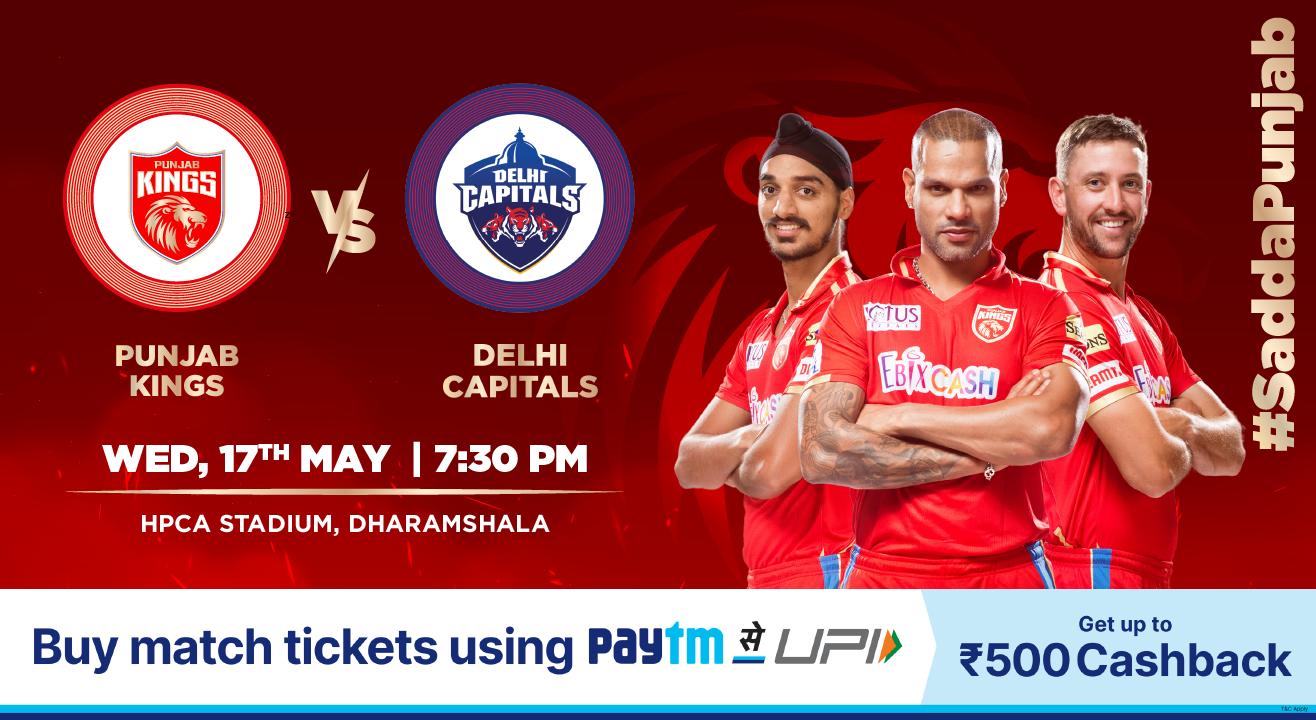 TATA IPL 2023 - Match 64 - Punjab Kings vs Delhi Capitals
Himachal Pradesh Cricket Association Stadium, Dharamshala, Dharamshala
Invite your friends
and enjoy a shared experience
TATA IPL 2023 - Match 64 - Punjab Kings vs Delhi Capitals
Himachal Pradesh Cricket Association Stadium, Dharamshala, Dharamshala
Invite your friends
and enjoy a shared experience
Invite your friends
and enjoy a shared experience
#SaddaPunjab vs #YehHaiNayiDilli
For the first time, Dharamshala plays host to a blockbuster home game as the Punjab Kings face the men from the capital. With the pitch set to be a belter, expect fireworks from the likes of Prithvi Shaw, David Warner, Shikhar Dhawan and Shah Rukh Khan as they unleash their full arsenal of shots in a bid to outdo each other.
As both the teams are vying for a spot at the top of the leaderboard, expect no quarter given in this fiercely contested battle. So, grab your tickets, settle in and watch the action LIVE from the stadium!
Punjab Kings have arranged some special seats for their valued differently-abled fans.
Please note these tickets will be available only at the box office counter in limited numbers on a first come first serve basis.
The tickets will be issued only to patrons who show their original disability certificate at the box office. You will be required to carry your own wheelchair.
Seating will be available in Jio North 1 Stand.
Only one companion ticket will be given in case the patrons are accompanying fans on wheelchairs.
You can write to help@insider.in with your certificate attached for further details.
Prohibited Items
The following items are not allowed inside the venue.
Alcohol
Audio Recorder
Bags
Backpack
Bottles
Cans
Camera
Coins
Flags (Pole)
Flammable Goods
Laptops
Lighter & Matchbox
Metal Containers
Musical Instruments
Outside Food
Pets & Animals
Posters & Banners
Power Bank
Sprays
Tins
Toxic
Umbrellas
Video Recorder
Communication of match details Statistics / Images
Chewing tobacco and Gutka
Eatable (except baby food)
Illegal or hazardous substances
Laser light/pointer/flashlight
No CAA/NRC Protest Banners
Single Alphabetical Letters
Sharp objects (such as knives, syringes etc.)
Whistle/horn/loud hailers
Himachal Pradesh Cricket Association Stadium, Dharamshala
Distt. Kangra, Dharamshala, Himachal Pradesh 176215
GET DIRECTIONS
TATA IPL 2023 - Match 64 - Punjab Kings vs Delhi Capitals
Himachal Pradesh Cricket Association Stadium, Dharamshala, Dharamshala
Invite your friends
and enjoy a shared experience