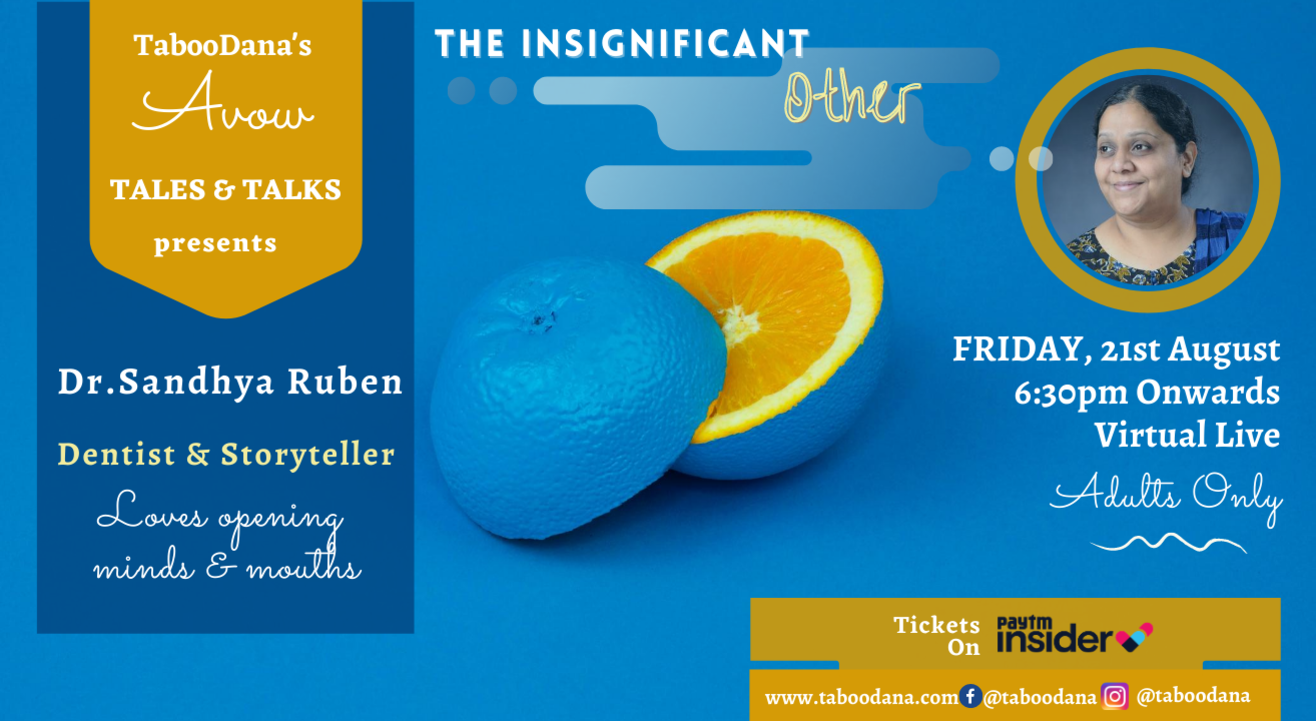 TabooDana Avow Edition 5 - Story Telling for Adults with Dr. Sandhya Ruben
Enjoy this event from your home
Invite your friends
and enjoy a shared experience
TabooDana Avow Edition 5 - Story Telling for Adults with Dr. Sandhya Ruben
Enjoy this event from your home
Invite your friends
and enjoy a shared experience
Invite your friends
and enjoy a shared experience
TabooDana Avow - Edition 5 - Dr. Sandhya Ruben
Get ready for an "Evening of Stories for Adults" at TabooDana's Avow Tales and Talks with Dr. Sandhya Ruben
TabooDana is safe space to listen, enjoy, reminisce
Friday, 21 August || 6:30pm - 8:00pm
VIRTUAL LIVE ON ZOOM
Contribution : Rs 299/person
About Dr. Sandhya Ruben and her brain child Eloquens
Dr. Sandhya Ruban, a dentist by profession, a class topper, a communicator by calling, an avid reader, a gifted writer, and a person who has myriad interests and creative pursuits. She is gifted with a silver tongue and creative writing abilities, and to her teaching is knit with her soul. She is a storyteller trained by the World Story Telling Institute. She writes for blogs, websites, and many corporate organizations. Eloquens also brings many professionals together in facilitating better interaction with people.
Mission: Opening up minds and mouths-Fostering creative concepts, re-establishing the culture of storytelling in the community.
Grab your ticket now!
Know more about TabooDana :
Facebook : https://www.facebook.com/taboodana/
Website : www.taboodana.com
Insta : https://www.instagram.com/taboodana/
The InSignificant Other - Dr. Sandhya Ruben
TabooDana Avow Edition 5 - Story Telling for Adults with Dr. Sandhya Ruben
Enjoy this event from your home
Invite your friends
and enjoy a shared experience