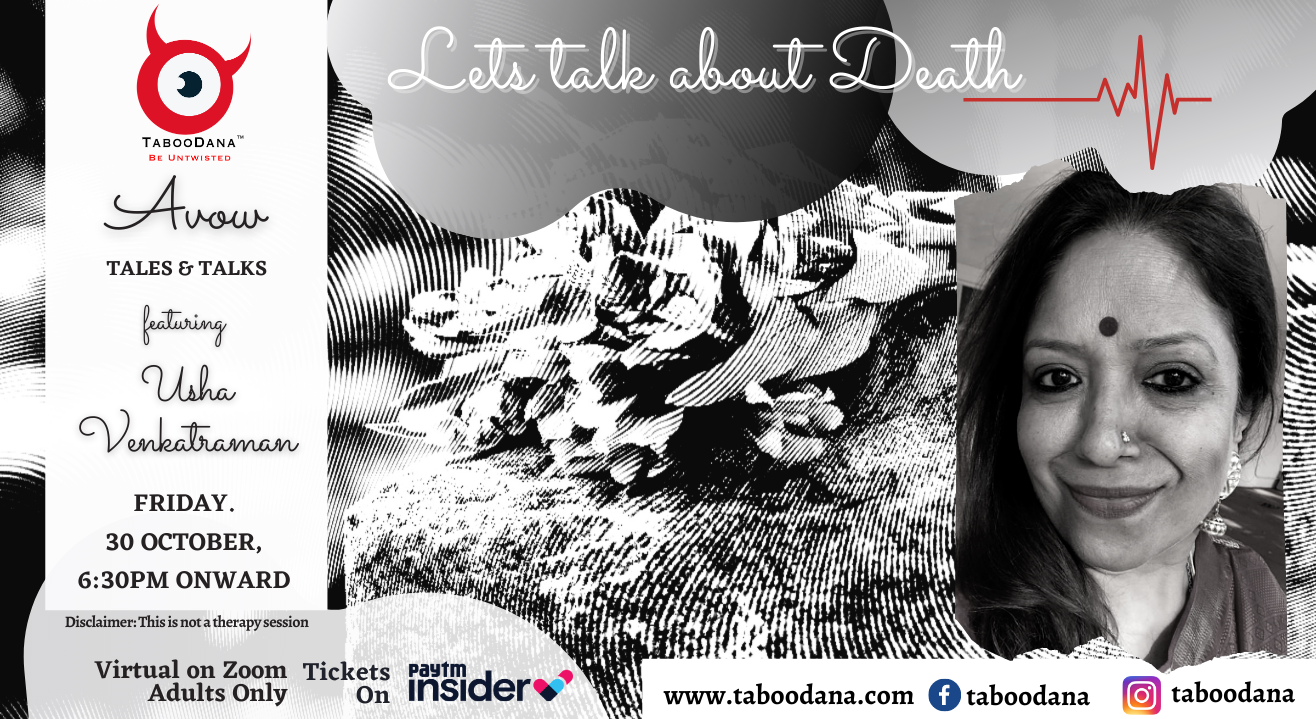 TD's Avow Edition 9 - Appreciating Death - Usha Venkatraman
Enjoy this event from your home
Invite your friends
and enjoy a shared experience
TD's Avow Edition 9 - Appreciating Death - Usha Venkatraman
Enjoy this event from your home
Invite your friends
and enjoy a shared experience
Invite your friends
and enjoy a shared experience
TabooDana Avow Edition 9 with Usha Venkatraman
Get ready for an "Evening of Stories for Adults" at TabooDana's Avow Tales and Talks with Usha Venkatraman
Usha is the Founder and Artistic Director at Mumbai Storytellers Society
Friday, 30 October || 6:30pm - 8:00pm
VIRTUAL LIVE ON ZOOM
Contribution : Rs 349/person
Event Concept
Appreciating Death
Bringing up conversations around death is very difficult for almost any family.
The only definite truth is Death. With open arms stories and discussions appreciating death would be one that would leave you untwisted end of the day.
TabooDana is safe space to listen, enjoy, reminisce and "Be Untwisted"
Grab your ticket now!
Know more about TabooDana :
Facebook : https://www.facebook.com/taboodana/
Website : www.taboodana.com
Insta : https://www.instagram.com/taboodana/
Disclaimer : This is not a therapy session
TD's Avow Edition 9 - Appreciating Death - Usha Venkatraman
Enjoy this event from your home
Invite your friends
and enjoy a shared experience