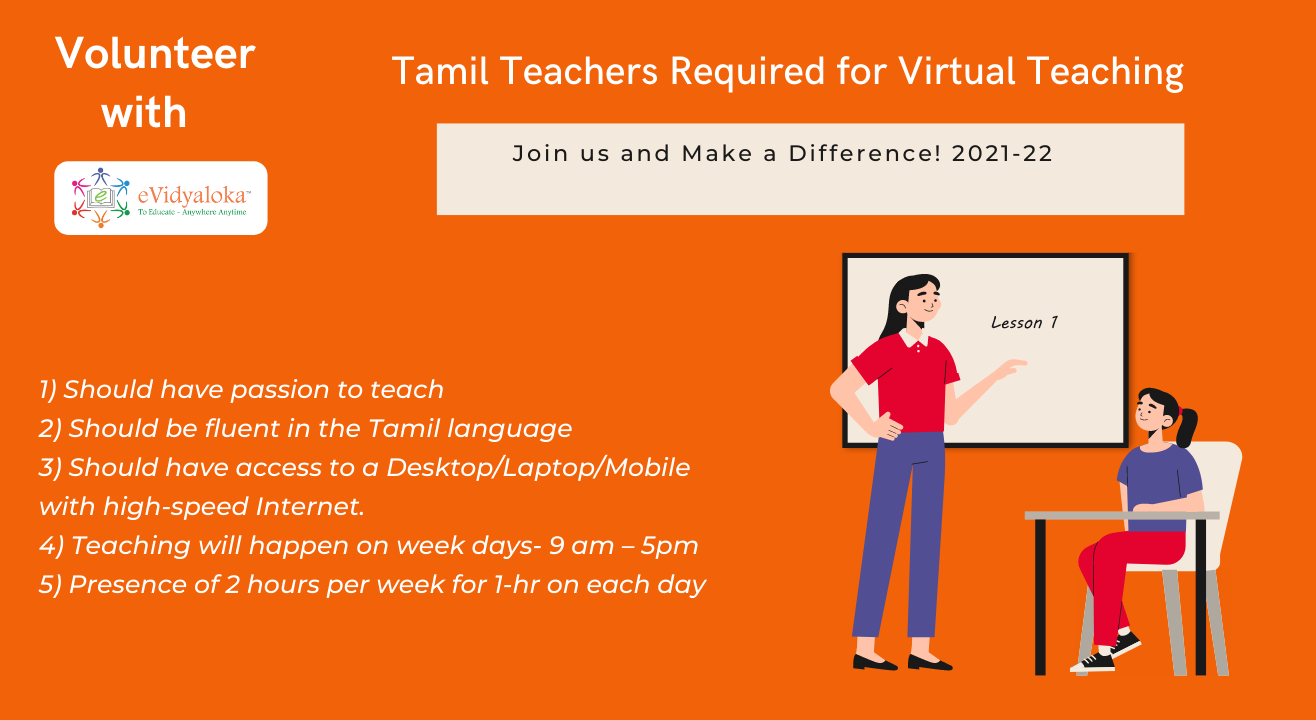 Teach Rural India Online (in Tamil)
Event Guide
Masterclass
Learn from an expert
Invite your friends
and enjoy a shared experience
Teach Rural India Online (in Tamil)
Event Guide
Masterclass
Learn from an expert
Invite your friends
and enjoy a shared experience
Event Guide
Masterclass
Learn from an expert
Invite your friends
and enjoy a shared experience
eVidyaloka teaching model connects volunteer teacher to students in a remote village, through online mode and conducts a live, interactive class. Powered by advanced technology and an elaborate syllabus, Volunteer-teachers virtually engage with the children. Volunteer teaches Science/Mathematics/English foundation subjects to class 5th to class 9th students in their respective regional language.
Whom will this activity help and how will it help them ?
The beneficiary would be the kids of 5th – 9th Grade of Rural and Remote Village who don't have access to quality education and face shortage of teachers.
Meet the Team
eVidyaloka was founded in Jan, 2011, with co-founders Satish and Venkat, colleagues at Microsoft India, with the passion to bring volunteerism and technology together, to enable quality in education for most deserving children of remote and rural villages of India. After a pilot of the idea on the field for two years, the journey was set in motion with full time employees since May, 2013.
Key Volunteer Responsibilities
Volunteer Teachers connects online with students at their home and facilitates learning for- English foundation course, foundation concepts of Math, Science. We follow the State Board Curriculum. Child-centric approach as children learn best when they are given choice to choose as per their interest and need. Teacher and children can learn better if based on formative assessments (short- specific- time bound creative and critical thinking activities through tech-used for live teaching along with different tools)
Things for volunteers to keep in mind
1) Should have passion and commitment to extend quality education to children in remote villages of India.
2) Should be fluent, able to read and write in Tamil language
3) Should have access to a Desktop/Laptop with high-speed Internet.
4) Teaching will happen on week days i. e. Monday – Friday 9 am – 5pm
5) Presence of 2 hours per week for 1-hr on each day is recommended.
Time commitment needed by the volunteer
2 Hours/Week