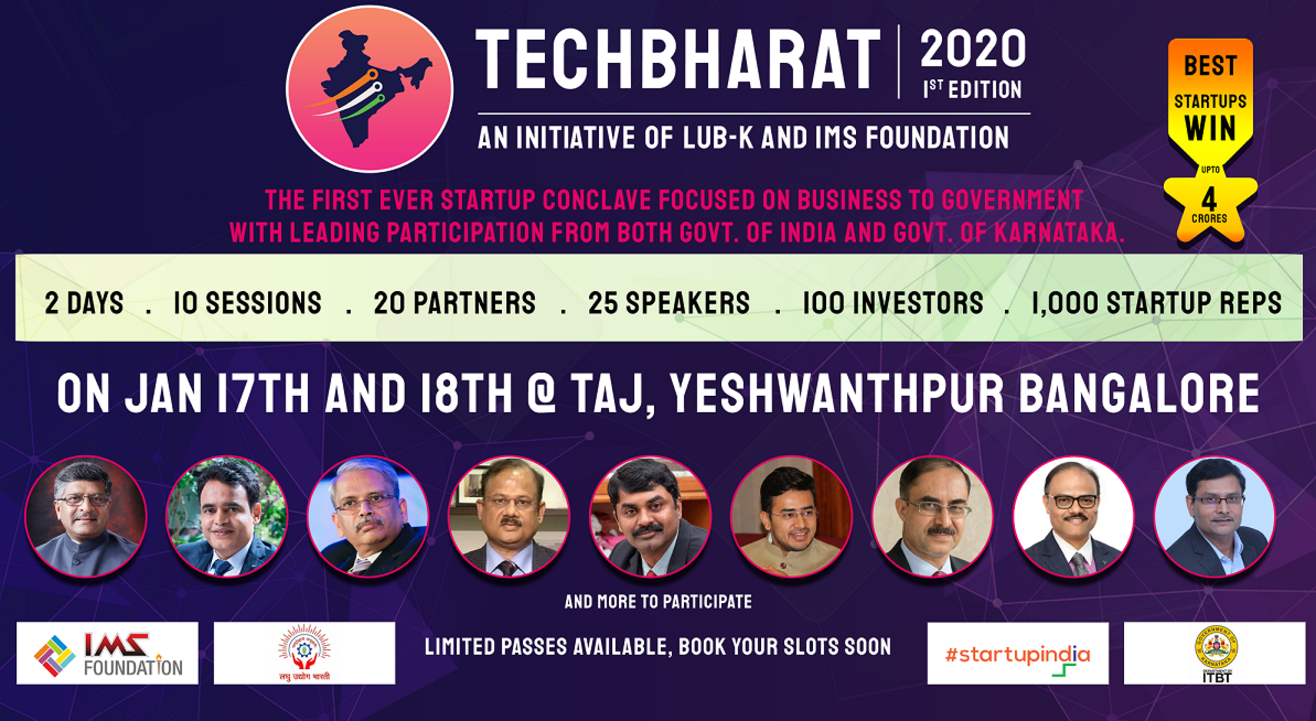 TechBharat 2020 - B2G Conclave for Startups
January 17 | 9AM - January 18 | 6PM
Invite your friends
and enjoy a shared experience
Invite your friends
and enjoy a shared experience
About the Event
The first-ever startup conclave focused on Business to Government with leading participation from the Govt. of India and Govt. of Karnataka.
The first edition of TechBharat – a space for startups and entrepreneurs to interact with the Government & change-agents.
Tech Bharat 2020, creating a platform for startups to come network with other startups, learn from experts, learn from successful founders. The core focus of Tech Bharat 2020 is to help startups achieve more business opportunities in Private, Manufacturing and Government Sectors. Tech Bharat 2020, keeping this as a motto is bringing country heads, business heads, decision-makers of mid-size to large corporations. Along with this, there are several principal secretaries from the Government of India and the Government of Karnataka to guide startups in getting funds, doing business with Government through various schemes that the government has set up over the last few years.
When small to medium size companies are operating with least margins in the times of uncertainty and no matter the size & scale of operations, TechBharat is here to stay for long for all those who strive to create and drive change in solving complex problems, wanting to equip their business to next levels and strongly believe in taking bold new steps towards the path of sustained growth for a greater societal wealth creation.
A congregation of lean startups and spectrum of stakeholders of startup ecosystem including Government for better technology adoption and to build a vibrant ecosystem for innovations. The event will focus on future technology support to various business domains like agriculture, food, tourism, infotainment……..and so on. The participants include representatives of the Government, serial entrepreneurs, successful founders, startup investors, technology companies,….. Hence, an opportunity for everyone in the startup ecosystem to get access to other counterparts including global startups, investors engaged in emerging companies, senior industry leaders, government authorities, co-founding connections, alongside our own platform for startup life-cycle.
Key Speakers:-
Ravi Shankar Prasad
Dr. Ashwath Narayan
Kris Gopalakrishnan
Ajay Prakash Sawhney
Abhishek Singh
B.V.Naidu
Ajay Thakur
Dr. G Satheesh Reddy
Tejasvi Surya
Talleen Kumar
Naganand Doraswamy
Dr. Aloknath De
Raghunandan G
Sivaram Kuppacchi
Prashanth Kumar Mishra
Naveen Lakkur
Why Join us?
1.Business Opportunities
Discover about Private, Manufacturing & Government business opportunities to connect and carer too. Also, know about support by Government to startups via grants, policies & more.
2.Business Support
Looking for a Mentor / Business Coach? A co-founding partner for your product/service? Be part of the support startup ecosystem now & forever
3.Networking
Connect and exchange ideas with Investors, Founders & Co-Founders, Government officials, Entrepreneurs, Coach, Mentors & More.
4.Mela / Roadshow and awards
Present your startup pitch with the most elite panel from the IT and Govt. space to avail a bounty grant and a letter of intent from the investment community. (Exclusively for Premium Ticket holders only).
5.Keynote Sessions
Listen to experts from the Tech, Govt, Spiritual, Sport & successful personalities to know their journeys.(Standard Tickets Available)
6.Fundraise
An opportunity to network with potential investors and collect expression of interest that may lead to possible collaborations in the near future.
AWARD of EOI - INR 25,00,000/- each
Of the 50 startup exhibitors, two (2) BEST startup companies identified by the jury of elite investors and representatives from EI-Hub will be awarded with the expression of interest (EOI) of investment, at the end of the event. T&C applicable.
NOTE: Companies incorporated between 2016 & 2018 in India are considered.
A reward of - INR 1,00,000/- each
Of the 50 startup exhibitors, two (2) most PROMISING startups of the event identified by an elite panel of government authorities will be presented with INR 1 Lakh each, at the end of the event. Prior to the event, the duly filled application is a must.
NOTE: Companies incorporated​ between 2014 & 2018 worldwide are considered
Available Tickets:
STANDARD - Startup Pass: Attend Sessions
Entry- 1 Person per ticket (for 2 days)
Only 100 Slots Available
Includes Lunch, Nibbles & Dinner
DAY 1: 9 AM to 9 PM
DAY 2 : 9AM to 6:00PM
Networking Opportunity
Free passes to 3 monthly follow-up workshops
PREMIUM - Exhibitor / Mela Roadshow Pass (Showcase your
product)
Win up to 4CR for your business!!!
Pitch for Funding
Eligible for Awards & Rewards
Private space of 24 sq. ft. stall to pitch your product
Entry - 2 People per ticket (2 days)
Only 50 Slots Available
Includes Lunch, Nibbles & Dinner
DAY 1: 9 AM to 9 PM
DAY 2 : 9AM to 6:00PM
Networking Opportunity
Free passes to 9 monthly follow-up workshops
Conclave Sessions Pass (Exclusive offer)

8 sessions
You can attend all the sessions at the event.
Entry - 1 Person per ticket (for 2 days)
You can visit startup exhibitors at the venue.
Please Note: Your access to the dining area is restricted.
Nibbles with coffee/ tea provided.
Taj Yeshwantpur
2275, Tumkur Main Rd, Yeshwanthpur Industrial Area, Phase 1, Yeshwanthpur, Bengaluru, Karnataka 560022
GET DIRECTIONS