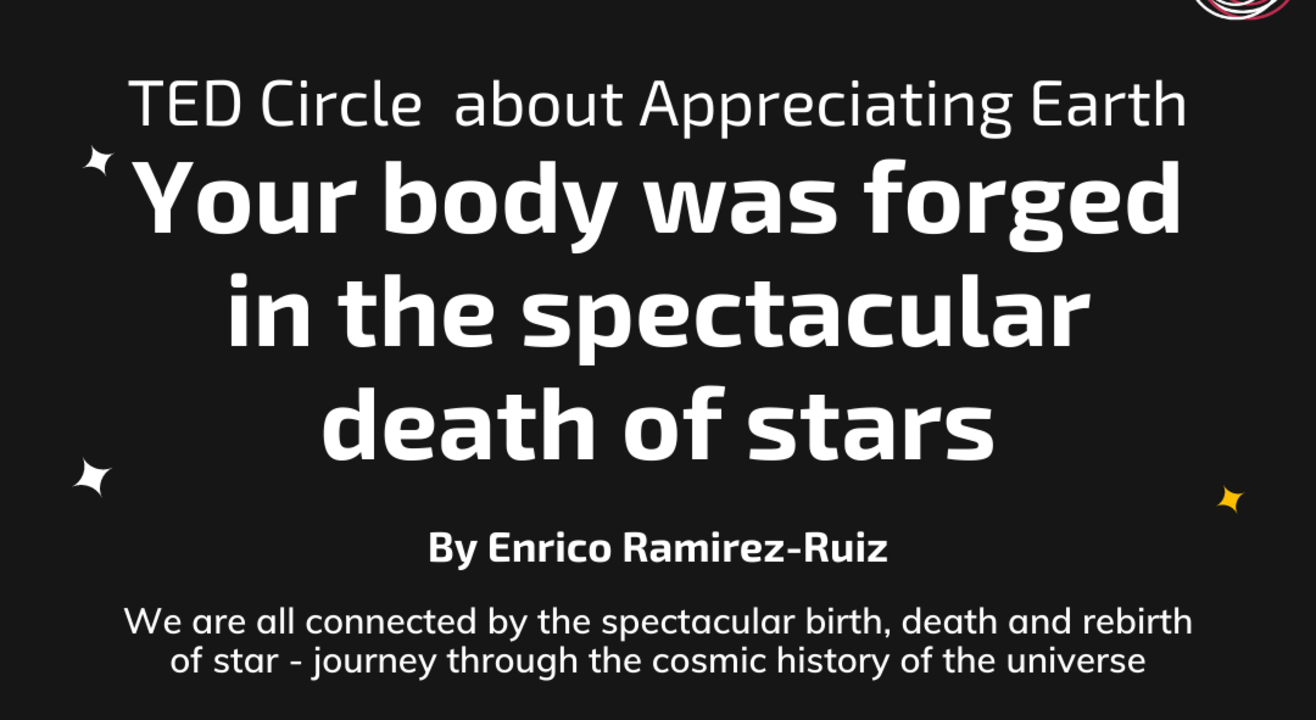 TED Circle about 'Appreciating Earth': Your body was forged in the spectacular death of stars By Enrico Ramirez-Ruiz
Enjoy this event from your home
Event Guide
For Age(s)
Family Friendly
Interactive show
Be a part of the show
Invite your friends
and enjoy a shared experience
Event Guide
For Age(s)
Family Friendly
Interactive show
Be a part of the show
Invite your friends
and enjoy a shared experience
About the Event
TED Circle about 'Appreciating Earth'
We will be screening a TED Talk - Your body was forged in the spectacular death of stars By Enrico Ramirez-Ruiz
Join the video call link by clicking on 'Request to Join':
http://bit.ly/appreciating-earth-ted
Every Thursday at 9 PM, we will be screening some very interesting TED talks under the TED Circles initiative. This is followed by an intellectual discussion on 3 points from the video.
Join our Whatsapp/Telegram Notification Group for the latest screenings and reading rooms:
Telegram: https://t.me/merrative
WhatsApp: https://bit.ly/merrative-whatsapp
About the TED Talk:
We are all connected by the spectacular birth, death, and rebirth of stars, says astrophysicist Enrico Ramirez-Ruiz. Journey through the cosmic history of the universe as Ramirez-Ruiz explains how supernovas forged the elements of life to create everything from the air you breathe to the very atoms that make you.
About Speaker:
Enrico Ramirez-Ruiz is eager to understand our origins and, in some cases, is simply wild about things that go bang in the night sky. He works with computer models to understand the cataclysmic death of stars and recently led efforts to uncover the origin of the heaviest, most neutron-rich elements in the universe, like gold and uranium. Ramirez-Ruiz tests out his theories with complex computer simulations that defy the boundaries of human experience and the assumptions we make about the universe.
About Merrative:
Merrative is a community of avid readers to discuss ideas from books, news, articles, and research papers across tech, poetry, fiction, business, politics, etc. Anyone can join us or start discussions on what they have enjoyed reading with those who have read the same via conversation threads or group video sessions.
Know more about us at https://merrative.com!