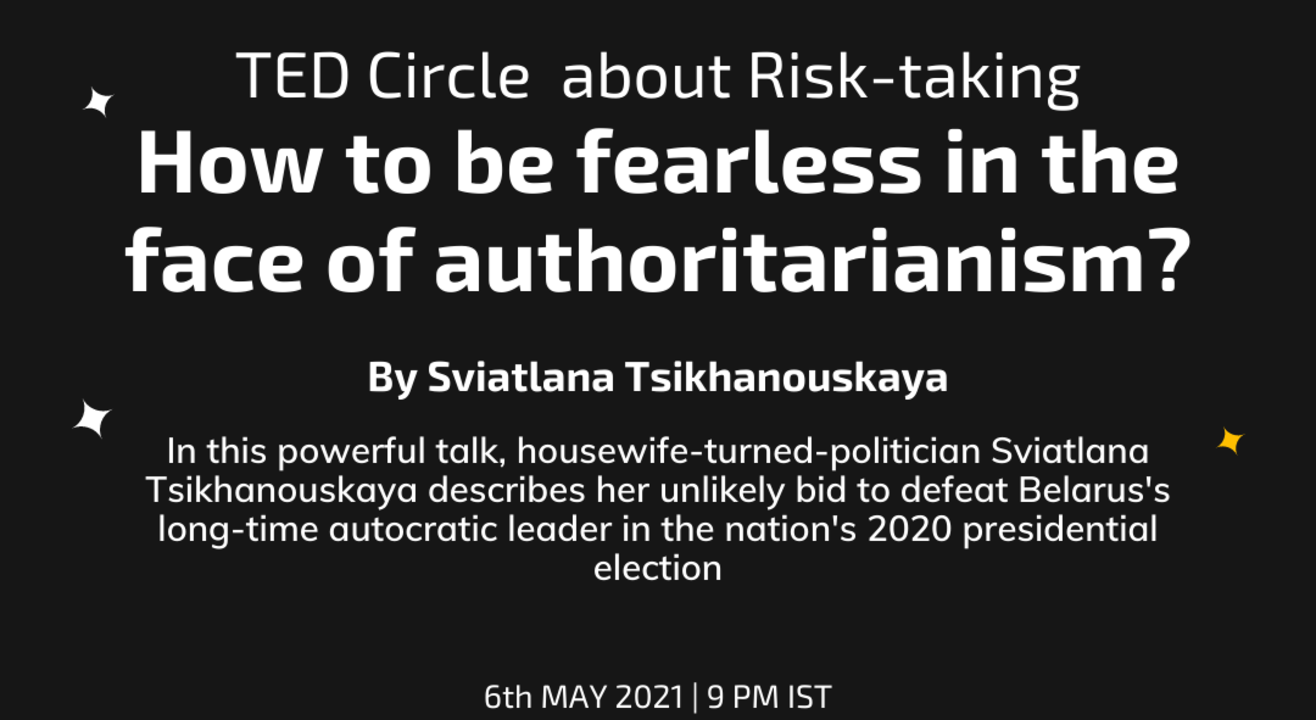 TED Circle about 'Risk-Taking': How to be fearless in the face of authoritarianism by Sviatlana Tsikhanouskaya
Enjoy this event from your home
Event Guide
For Age(s)
Family Friendly
Interactive show
Be a part of the show
Invite your friends
and enjoy a shared experience
Event Guide
For Age(s)
Family Friendly
Interactive show
Be a part of the show
Invite your friends
and enjoy a shared experience
About the Event
TED Circle about 'Risk-Taking' hosted by Merrative.com
We will be screening a TED Talk - How to be fearless in the face of authoritarianism by Sviatlana Tsikhanouskaya
Join the video call link by clicking on 'Request to Join':
http://bit.ly/authoritarianism-ted
Every Thursday at 9 PM, we will be screening some very interesting TED talks under the TED Circles initiative. This is followed by an intellectual discussion on 3 points from the video.
Join our Whatsapp/Telegram Notification Group for the latest screenings and reading rooms:
Telegram: https://t.me/merrative
WhatsApp: https://bit.ly/merrative-whatsapp
About the TED Talk:
How do you stand up to authoritarianism? And what does it mean to be "fearless"? In this powerful talk, housewife-turned-politician Sviatlana Tsikhanouskaya describes her unlikely bid to defeat Belarus's long-time autocratic leader in the nation's 2020 presidential election. Painting a vivid picture of how small acts of defiance flourished into massive, peaceful demonstrations, she shares a beautiful meditation on the link between fearlessness and freedom, reminding us that we all have what it takes to stand up to injustice -- we just need to do it together.
About Speaker:
Sviatlana Tsikhanouskaya is a former presidential candidate and leader of a national democratic movement in Belarus. By popular consensus, she received the most votes in the presidential election of Belarus on August 9, 2020. However, the official results were falsified in favor of the incumbent, and she was forced out of her country. She leads the democratic movement out of the neighbouring Lithuania. She fights for human rights, democracy and freedom everywhere.
About Merrative:
Merrative is a community of avid readers to discuss ideas from books, news, articles, and research papers across tech, poetry, fiction, business, politics, etc.
Anyone can join us or start discussions on what they have enjoyed reading with those who have read the same via conversation threads or group video sessions.
You can let us know any topic you'd like to host or conduct a discussion on any topic of your interest, based on verified literature. Email hello@merrative.com for the same!
Know more about us at https://merrative.com!