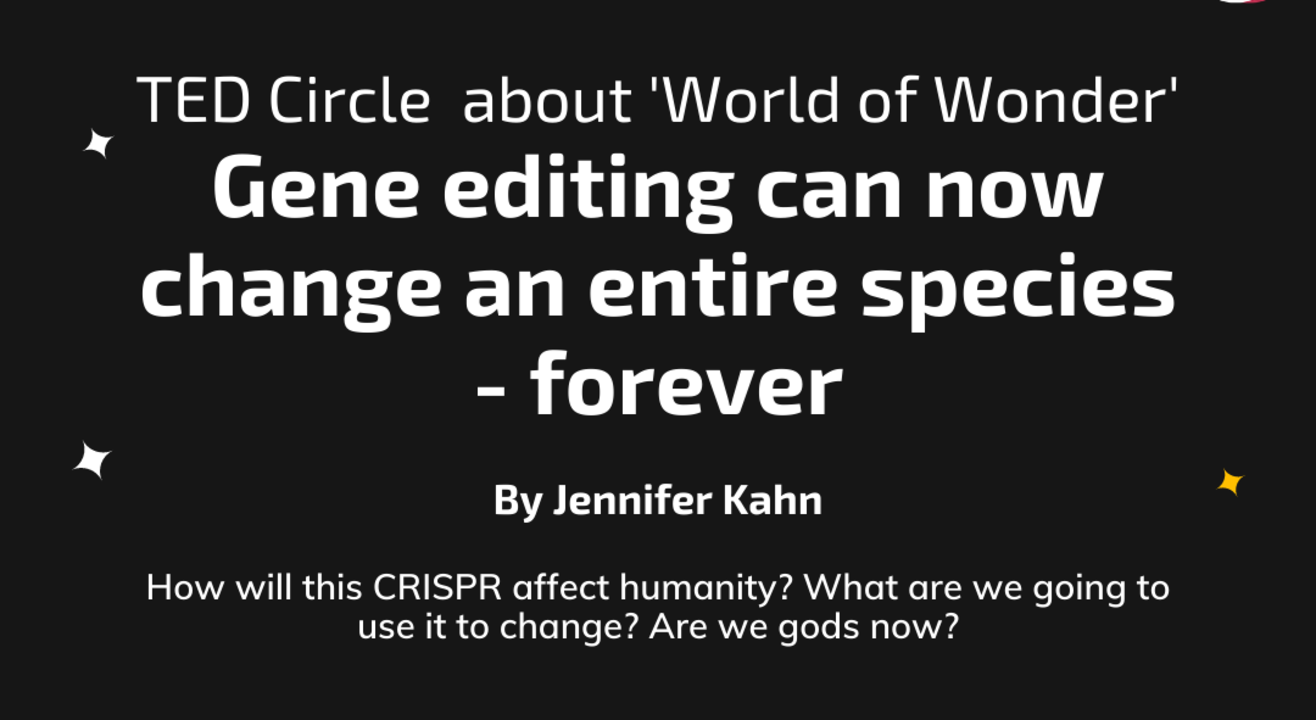 TED Circle about 'World of Wonder': Gene editing can now change an entire species - forever By Jennifer Kahn
Enjoy this event from your home
Event Guide
For Age(s)
Family Friendly
Interactive show
Be a part of the show
Invite your friends
and enjoy a shared experience
Event Guide
For Age(s)
Family Friendly
Interactive show
Be a part of the show
Invite your friends
and enjoy a shared experience
About the Event
TED Circle about 'World of Wonder' hosted by Merrative.com
We will be screening a TED Talk - Gene editing can now change an entire species - forever, By Jennifer Kahn
Join the video call link by clicking on 'Request to Join':
http://bit.ly/gene-crispr
Every Thursday at 9 PM, we will be screening some very interesting TED talks under the TED Circles initiative. This is followed by an intellectual discussion on 3 points from the video.
Join our Whatsapp/Telegram Notification Group for the latest screenings and reading rooms:
Telegram: https://t.me/merrative
WhatsApp: https://bit.ly/merrative-whatsapp
About the TED Talk:
CRISPR gene drives allow scientists to change sequences of DNA and guarantee that the resulting edited genetic trait is inherited by future generations, opening up the possibility of altering entire species forever. More than anything, the technology has led to questions: How will this new power affect humanity? What are we going to use it to change? Are we gods now? Join journalist Jennifer Kahn as she ponders these questions and shares a potentially powerful application of gene drives: the development of disease-resistant mosquitoes that could knock out malaria and Zika.
About Speaker:
Jennifer Kahn likes to seek out complex stories, with the goal of illuminating their nuances. She teaches in the magazine program at the UC Berkeley Graduate School of Journalism, and is a contributing writer for the New York Times Magazine; she has written features and cover stories for The New Yorker, National Geographic, Outside, Wired and many more.
About Merrative:
Discuss ideas from digital literature like books, news, articles, and research papers together at Merrative.com
You can:
- share recommended books, articles, takeaways, fan fictions, summaries, etc
- start or join group discussions, read along on books and articles on any topic (film, poetry, tech, news, etc). Email hello@merrative.com for hosting access.
Know more about us at https://merrative.com