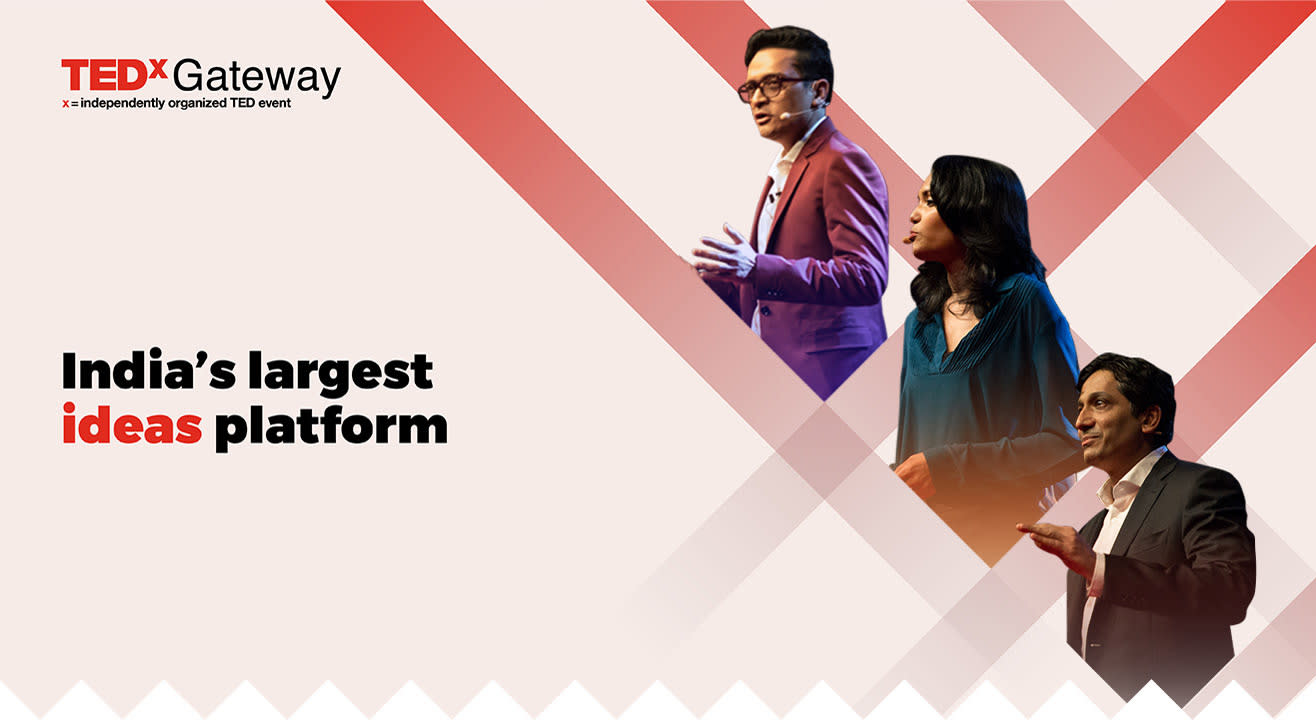 Talks
TEDxGateway Dec, 2018
Dome @ NSCI, SVP Stadium, Worli, Mumbai
About
Tickets starting from just ₹600.
Limited time offer: Use Code TG10 to avail a 10% discount on all tickets!
TEDxGateway is an independently-organised TED-like event, that happens in Mumbai, India. TEDxGateway passionately believes in the power of ideas to change attitudes, lives and ultimately, the world.
At the 10th edition of the day long conference, 20+ speakers including performers will inspire you with unique ideas from India and all around the globe. It is a front-row seat to see what's shaping up in technology, business, science, design and the arts. A winning formula of brilliant, curious minds and groundbreaking content in an immersive and focused environment. Any chance meeting at TEDxGateway can lead to exciting new ideas and insights.
Why you should go?
It's the ultimate brain spa
Hear real stories from real people with extraordinary ideas
A journey into the future in the company of those creating it
Spark deep conversation and connections
Meet like-minded people from across industries and network with thought leaders


TEDxGateway talks have millions of views on YouTube. View some of the most watched ones below.




Bank & card offers
SBI: Get 10% cashback on any ticket on purchase using an SBI credit card. SBI Card Elite, Doctor Card, Federal Bank platinum card, Bank of Maharashtra Platinum Card, United Bank of India platinum card, Oriental Bank of Commerce Platinum Card, South Indian Bank platinum card, Karur Vysya Bank Platinum Card, Lakshmi Vilas Platinum card, Karnataka Bank Platinum card, Karur Vysya Bank Signature Card, Air India Platinum, Air India Signature, Central SBI Select + card, SBI Card Prime, TATA Platinum.
ICICI Bank: Get 10% instant discount on any ticket on purchase by Wealth customers.
Registration: Sunday, December 2, 2018
Time- 8 AM - 10 AM
Auditorium entry begins at 9.15 AM
Event Timing: 9.45 AM - 6.30 PM
Seema Bansal: Education Innovator

Seema Bansal is an associate director in the New Delhi office of the Boston Consulting Group(BCG). Since joining BCG in 2000, she has worked extensively in financial services and telecommunications. Today, Bansal leads BCG's social impact and development practice in India, and works on disparate projects in fields including education, food security and nutrition and governance within government agencies.

Haaziq Kazi: Child Prodigy & Innovator

A 12 year young innovator, who is passionate about cleaning the oceans of the plastic waste. He has designed a prototype of a ship, names ERVIS which can suck out plastic from the ocean surface. It will man and clean oceans in a sustainable and responsible manner.

Ms. Gitanjali Rao: Child prodigy & Inventor

Gitanjali Rao, 12 year young innovator who has invented a quick, low-cost test to detect lead contamination in water. Gitanjali's portable invention - named Tethys, after the Greek goddess for fresh water - allows a sensor linked to a mobile app to give an accurate, almost immediate analysis. She was just recently named as America's Top Young Scientist of 2017 by the Discovery Education 3M Young Scientist Challenge.

Mihir Shah: Innovator & Entrepreneur

Mihir Shah is a computer engineer and the co-founder of UE LifeSciences Inc. (UELS), which develops innovative, low-cost and clinically effective tools to battle the burden of breast cancer in geographies where incidence is on the rise and where western protocols for screening women is unadoptable or unsustainable.

Parag Khanna: Global Strategy Advisor & Geopolitical Futurist

Parag Khanna is a leading Global Strategy Advisor, Geopolitical Futurist and best selling author. Parag is widely cited as a global intellectual. He provides regular commentaries for international media on global trends and scenarios and is currently a CNN Global Contributor. In 2008, Parag was named one of Esquire's "75 Most Influential People of the 21st Century," and featured in WIRED magazine's "Smart List."

Levon Biss: Photographer

Levon Biss is a British photographer whose passion for nature and photography came together to create Microsculpture. Microsculpture, is a unique photographic study of insects in mind-blowing magnification that has taken the genre of microscopy to an entirely new level. Each insect portrait is created from more than 8,000 separate images revealing minute details of insects in a resolution never seen before.

Harssh Poddar: IPS Officer

Harssh Poddar (IPS) officer who wishes to change the perception of citizens towards the police by leading initiatives such as youth empowerment to fight crime, career counselling for local students in rural settings and setting up the a proper infrastructure to prevent farmer suicides.

Tom Wujec: Designer

Tom Wujec is a Fellow at Autodesk, the makers of design software for engineers, filmmakers, designers. At Autodesk, he has worked on software including SketchBook Pro, PortfolioWall and Maya (which won an Academy Award for its contribution to the film industry). As a Fellow, he helps companies work in the emerging field of business visualization, the art of using images, sketches and infographics to help teams solve complex problems as a group.

Shri. Raghu Rai: Padmashree Award Winning Photographer

Raghu Rai is a Padma Shree Award Winning Photographer and a protégé of Henri Cartier-Bresson (the co-founder of Magnum Photos).
His 1992 National Geographic cover story "Human Management of Wildlife in India" won him widespread critical acclaim for the piece.

Ms. Pravati (Paro) Anand: Author, Storyteller & Children Literature Advocate

Paro Anand has dedicated the past 35 years of her life to creating and promoting literature for the youth.
She believes that while re-told folk tales and mythology are indeed important, there exists a crying need to tell stories about situations that children are facing, reading about and being exposed to through the media and social media.
She developed Literature in Action, a program through which she has interacted with over 3 lakh children with a special emphasis on working with unreached children and those in difficult circumstances.

Ms. Shabana Basij- Rasikh:Educator

Shabana Basij-Rasikh is the co-founder and president of the School of Leadership, Afghanistan (SOLA), a non-profit dedicated to providing Afghan girls a rigorous education that promotes critical thinking, a sense of purpose, and respect for self and others.
She attended a high school in America under the YES exchange program, and graduated from Middlebury College in Vermont graduating magna cum laude in International Studies and Women & Gender Studies in 2011. During college, she founded HELA, a non-profit organization dedicated to empowering Afghan women through education. Upon graduating, Shabana returned to Kabul to establish SOLA as Afghanistan's first boarding school for girls.

Ms. Megha Rajagopalan: Investigative Journalist

Megha Rajagopalan is a journalist whose work centers around Technology and the way it redefines our understanding of human rights. She focuses primarily on investigative projects across Asia and was the first journalist to document the effects of intrusive mass surveillance in western China.

Storror: Parkour Collective

Maati Baani: World Music Collaborators and Curators

Maati Baani - a World Music duo formed by Music Composer/Producer Kartik Shah and Indian Classical Vocalist Nirali Kartik are redefining collaborations with musicians across continents with their unique approach of creating music - using the internet.

Ms. Ameenah Gurib-Fakim: Biodiversity Scientist, Former President of Mauritius

Ameenah Firdaus Gurib-Fakim is a Mauritian biodiversity scientist who has long been studying and validating the flora of Mauritius, one of the world's key biodiversity hotspots. She also served as the 6th President of Mauritius from 2015 to 2018.

Ananda Shankar Jayant: Classical Dancer & Choreographer

Dr Ananda Shankar Jayant, is a Padma Shree award-winning Indian classical dancer, choreographer and dance scholar. She actively lectures on breast cancer support and advocacy issues, having successfully battled the illness herself.

Rives: Host, Poet, Storyteller

Madhumita Murgia: European Technology Corrspondent
Please email us at corporatebookings@insider.in, or call us on +91-22-33604736.
TEDxGateway Talk: How a 13 year old changed 'Impossible' to 'I'm Possible' | Sparsh Shah
TEDxGateway Talk: A musical genius | Usman Riaz
TEDxGateway Talk: Dropping out of IT made me achieve much more | Kshitij Marwah
TEDxGateway Talk: Religion isn't God and God has no Religion | Sonam Kalra
TEDxGateway Talk: Why our stereotypes will kill us | Capt. Raghu Raman
Venue
Dome @ NSCI, SVP Stadium, Worli, Mumbai
Lala Lajpatrai Marg, Lotus Colony, Worli, Mumbai, Maharashtra 400018