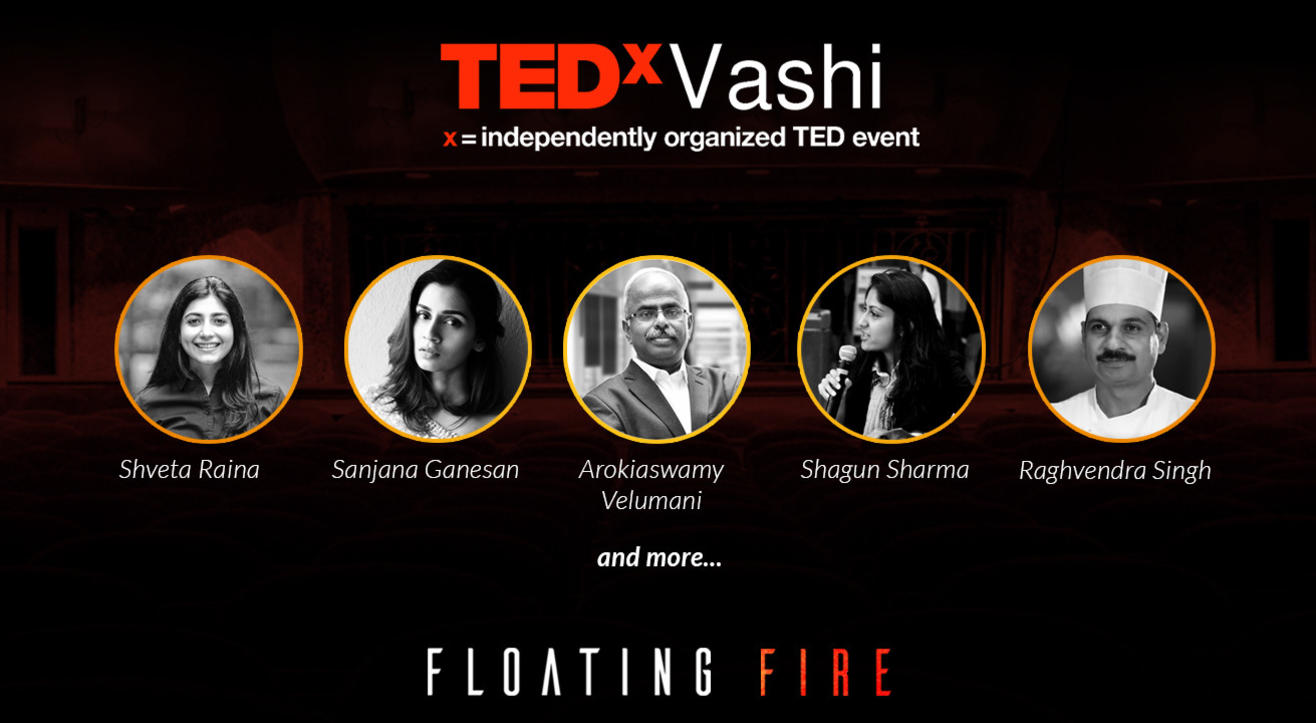 Discussion
TEDxVashi - Floating fire
Royal Orchid Central Grazia
1199 - 2000 (Inclusive of dinner buffet at a 4star)
About
This TEDx event is over! However, TEDxGateway 2018 (Dec 2, Mumbai) is coming up. Details and tickets available here.
TEDxVashi 2017 is proud to present "Floating Fire." You often hear about people taking unconventional path to success and wonder what do they do so differently that they achieve success.


It is time you stop thinking and start taking action. TEDxVashi believes that everyone is capable of achieving success, sometimes all it takes is a small push in the right direction.


Come join us in 16th December 2017 at Royal Orchid Central Grazia as TedX brings together innovation, success, hope and impact under one roof to discuss some of the best ideas and life stories they have ever witnessed.
In the spirit of ideas worth spreading, TED has created a program called TEDx. TEDx is a program of local, self organized events that bring people together to share a TED-like experience. Their event is called TEDxVashi, where x = independently organized TED event. At the TEDxVashi event, TEDTalks video and live speakers will combine to spark deep discussion and connection in a small group. The TED Conference provides general guidance for the TEDx program, but individual TEDx events, including theirs, are self-organized.
Raghvendra Singh
Halwai | acclaimed chef | dreamer
Did you ever think that someone would want to be a halwai voluntarily in their life? Raghvendra Singh went against all odds choosing to become one, and didn't he do it in style? He boasts experience in major hotels and he currently works for Marriott as the Head Halwai!

Sanjana Ganesan
Sports journalist | Miss India 2014 finalist | engineer
How many of us have dreamed of breaking the monotony? This lady not only dreamed but she also made her dream come true. She was an engineer by choice, but she realized that there's so much more she can do. She was a participant in Miss India 2014 and is currently a sports journalist working for Star Sports.

Shveta Raina
CEO | experienced educationalist | youth workforce proponent
She's a pioneer for change. Founder of Talerang, which is an effort to develop an effective workforce in India and a former director for Teach for India (TFI). She has redefined education as we know it and is on her way to revolutionize the Indian

Arokiaswamy Velumani
CEO | disruptive entrepreneur | preventive healthcare flagbearer
A man from a poor family who the society never believed would make it.. but boy, he made it and he made it in style. He proved to the world that limitations only exist in your minds. He took it upon himself to revolutionize the ever-changing medicine & pharmaceutical industry making preventive health-care accessible to every Indian.
Located in Navi Mumbai, Royal Orchid Central, Grazia is a contemporary four-star & vibrant business hotel catering to today's trendy business travellers.
Venue
Royal Orchid Central Grazia
Plot No. 67, Palm Beach Road, Sector 19, Vashi, Near Truck Terminal, Navi Mumbai, Maharashtra 400705