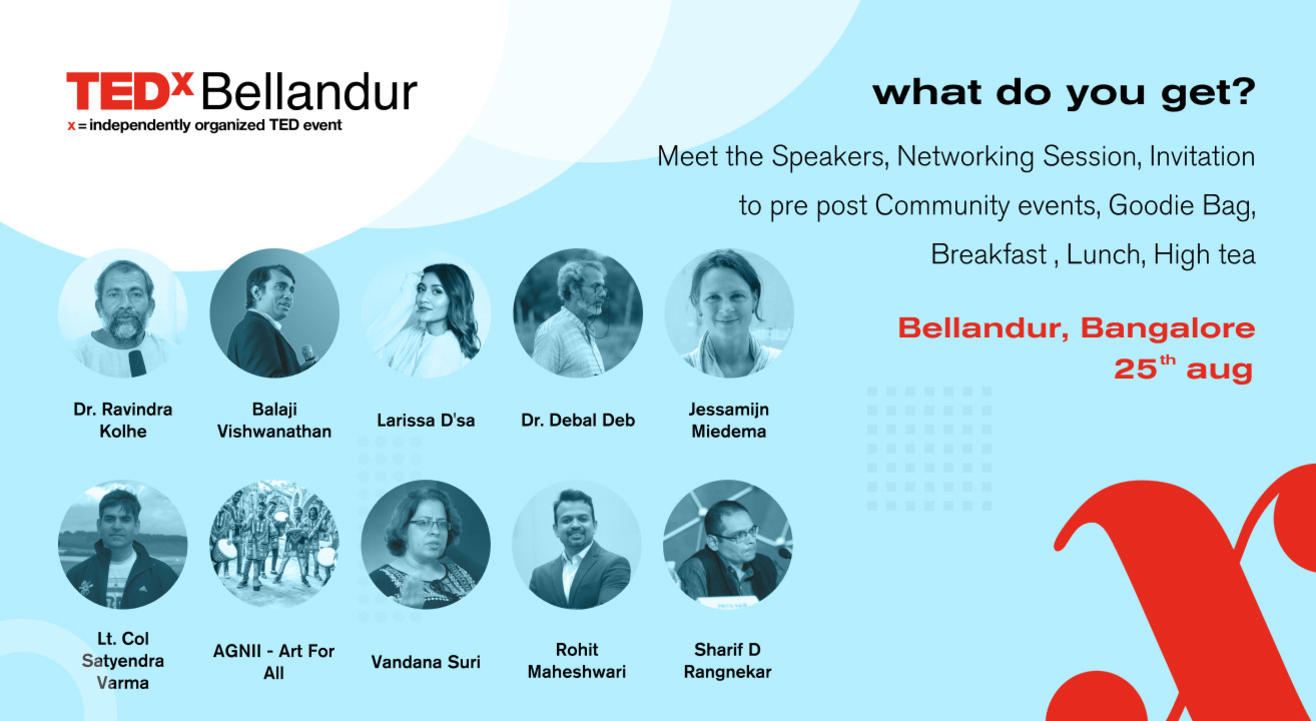 Conference
About
25th August, 9 am to 5 pm
10 Speakers, 200 curated attendees from various backgrounds.
TEDxBellandur is a unique day of talks, performances, films, connection, conversation, networking and debate. We continue to push the boundaries and experiment with our event and its format, but at the core of all of our initiatives is the desire to connect people and ideas.
Come and break the monotony of the 9-5 job , witnessing some exceptional individuals in the process, making new connections which will help you take your life to the next level. Witness greatness, witness TEDx.
Speakers
Dr. Ravindra Kolhe
Popularly known as 'Re 1 Doctor', Dr. Ravindra Kolhe and his wife Dr. Smita Kolhe, have transformed one of Maharashtra's poorest regions into a farmer suicide-free zone. The couple has not only bettered the health outcomes but also helped in getting electricity, roads, and PHCs. They were jointly awarded the Padma Shri award this year.
Larissa D'sa
Travel & Lifestyle Blogger, YouTuber, Digital Creator and Artist. When she is not busy travelling and following her passion to create quality travel content, Larissa is found curating FelizLand, the brand she co-founded - an online store where you can buy things personally designed by her. She has successfully made her mark being one of the most followed influencers with more than 362000 subscribers on YouTube. A self-preneur at heart, Larissa is an inspiration for all those who want to follow their heart and are scared of taking a leap ahead
Jessamijn Miedema:
(Founder, Ecofemme) Eco Femme is a women-led social enterprise founded in 2010. They produce and sell washable cloth pads, provide menstrual health education and open dialogues on menstruation all along the way.
Balaji Vishwanathan
CEO of Invento Robotics, creator of Mitra, India's famous Humanoid Robot released during GES. He's the most followed Quoran, with over 521K followers, has been a top writer for 6 consecutive years with over 320 million answer views. Balaji takes pride at manufacturing Humanoids in India which sure is not only strengthening 'Make in India' program but also putting Indian products on Global level.
Lt. Col Satyendra Varma
Ex-Captain of the Indian army's skydiving team. He carried out India's first BASE jump from a 450-foot tower in Delhi and has over 54 jumps, 2400 skydives, 350 wingsuit jumps to his credit. Back in 2015, he received the National Adventure Award (equivalent to Arjuna Award) from then-President Pranab Mukherjee.
Vandana Suri:
Founder, TaxShe (A cab service by the women for the women), Vandana is training women from underprivileged segments to become professional drivers. Vandana Suri, an enabler, a leader and a woman cab driver herself is always working towards a better and safer tomorrow.
Sharif D Rangekar
A communications consultant, former journalist, a musician, and LGBTQ activist. He is the author of 'Straight To Normal', India's first queer autobiography. He is the ex-CEO and ex-chairman of Integral PR and also served as the President PRCAI and a Board Member of PROI.
Dr. Debal Deb
Founder of Vrihi, the first non-governmental and largest rice seed bank for farmers in eastern India. He has managed to save 920 varieties of rice by re-establishing the vanishing culture of non-commercial seed exchange. Debal works with farmers to truly recognize the depth of their knowledge and believes that solutions to hunger must benefit the small producer who is at highest risk.
Rohit Maheshwari
A Product and Strategy leader , Rohit has over 20 years of experience in consulting, data analytics, business development, sales & delivery.
Venue
Subex Limited
RMZ Ecoworld, Outer Ring Rd, Devarabisanahalli, Bellandur, Bengaluru, Karnataka 560103
GET DIRECTIONS