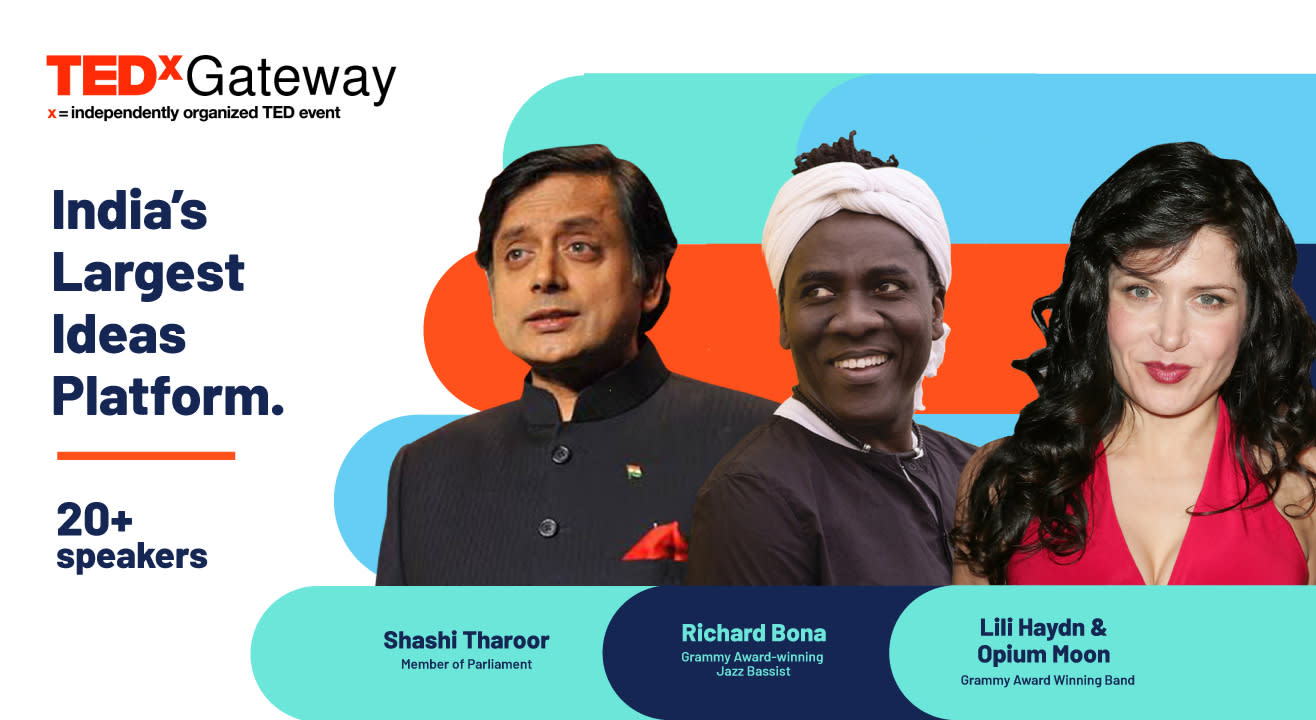 Talks
Ideas worth experiencing - TEDxGateway is back with some epic talks!
You've watched ideas worth spreading on their iconic platform. Now it's time to meet the folks behind them!
Chances are you've watched more than one TED talk online that's made you go 'woah'. After all, these special moments come in plenty at TED. Finding ideas that match your thinking is even more interesting with the talented minds here! If you haven't come across TED yet, there's no finer place than TEDxGateway - one of India's largest TED events, to see what it's all about.

While some folks call them an idea platform, the truth is TEDx is a beautiful community of ideas. You see, new perspectives don't just get talked about at these events - they're shared and translated into action by people who are fiercely passionate about what they do. When you're sitting at a TEDxGateway talk, you can feel the collective power of everyone there. That's primarily because, changemakers of all kinds come together at this space. They believe they can make a difference in the world, even with the smallest of questions. That kind of energy is just infectious. In TEDxGateway's last edition, there were talks from the likes of Ameenah Gurib-Fakim (6th Mauritian President and biodiversity scientist), Raghu Rai (acclaimed photojournalist), and Shabana Basij-Rasikh (co-founder of the School of Leadership, Afghanistan).
Get your tickets for TEDxGateway here:
Shashi Tharoor's talk about what education truly means:-

The talk was almost prophetic. At TEDxGateway 2013, Shashi Tharoor talked about the need to prepare young minds for innovation so they could handle an economy in 2020 that would have 20 to 24 years olds looking to enter the work force.

Sonam Wangchuk's talk about how education could be made better :-
Ladakhi environmentalist and innovator Sonam Wangchuk describes how he brought reforms in collaboration with the government in Ladakh. It brought both better academic results and a system of thinking differently!

A Listener's Guide to TEDxGateway - how to make the most of it

It's not just about talks and inspiration. Even though you might see a whole lot of TEDx Speaker Guides out there and tips for giving a TEDx talk, the real deal is being in the audience. Here's how you can make the most of TEDxGateway -

Strike up a conversation! Whether you prefer hanging with the back-benchers or sitting right up in the front taking notes, the people to your right and your left are ones committed to helping the world become a better place. So, come be a part of meaningful connections made in the TEDx community. Intense dialogues can be overheard everywhere, right from the gallery to even near the food tables.
Sit back and let the magic of a really good talk wash over you. You might even find yourself holding back tears, as some of these presentations are known to be quite emotional. Don't forget to think about what makes their speeches so heart-touching! They say the art of speech-making can be learnt just by observation.
Shake and sway a little sometimes - You might find a music performance or two! Just like how at the last edition, world music collaborators Maati Baani and drumming prodigy Lydian Nadhaswaram lit up the stage.
Ask questions to the speakers and to your fellow audience. No question is too silly to ask, and most speakers are more than happy to discuss their ideas. Plus, today's debates might just solve tomorrow's problems too.
Most of the add-on experience happens AFTER the talks are all done! You go back with new changes in attitude or with a fresh approach to tackling problems. It might take time to implement them, but that's what TEDx talks are made of - the beginning of a journey!
Subscribe to receive our newsletter!
Find the best experiences happening out there in your city or enjoy handpicked content while sitting comfortably at home. Paytm Insider is your go-to place to figure out what to do today!