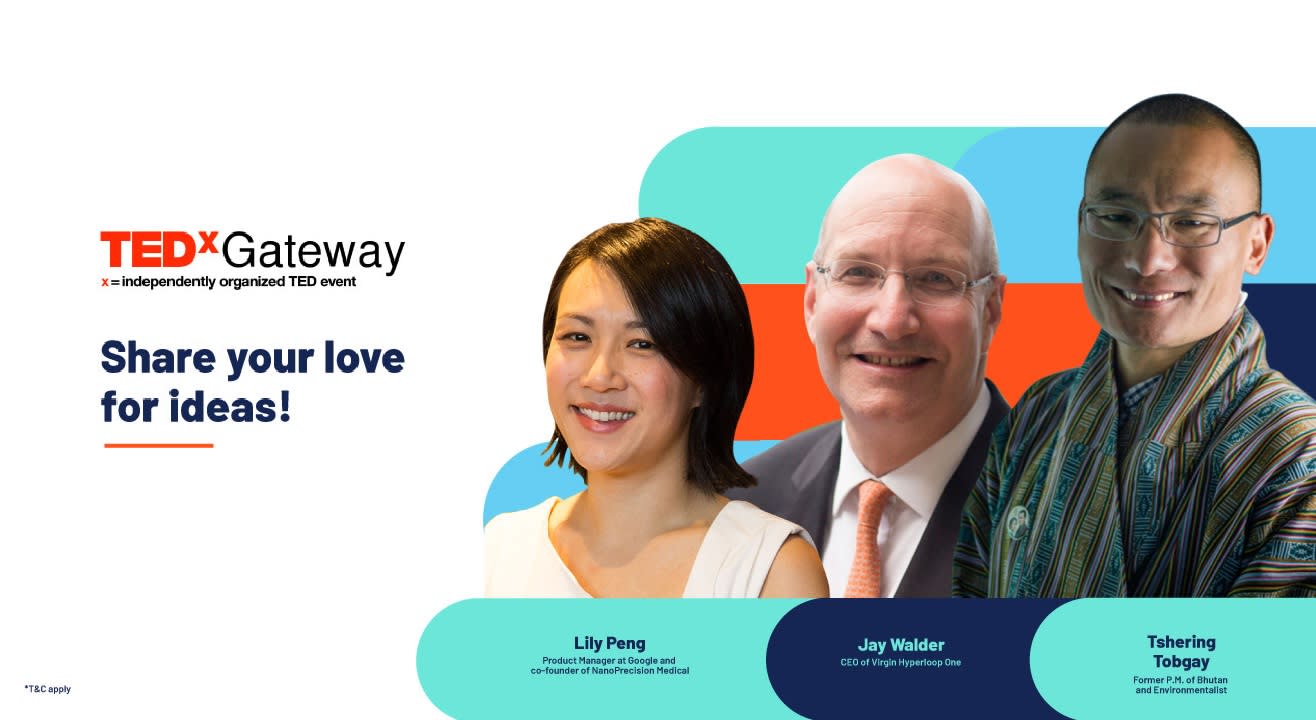 TEDxGateway February 2020
February 23, Sunday | 10AM - 6.30PM
Dome, NSCI, SVP Stadium, Worli, Mumbai
Step out and enjoy this event
Invite your friends
and enjoy a shared experience
TEDxGateway February 2020
February 23, Sunday | 10AM - 6.30PM
Dome, NSCI, SVP Stadium, Worli, Mumbai
Step out and enjoy this event
Invite your friends
and enjoy a shared experience
Invite your friends
and enjoy a shared experience
Limited Gallery Adult Tickets available for sale at the venue.
TEDxGateway - India's Largest Ideas Conference is back!
TEDxGateway is an independently organised TED event operated under license from TED. This day long conference features eminent speakers from different walks of life who will share unique ideas from India and all around the globe. TEDxGateway's community is multi-disciplinary – their delegates represent every field, right from A (architecture) to Z (zoology). Together, they bring to stage a breathtaking range of experiences and perspectives. That means it's the perfect space for a creative collision. Any chance meeting at TEDxGateway can lead to exciting new insights. Each conversation with a new person could reveal new trends, treatments and technologies – or spark them into being!
5 reasons to attend TEDxGateway
It's the ultimate brain spa
Hear real stories from real people with extraordinary ideas
A journey into the future in the company of those creating it
Spark deep conversation and connections
Meet like-minded people from across industries and network with thought leaders
Why You Should Attend TEDxGateway 2020
Speakers At TEDxGateway 2020
Shri. Shashi Tharoor
Member Of Parliament


An author, politician, and former international civil servant, Shashi Tharoor straddles several worlds of experience. Currently a Lok Sabha MP and Chairman of the Parliamentary Standing Committee on External Affairs, he has previously served as a UN envoy, peacekeeper, refugee worker, and administrator at the highest levels.



Lily Peng

Product Manager at Google and co-founder of NanoPrecision Medical


Her team works on applications of deep learning, especially to medical imaging, to increase the availability and accuracy of care. Most of her research projects are centered around the confluence of engineering, medicine, and business. She was the lead researcher on a recent study that can predict risk factors for heart diseases — from blood pressure to smoking status by a simple eye test.



Lili Haydn & Opium Moon

Grammy Award-Winning Jazz Band


Lili Haydn, an expressive violinist with her Grammy award winning band - Opium Moon, evokes the mystery of the ancient worlds while remaining thoroughly contemporary. The band's cinematic soundscapes draw upon the virtuosic skills and diverse ethnic backgrounds of its members.



Tom Thum

Australian Beatboxer & Musical Artist


Armed with just a microphone, Tom Thum pushes the limits of the human voice to create incredible soundtracks of impossible beats and phenomenal sounds.



Tshering Tobgay
Former P.M. of Bhutan and Environmentalist


Tshering Tobgay is the former Prime Minister of Bhutan and serves as the President of the People's Democratic Party in Bhutan.



Jay Walder

CEO of Virgin Hyperloop One


Jay Walder is the CEO of Virgin Hyperloop One, an Americian based transportation company. Walder has a long history of working in and with governments on real, live transit projects that actually move people around. Previously he's been the CEO of Motivate, a bike sharing company, and of the Hong Kong transit company MTR Corporation (MTRC)



Karen Hao

Artificial Intelligence Reporter for MIT Technology Review


Karen Hao demystifies the field's latest news and research, and examines the sticky ethical issues and social impacts of the technology.



Eli Beer

Founder And President of United Hatzalah


Eli Beer, the founder and president of United Hatzalah, has re-imagined a way to keep people alive during a medical emergency until official help arrives.



Rishab Jain

Child Prodigy & Cancer Researcher


Rishab Jain is a 15-year-old scientist and inventor. Rishab invented the Pancreatic Cancer Deep Learning System, an artificial intelligence tool that improves radiation treatment in cancer. Rishab is currently a high school student and aspires to become a surgeon; he hopes to cure pancreatic cancer one day.



Yuval Mor

AI Technologist & Disruptor


Yuval Mor has been at the cross roads of technology and innovation all his life. He was involved in 5 successful startups and is now the CEO of a Telemedicine company out of Israel. Yuval was born and raised in Israel and has lived for 10 years in Silicon Valley. He is very excited about the potential of technology to transform the healthcare space.



Bruce Friedrich

Food Innovator


Bruce Friedrich is Cofounder and Executive director of The Good Food Institute, an organisation that is fostering food innovation and creating sustainable alternatives to meat consumption.



Dr. Shruti Kapoor

Indian Economist And Founder, SAYFTY


Shaken by the horrific gang rape in Delhi in 2012 that caught the attention of the global news media, Dr. Shruti Kapoor founded her organization, Sayfty, whose goal is to educate and empower women and girls in India to protect themselves from violence. The Indian Ministry of Women and Child Development in 2019 honored Dr. Kapoor as one of the "30 #WebWonderWomen".



Hajer Sharief

Libyan Human Rights Advocate


As an activist promoting human rights in Libya and beyond, Hajer Sharief promotes human rights, gender equality and political participation. Doing the right thing regardless of risk remains her life principle, and activism remains her lifestyle -- one that helps individuals become aware of their responsibility towards humanity and the environment.



Nirupa Rao

Botanical Illustrator


Nirupa Rao's painstakingly detailed illustrations are a combination of her fascination for nature and love for painting. She has been documenting South India's flora on Instagram in painstakingly detail – from the everyday vegetation to the exotic plant life.



Gangadhar Patil

Founder & CEO 101reporters.com


Gangadhar Patil runs 101Reporters, a growing network of thousands of rural reporters in India that sources original stories from these local reporters for national and international media.



Danish Siddiqui
Photojournalist


Danish Siddiqui is a Pulitzer Prize-winning photojournalist and heads international news agency Reuters Pictures team in India. He has graduated in economics and done masters in mass communication. Before making his foray into photojournalism, Danish was a television correspondent with one of India's leading news networks.



Oded Shoseyov
Nanobiotechnologist


A true maverick of bio-technology fied, Dr Oded Shoseyov is, a faculty member of the Hebrew University of Jerusalem. He is the founder of 14 different companies developing products based on bio-technology.



Jigyasa Labroo
Founder of Slam Out Loud


Jigyasa Labroo is the founder and CEO of Slam Out Loud which uses arts in education to inculcate leadership, expression and critical thinking in the youth.



Vrishab Krishna
Child Prodigy & AI Innovator


Vrishab Krishna is a 16-year-old child prodigy who loves computer science and math.



Shneel Malik
Architect & Bio Designer


Shneel Malik, an Architect and an interdisciplinary Bio-design researcher, is currently a design tutor & PhD candidate at Bio-Integrated Design (Bio-ID) Lab. Her work delves into fabricating large-scale photosynthetic membranes from water-based biological materials containing micro-algae.


Listen to Attendee Experiences
Dr. Shashi Tharoor live at TEDxGateway!
Sonam Wangchuk's TEDx talk about education reforms is a must-watch.
Dome, NSCI, SVP Stadium, Worli, Mumbai
Lala Lajpatrai Marg, Lotus Colony, Worli, Mumbai, Maharashtra 400018
GET DIRECTIONS