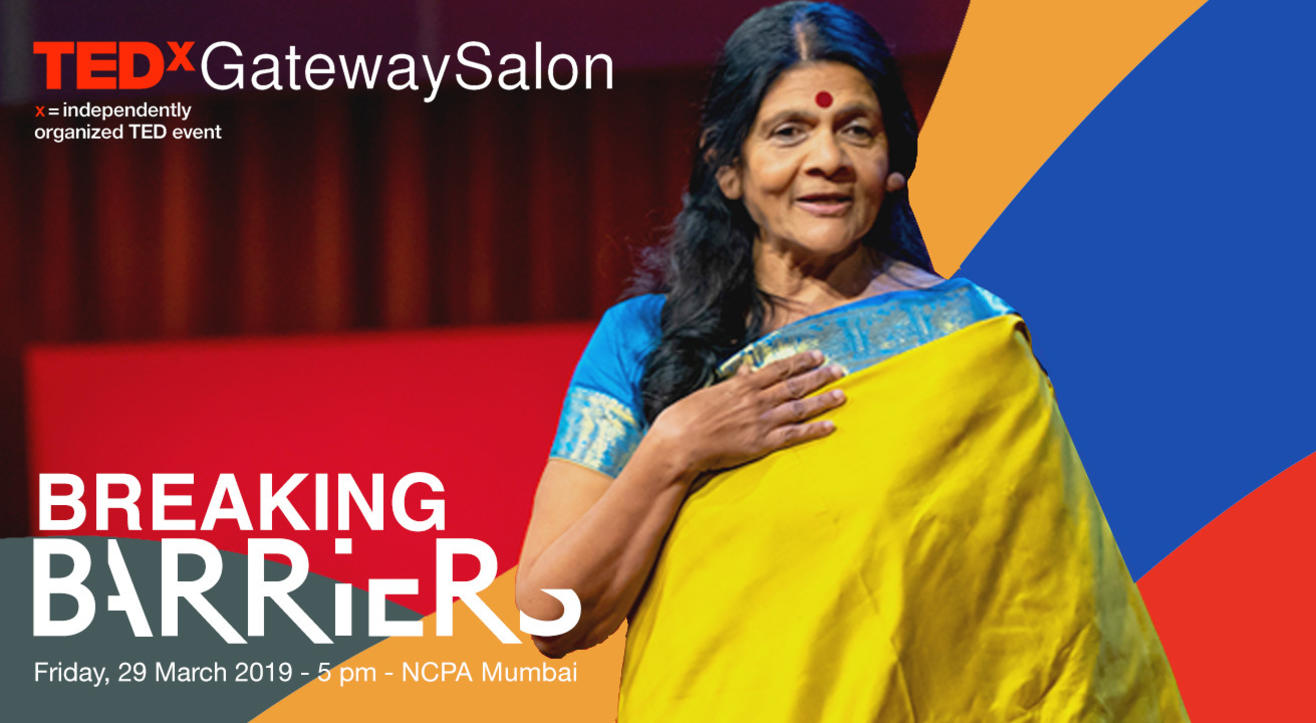 Talks
TEDxGatewaySalon – Breaking Barriers
Tata Theatre, NCPA, Mumbai
About
TEDxGateway is an independently organised TED event operated under license from TED. We believe passionately in the power of ideas to change attitudes, lives and ultimately, the world. Our objective is to reach out and inspire people with "Ideas Worth Sharing" and help people to make a strong difference in the world. TEDxGateway's flagship conference is the largest TEDx conference in India. Over the past few years TEDxGateway has launched some powerful ideas into the world.
About TEDxGatewaySalon - Breaking Barriers:
TEDxGateway is proud to present a Special Edition of TEDxGatewaySalon here in Mumbai. The theme of the conference will be "Breaking Barriers". We're shining a spotlight on genuine ideas from some of the world's most extraordinary women who are breaking barriers and changing the rules of the game. "TEDxGatewaySalon - Breaking Barriers" will be a joyful, thought-provoking celebration of women who catalyse ideas toward action.
Our Speakers:
The conference will host 6-8 powerful women speakers from India and across the world to share their ideas, perspectives, and stories with over 1000+ attendees. Visit www.tedxgateway.com to view a list of our speakers for the conference.
TEDxGateway Community:
The TEDxGateway community is a diverse one, both ethnically and socially. Our organisers, fellows, team members and speakers all coalesce into one large, wondrous amalgamation of brilliant ideas and thoughts. We work with, and around our speakers, and aim to cultivate their work through support and collaboration.
Jody Williams: Nobel Peace Laureate

Jody Williams received the Nobel Peace Prize in 1997 together with the International Campaign to Ban Landmines for their central role in establishing the 1997 Mine Ban Treaty. The US-based political activist is known across the world for her efforts to enhance understandings of security and related issues in the world today. She is also the chair of the Noble Women's Initiative that she founded in 2006 together with five other women Nobel Peace laureates.
She, along with 20 of her fellow Nobel Peace laureates have called for a preemptive ban on Lethal Autonomous Weapons Systems (LAWS)—weapons that could operate without human supervision once activated even in matters of killing human beings.

Vidhya Subramanian: Bharatanatyam dancer

Vidhya Subramanian is an eminent Bharatanatyam artist, acclaimed for her sensitive choreography and emotionally charged performances. Trained under gurus S.K.Rajarathnam and Kalanidhi Narayanan, her artistry has earned appreciation in India, Germany, France, UK, Russia, Afghanistan, Kenya and USA. In her charismatic creativity one witnesses a strong belief in the validity of choreographic structure combined with openness to new influences. An intelligent, articulate and moving performer, she employs her outstanding interpretive and dramatic skills to make the emotions palpably present on stage. A sought after artist to perform and teach, her dance is often described as an offering of mind, body and soul. With an MA in Theatre Arts, she has enriched her artistic experience with forays into theatre and film as well

Ankita Shah: Spoken Poet & Storytellar

Ankita co-founded The Poetry Club in 2013 with Trupthi Shetty. Ankita and Trupthi began The Poetry Club while they were studying to become chartered accountants. They realised they both wrote poetry and wanted to find others who shared their interests Setting up the club and running it gave her the chance to interact with people who wrote in several languages, to discover stories, narratives and styles different from her own, and to have conversations that shaped both her thinking and craft.
Shah worked as a tax consultant at Ernst & Young, and spends her weekends organising poetry gatherings and performing at open mics and slams. She is currently working as Manager of Program and Development at G5A Foundation for Contemporary Culture . Today, Shah switches between short-form poetry about family, loss and death, and long-form spoken word poems that are based on social issues such as gender discrimination.

Aditi Prasad: STEM Advocate

Aditi Prasad, is on a mission to inspire and educate young girls and boys to learn to code and develop real-world solutions for real-world challenges. With Robotix Learning Solutions, Aditi is harnessing the power of robotics, coding, STEM & Maker Space to make school education more interactive and immersive.
Robotix Learning Solutions aims to inspire and equip the next generation of innovators and creators. In 2014, under the aegis of Robotix, they next laid the groundwork for 'Indian Girls Code', a free, hands-on coding and robotics education programme for underprivileged girls. The first Indian Girls Code initiative was at an all girls orphanage Annai Ashram in Trichy, Tamil Nadu India, teaching 75 girls coding and robotics. In India, where technical degrees often lead to better jobs, Aditi is promoting educational pathways that lead to better careers and opportunities for girls. She is helping to make tech studies more approachable and fun, and creating girl game changers in STEM

Ashweetha Shetty

Ashweetha is a young social rural worker hailing from an underprivileged community of bidi rollers in south India. She broke through the ceiling of social norms imposed by her community through the power of education and became the first-generation graduate who founded The Bodhi Tree Foundation. The foundation now supports over a thousand college graduates to reach their potential through education, life-skills, and opportunities.

Shubha Tole

Dr. Shubha is a neuroscientist, Professor and the Principal Investigator at the Tata Institute of Fundamental Research in Mumbai, India. Her research involves investigating the development and evolution of the mammalian brain. She is famous for having discovered a gene that is crucial to the proper formation of the hippocampus, amygdala, and cortex of the brain, winning the Infosys Prize in the Life Sciences category in 2014. She has also received the SS Bhatnagar Award (2010); the Research Award for Innovation in Neurosciences (2008) from the Society for Neuroscience; the Wellcome Trust Senior International Fellowship (1999). She is a fellow of the Indian National Science Academy, the Indian Academy of Sciences, and the National Academy of Sciences. She teaches science communication, actively engages in public outreach via workshops in schools and colleges, and encourages her students to do the same

Rwitwika Bhattacharya

Founder of Swaniti , a social enterprise that delivers public services to the base of the pyramid. In 2010 then 22 years old, she set up Swaniti, a non-profit organisation that helps Parliamentarians identify key areas for development in their constituencies and assess how their programs work. Six years later, her organisation helps over 90 Parliamentarians across the country. She helped pilot a few programs with MPs that proved successful. Her 12-member team helps identify and research problems in different constituencies, and gather data to assist MPs tackle these problems.