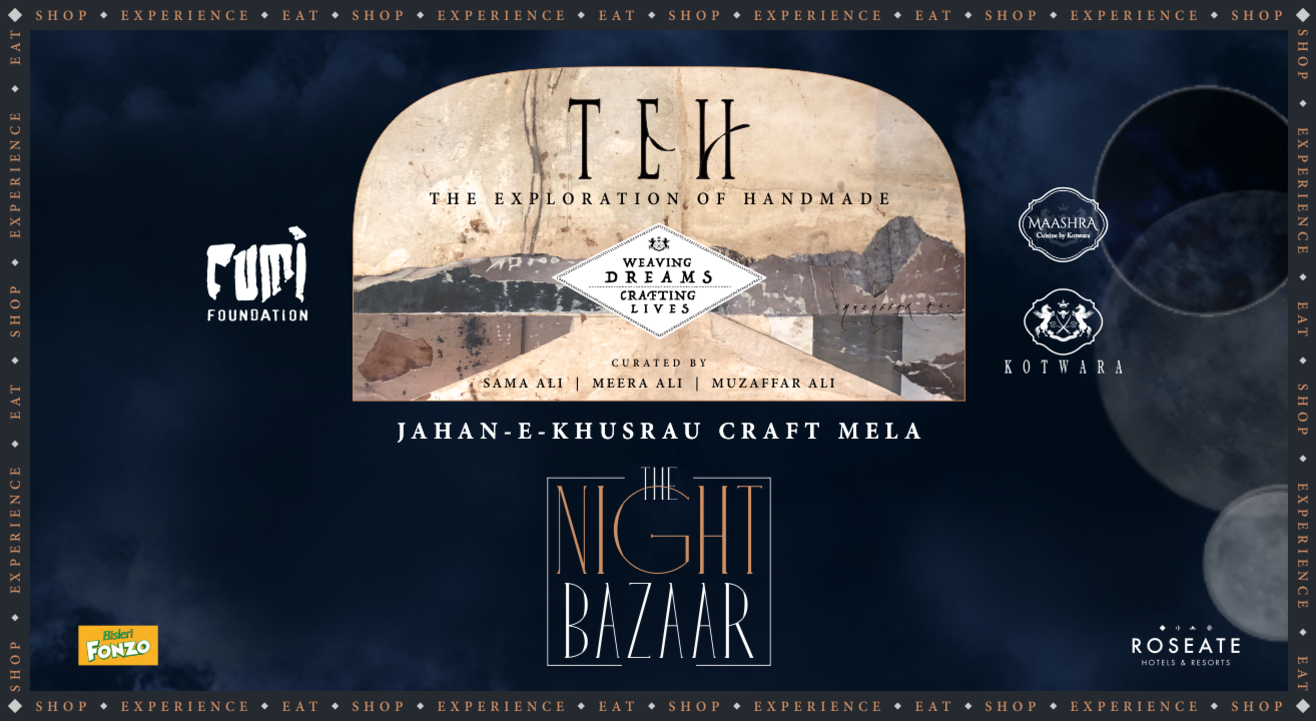 Art
TEH, Jahan-e-Khusrau Night Bazaar
Nature Retreat, House of Kotwara
About
TEH-The Exploration of Handmade, Jahan-e-Khusrau Craft Mela is curated by Sama, Meera & Muzaffar Ali of Kotwara under the aegis of RUMI Foundation, a Cultural Charitable Society.
The Second Edition of TEH comes to you in the form of a Night Bazaar, featuring crafts from, Uttar Pradesh, Delhi, Madhya Pradesh, Maharashtra and Telangana, showcasing bespoke jewellery; leather trunks; chikankari, zardozi and Pochampally ikkat apparel; metalware from Muradabad; glassware from Firozabad; textiles from Banaras and Maheshwar along with culinary arts from Lucknow to name a few!
TEH in Hindustani means to resolve and in Chinese denotes power. For Muzaffar Ali, the word encompasses both, delving into the depth of things, into layers and folds with focus and determination.
TEH is a mass scale awakening for the passion for the handmade.
Weaving Dreams & Crafting Lives - a mission to invite friends, be in Government or the Corporate sectors, artists and simply lovers of art, to join in. It blends different crafts and traditions creating new milestones in design, as these skills happen to be the cultural fabric of our nation and are being abandoned due to mass consumerism.
Let us come together to change the crafts-scape of India and develop a passion for the handmade in an atmosphere of growing automation and mass production thus leading to upgradation of the socio - economic condition of crafts persons. We also need to develop concerns towards a sustainable eco-system and initiate a dialog of design by curating and reinventing the aesthetics of handmade products in India.
Master craftspersons will demonstrate their crafts and offer workshops to eager audiences - Hand block printing, Kabab making, Book binding, and Calligraphy. Antique and vintage cars, an epitome of hand made design, dot the landscape of TEH. You can bring your old and precious books to be bound in leather! Or get yourself etched in charcoal by an artist or even get your favourite couplet written in Urdu calligraphy while you are here. For a change, enjoy the lighter side of Urdu poetry with Popular Meeruthi and discover yourself through Sufi Whirling with Nirupam. For all you art enthusiasts, a preview of Muzaffar Ali's paintings, 'Horses - Custodians of the Sacred Verse', will be on display.
Complete your evening with royal nawabi cuisine from the Kitchens of Kotwara at Maashra, perfectly brewed teas, coffees and specially curated food products, artisanal chocolates and ice creams with a variety of Mango-themed deserts and drinks.
The evenings will be full of entertainment with a play on Ghalib's passion for mangoes, Muzaffar Ali's documentary series on the crafts of India, Urdubaazi and Sufiana kalaam by Pooja Gaitonde.