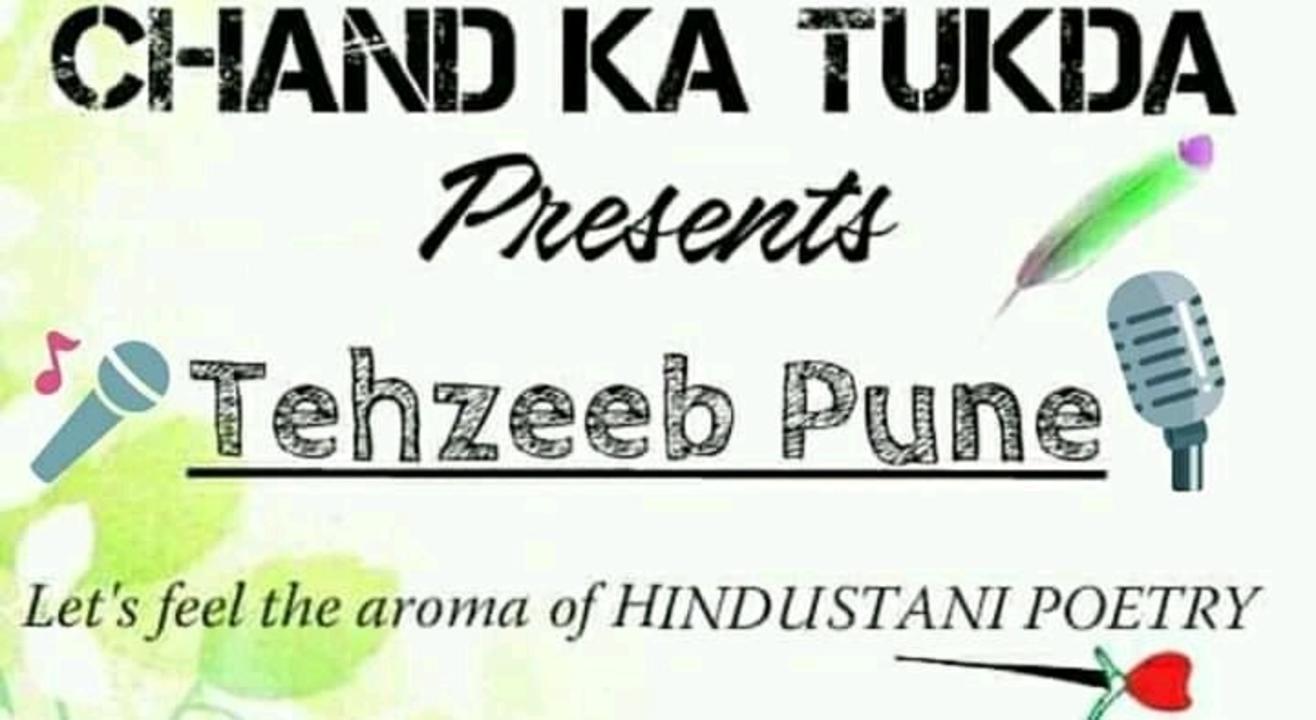 Tehzeeb - Hindustani Poetry Open Mic
October 13 & 20 | 6PM & 7PM
Invite your friends
and enjoy a shared experience
Tehzeeb - Hindustani Poetry Open Mic
October 13 & 20 | 6PM & 7PM
Invite your friends
and enjoy a shared experience
Invite your friends
and enjoy a shared experience
Chand Ka Tukda Presents Tehzeeb 3.0 in Pune, a Hindustani Poetry show hosted by Ankush Tiwari where you can come, perform and mesmerize through your ocean of thoughts and emotions, since every soul is made up of infinite emotions hence come to enlighten the other similar souls by scattering your words. If you are a novice or a Pro, it doesn't matter, the only thing which has a value is your courage to come on the stage and open up in front of the people who are strangers to you.
In our show we are expecting literature enthusiast who are a keen lover and supporter of Hindustani Poetry thus respecting art and artist.
Art is always much bigger than an artist!
Bring along your relatives/friends/family to cheer you up and enjoy your performances.
There will be 15 slots for performers and everyone will be allotted 5 minutes each, if you scribble your feelings into verses then this is the place where you will get what your soul is craving for.
In the end of the show we will announce the Poet of the day and he will be gifted a goodie from our venue partner, Dialogues cafe.
About Chand Ka Tukda and the Host,
Ankush Tiwari is one of the most prominent young Hindustani performing artist in India who writes and passionately performs in Hindi blend with Urdu. He has performed/Hosted in almost 100 shows and judged many poetry competitions in colleges in various cities of India. He has been a winner of various poetry competition including IIM Bangalore to date. He is a Poet/Writer, an Actor, an Activist, a Public Speaker as well as an Author of two books named "Khyalon ka Maikhana" and "Hadon ke paar bhi ek duniya hai" which are the anthologies consisting of 60+ Hindi Poetries and 100+ "Sher-o-Shayari".
Since childhood he has been an avid Reader and started writing during his college days. Being a literature enthusiast, he has been featured by various literary platforms and colleges including IIMs, TEDx and Wittyfeed and delivered his TEDx speech in TEDxLLIM, Mumbai, later was invited to perform as a guest Poet in TEDx VileParle too. He performs on various topics/subjects such social issues such as exploitation, corruption, Menta Health awareness, women empowerment, good touch and bad touch (An awareness campaign through poetry to let children know what is a good touch and what is a bad touch to protect themselves), awareness about menstruation, Beauty, Nature by writing in various genre e.g. Slam poetry, Spoken Word Poetry, Ghazal, Shayari, Muktak, Dohe etc. to make my message interesting for the audience.
He is also a founder of a literary community known as "Chand Ka Tukda", a platform for all the upcoming artists to showcase their talent across India. Primary motive of Chand ka tukda is to promote Hindustani literature, read, listen to learn the essence and significance of literature. It curated different sorts of poetry events such as open pics, poetry concerts, meet ups, workshops etc. across India.
Nukkad Cafe
opp., Konark Nagar Rd, Clover Park, Viman Nagar, Pune, Maharashtra 411014
GET DIRECTIONS
Tehzeeb - Hindustani Poetry Open Mic
October 13 & 20 | 6PM & 7PM
Invite your friends
and enjoy a shared experience