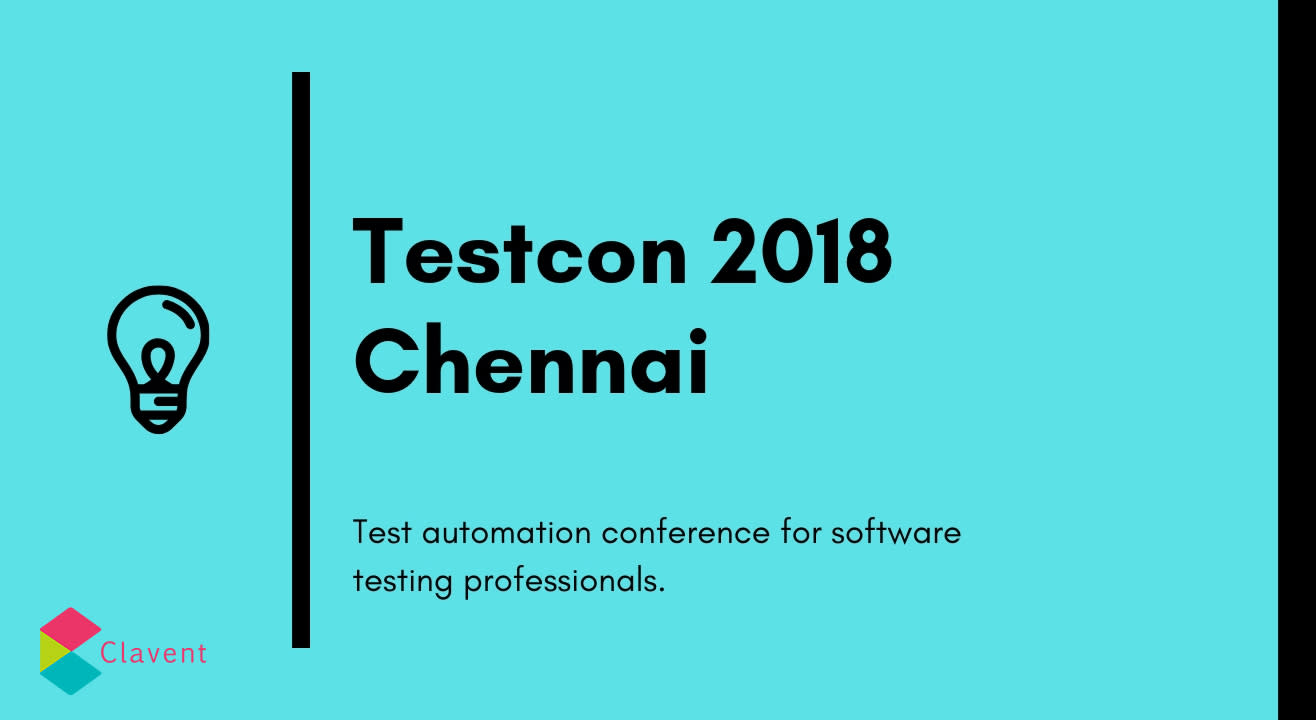 Conference
About
Get flat 20% Discount on your purchase of TESTCON ticket
Clavent is organizing "TESTCON 2018 - The premier conference for Test Automation professionals," which will take place on 5 October 2018 in Chennai, and will be a single day event.

At  Testcon  2018, you will look at gathering all the cool and experienced people of the industry, discuss  about  the disruptive trends & advancements to facilitate knowledge sharing & networking. The summit will showcase the latest trends, innovations  and  challenges in the dynamic realm of automation testing.
08:30 AM – 09:00 AM Registration & Welcome

09:00 AM – 09:05 AM Introduction

09:05 AM – 09:50 AM Keynote Talk- Latest and Future Test Automation Trends
Babu VL, Head of Testing & DevOps, Excelacom

09:50 AM – 10:35 AM Testing the Next Gen of Technologies – IoT, Mobility and Cloud
Dhinakar Ramamurthy, Head of Digital QA, Renault Nissan

10:35 AM – 11:00 AM Refreshments Break

11:00 AM – 11:45 AM Unlocking the Business Value of Cognitive Test Automation
Vikas Mittal, Global Head- Business Assurance, Infogain

11:45 AM – 12:30 PM Turn the Pyramid- Test Automation Tools

Kabilan Karunanithi, Director of Engineering, Symantec
12:30 PM – 01:30 PM Networking Lunch

01:30 PM – 02:15 PM Increasing Adoption of DevOps and How it Impacts Software Testing
Shiva Jayagopal, Founder Director-WinVinaya Infosystems

02:15 PM – 03:00 PM Increase Test Coverage & Decrease Defect Cost through Shift Left Testing Approach
Kaviarasu Venu-Ass Director & Dr. Hari Sankar Chaini-Project Lead, Mindtree

03:00 PM – 03:30 PM Refreshments Break

03:30 PM – 04:15 PM Continuous Delivery with API and Micro Services
Sai Subramanian, QA Manager, Cognizant

04:15 PM – 05:00 PM Deep Neural Networks for Security Testing
Rahul T Raghunandanan, Sr. Manager, Symantec

05:00 PM – 05:05 PM Event Closing
Cancellation must be made in writing atleast 15 days prior to the event day and a refund less a 18% GST will be made. No refund will be made for the cancellation request received less that 15 days prior to the event. Substitutions are welcome at any time and is done without any extra cost. The cancellation will not be effective until a written acknowledgement from Clavent Technologies Pvt. Ltd. is received.
Venue
Ramada Chennai Egmore
Gandhi Irwin Road, Egmore, Ansari Estate, Egmore, Chennai, Tamil Nadu 600008