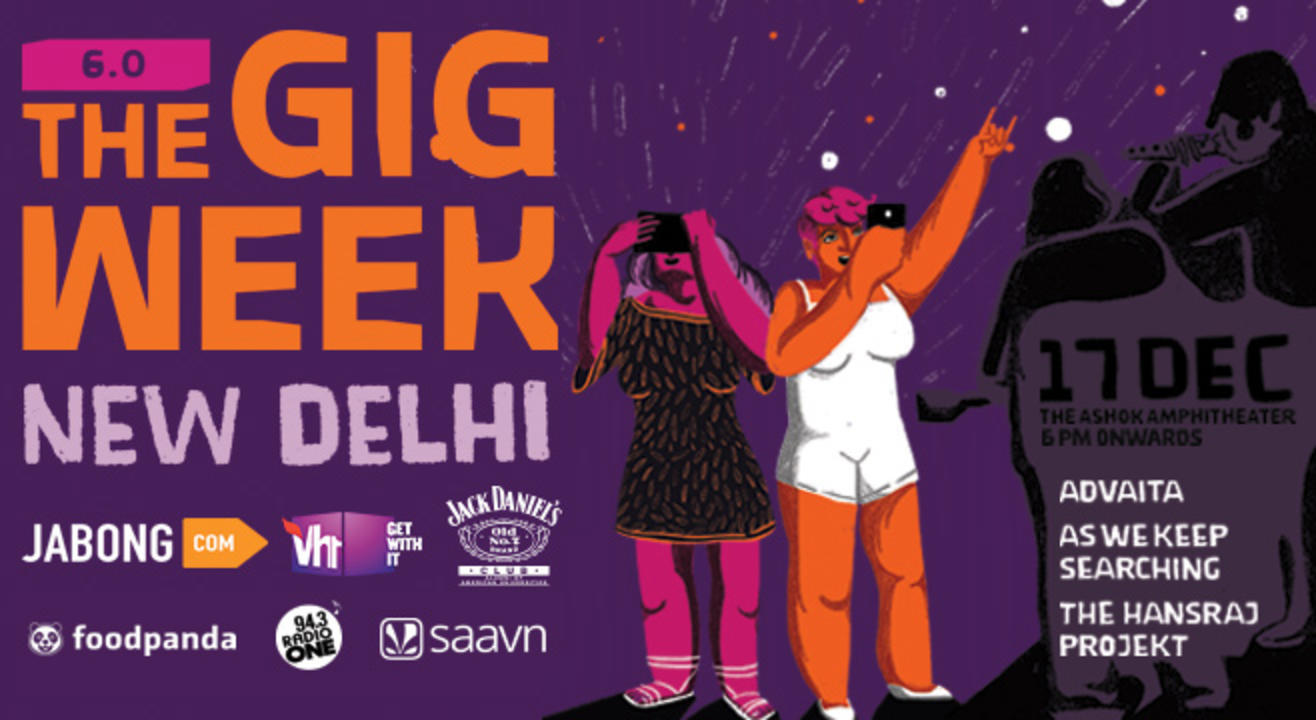 TGW 6.0 - Day 7: Advaita + As We Keep Searching + The Hansraj Projekt
Step out and enjoy this event
Event Guide
3 talented bands
3 talented bands - Advaita, As We Keep Searching, The Hansraj Projekt
Pocket-Friendly
Pocket-Friendly - The best Indie music for those on a budget
Musical Saturday
Musical Saturday: A chill winter evening spent listening to the best tunes
At the Ashok Hotel
At the Ashok Hotel - Delhi's prettiest amphitheatre
Invite your friends
and enjoy a shared experience
TGW 6.0 - Day 7: Advaita + As We Keep Searching + The Hansraj Projekt
Step out and enjoy this event
Event Guide
3 talented bands
3 talented bands - Advaita, As We Keep Searching, The Hansraj Projekt
Pocket-Friendly
Pocket-Friendly - The best Indie music for those on a budget
Musical Saturday
Musical Saturday: A chill winter evening spent listening to the best tunes
At the Ashok Hotel
At the Ashok Hotel - Delhi's prettiest amphitheatre
Invite your friends
and enjoy a shared experience
Event Guide
3 talented bands
3 talented bands - Advaita, As We Keep Searching, The Hansraj Projekt
Pocket-Friendly
Pocket-Friendly - The best Indie music for those on a budget
Musical Saturday
Musical Saturday: A chill winter evening spent listening to the best tunes
At the Ashok Hotel
At the Ashok Hotel - Delhi's prettiest amphitheatre
Invite your friends
and enjoy a shared experience
This one's in the beautiful amphitheater at the Ashok Hotel, with the perfect fusion and ambient music for a winter Saturday evening.
Advaita
Advaita is a band based in New Delhi, whose brand of contemporary 'organic' Indian psychedelic music has been hailed as one of the most original and creative sounds to ever come out of the Indian underground music scene. No where else can one hear a sarangi, tabla and Hindustani Classical vocalist blend so effortlessly, yet so exotically with guitars, drums and keyboards. In 2009 Advaita launched their first album on EMI records titled Grounded In Space and this really catapulted the status of the band. Later that year, Advaita was one of only four bands from India selected by famous producer John Leckie for the British Council Soundpad Project, recording 2 songs for a globally released compilation as well as touring the UK. More international gigs followed with a trip to Singapore. Advaita's fan base was boosted further by their presence on the inaugural seasons of MTV Coke Studio and MTV Unplugged. Following this the band released their second album titled 'The Silent Sea' in 2012. The album went on to bag the Global Indian Music Award (GIMA) for 'Best Rock Album' and the Jack Daniel Rock Award for 'Best Album'. Close on the heels of these awards, the band was also featured in a prime time show called 'The Dewarists' on the Star World channel and more recently 'Sound Trek' on the Fox Traveller channel.
aswekeepsearching
aswekeepsearching has been turning heads and perking up ears over the world for a while now, spreading a message of positivity and good times in a way only they can, while keeping their feet planted firmly on the ground. Hailing from sunny Ahmedabad, Gujarat, the band has recently released their album KHWAAB and toured RUSSIA promoting the same.
The Hansraj Projekt
A Delhi-based world fusion outfit, The Hasnraj Projekt has performed along the likes of The Raghu Dixit Project, Javed Ali, Pritam, Farhan Akhtar, and DL Shankar and on stages such as World Music Festival and Sounds of Freedom in Delhi.
The Ashok Hotel
Niti Marg, Chanakyapuri, New Delhi, Delhi 110021, India
GET DIRECTIONS
TGW 6.0 - Day 7: Advaita + As We Keep Searching + The Hansraj Projekt
Step out and enjoy this event
Event Guide
3 talented bands
3 talented bands - Advaita, As We Keep Searching, The Hansraj Projekt
Pocket-Friendly
Pocket-Friendly - The best Indie music for those on a budget
Musical Saturday
Musical Saturday: A chill winter evening spent listening to the best tunes
At the Ashok Hotel
At the Ashok Hotel - Delhi's prettiest amphitheatre
Invite your friends
and enjoy a shared experience