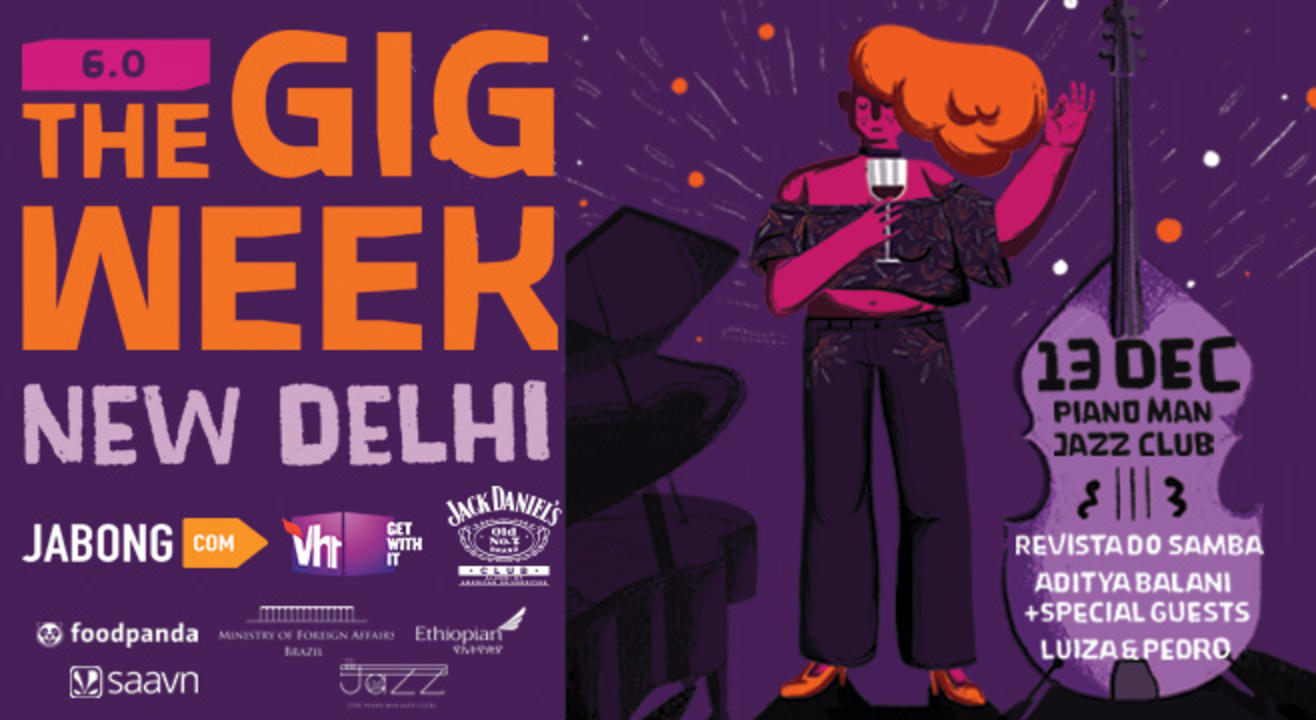 TGW 6.0 - Day 3: Revista Do Samba + Aditya Balani + Luiza e Pedro
The Piano Man Jazz Club, Delhi, Delhi
Step out and enjoy this event
Invite your friends
and enjoy a shared experience
TGW 6.0 - Day 3: Revista Do Samba + Aditya Balani + Luiza e Pedro
The Piano Man Jazz Club, Delhi, Delhi
Step out and enjoy this event
Invite your friends
and enjoy a shared experience
Invite your friends
and enjoy a shared experience
This one's for the jazz lovers, with a bit of samba to get your feet tapping! And all of this in a perfectly snug parlor bar.
Revista Do Samba (Brazil)
Revista do Samba is a trio hailing from Brazil, consisting of Letícia Coura (vocals & cavaquinho), Beto Bianchi (guitar & vocals) and Vitor da Trindade (percussion & vocals). The popular trio has released 5 albums till date, and has performed its phenomenal sounds at various festivals in Brazil and the world over, such as APAP (New York), Stimmen (Germany), Parq La Villete (Paris), World of Performing Arts Festival (Lahore), Holand (Amsterdam), Førde Internasjonale Folkemusikkfestival (Norway) among others.
Aditya Balani + Special Guests
Aditya Balani is a multi-faceted singer-songwriter, guitarist and music producer. Over the last decade he has worked with various projects that have crossed international and stylistic borders ranging from jazz, pop, fusion to electronic music. His work has been featured on BBC Asia Beats, MTV Coke Studio, Pepsi MTV Indies, BBC Radio among others. Aditya will be presenting a set specially curated for The Gig Week 6.0 featuring some of the finest musicians from the city including Smiti Malik, Jayant Manchanda, Vasundhara V and more.
Luiza e Pedro (Brazil)
Luiza Sales is a Brazilian singer-songwriter, and the first Brazilian musician to hold a Master's Degree in Contemporary Performacne from Berklee Valencia. She has released two albums to date, and is also currently the producer and music director of the award-winning Brazilian Youtube series, Meninas do Brasil. In performance, she is accompanied by Pedro Carneiro, an exceptionally-talented pianist who has been trained in Lisbon and has performed across Germany, England, Sweden, Portugal and Spain. As a duo, Luiza e Pedro have performed their sound - blending jazz, brazilian and latin music - in Spain, Portugal, Brasil and recently at Sofar Sounds Delhi. Both also presently teach as faculty at Swanabhoomi Academy of Music.
The Piano Man Jazz Club, Delhi
7/22, Ground Floor, B-6, Opposite Deer Park, Safdarjung Enclave Market, Safdarjung, New Delhi
GET DIRECTIONS
TGW 6.0 - Day 3: Revista Do Samba + Aditya Balani + Luiza e Pedro
The Piano Man Jazz Club, Delhi, Delhi
Step out and enjoy this event
Invite your friends
and enjoy a shared experience