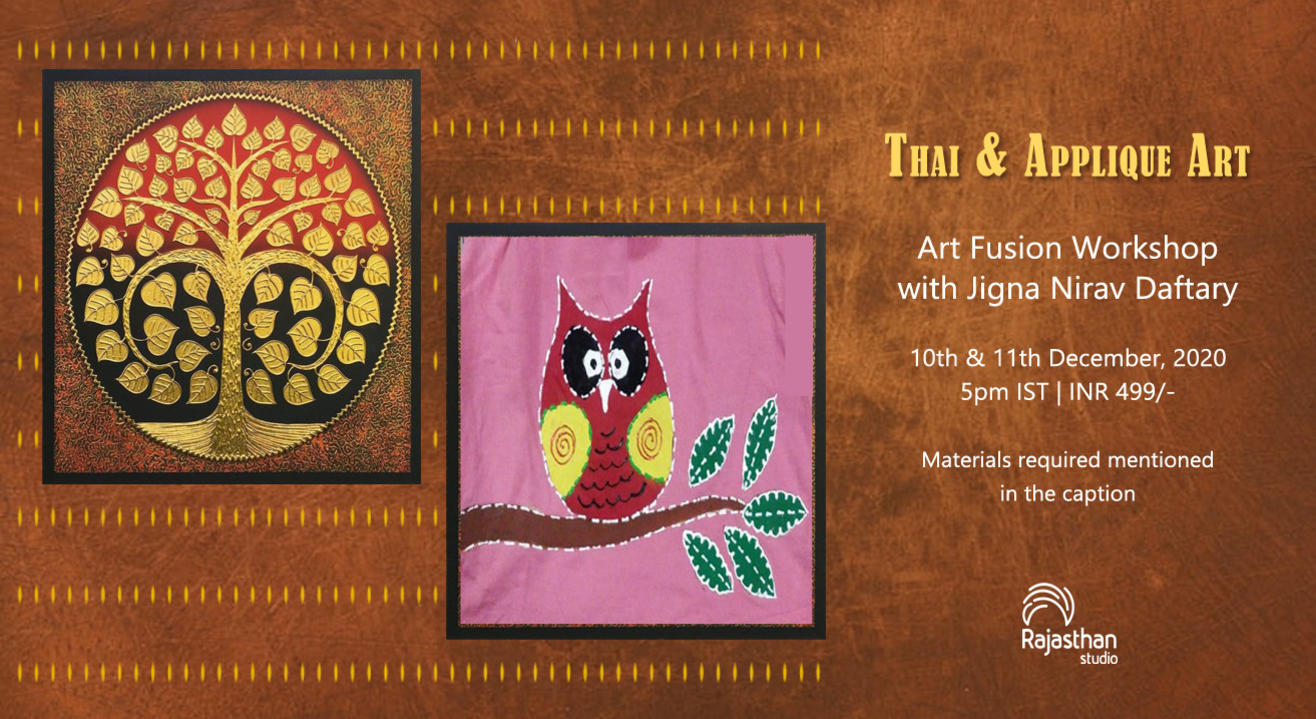 Thai & Applique Art Workshop By Rajasthan Studio
Enjoy this event from your home
Invite your friends
and enjoy a shared experience
Invite your friends
and enjoy a shared experience
About the Event
Applique is ornamental needlework in which pieces or patch of fabric in different shapes and patterns are sewn or stuck onto a larger piece to form a picture or pattern. It is commonly used as decoration, especially on garments.
Traditional Thai art is primarily composed of Buddhist art and scenes from the Indian epics. Thai sculptures most often depict images of the Buddha and other characters from Buddhist and Hindu mythology.
Broaden your art horizons and learn two unique forms of art in this fusion workshop by Jigna Nirav Daftary (@daftaryjigna) on:
Date: 10th & 11th December, 2020
Time: 5 PM
Venue: Online Workshop over Zoom App
Price: INR 499/-
Materials Required:
Fevicryl Acrylic colors,
Red, Black, Golden, White (white colour sap ),
Golden 3D outliner, 4-5 Sponge Pieces ,
Brush (000),
MDF Base,
Fevicryl Fabric Colours, 3D outliners,
Fabric glue,
Cloth piece (1/2 metre)
Scissors,
Water container,
Cloth Ring, Rough Cloth
P.S. No entries will be accepted after 1 PM on the day of the workshop.
See you!
#rajasthanstudio, #onlineworkshop, #onlinelearning, #appliqueart #thaiart #buddha #ornamental #needlwork #virtualexperience, #artistsoninstagram, #explore, #creativity, #design, #rajasthan, #thecircle, #thecircleexperience, #artist, #artists #artbaje #eksoart