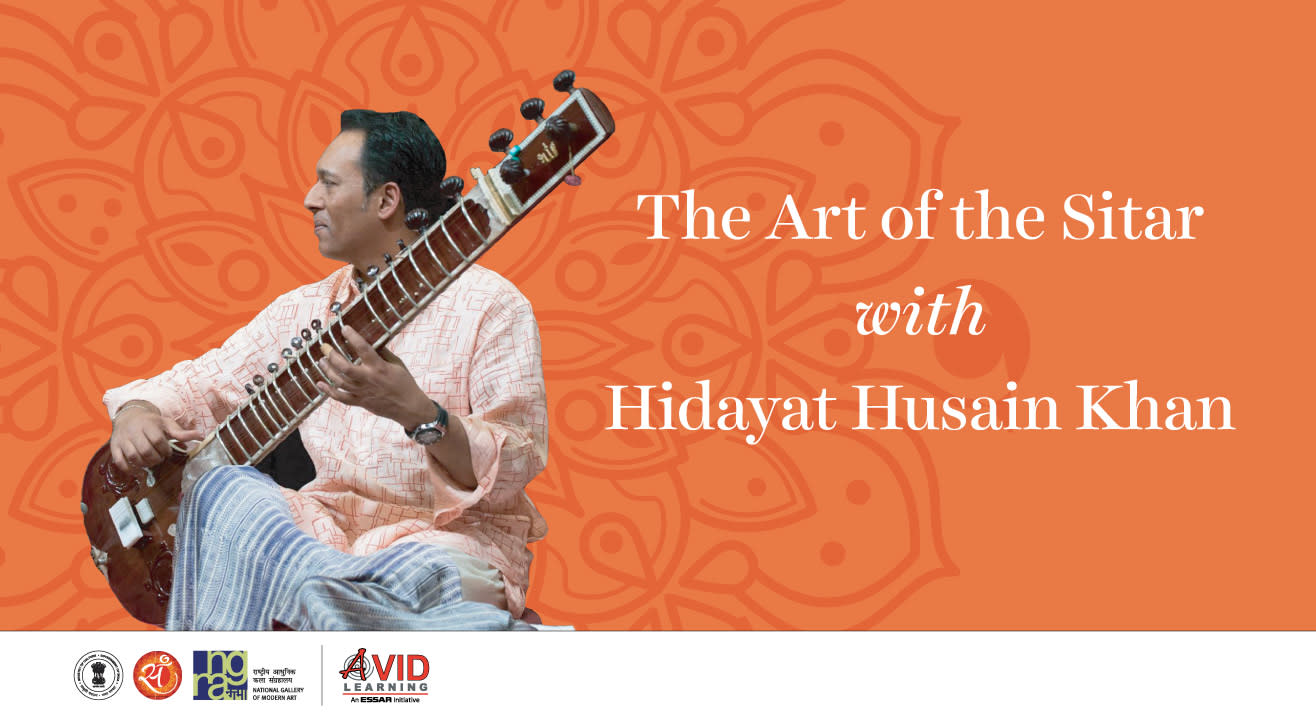 Learn
The Art of the Sitar
National Gallery of Modern Art, Mumbai
About
Avid Learning, in association with the NGMA Mumbai, Ministry of Culture and the Government of India presents: The Art of the Sitar, a lecture demonstration with sitarist Hidayat Husain Khan, on the virtuosity of the sitar, its legacy and its importance as an instrument.


The prolific musician will give an exclusive performance and also be in conversation with author and journalist, Namita Devidayal, who has just finished a biography on Hidayat's father, Ustad Vilayat Khan, which will be published this year.


The descendant and proponent of one of the most treasured lineages of Eastern classic music, Hidayat harbours a rare, creative brilliance, that effortlessly takes him across all genres and nuances of music. Hidayat's adeptness is evident as he intricately plays the sitar from the classical gharana style, and has successfully worked on adaptions of the sitar's sounds in western popular music. He is also well-versed in the "Gayaki Ang," a unique rendition where voice blends with the instrument. Hidayat's flexible and genre-defying musical style engages and pushes the instrument in new and novel ways.


Topics that will be covered include the legacy, history and art of the sitar, as well as its importance and impact as an instrument from its humble beginnings in 16th century India to where it is now. The spread of the sitar to Western music as well as Hidayat's unique perspective and insight will be discussed too, especially the influence of his father after whom a style of sitar, Vilayat Khan style, has been named.
Hidayat Husain Khan
A direct descendant and proponent of one of the most treasured lineages of eastern classical music, sitarist Hidayat Husain Khan was destined for stardom. Youngest son of the legendary Ustad Vilayat Khan, globally acclaimed as the greatest of all sitarists, Hidayat Husain Khan harbours a rare, creative brilliance that effortlessly takes him across all genres and nuances of music. A charming transition from the very classical to the very colloquial, from playing the intricate Etawa/Vilayatkhani Gharana to performing with the Rolling Stones. An exquisite sitar player and vocalist well-versed in the "Gayaki ang," a unique rendition where voice blends with the instrument, Hidayat Husain Khan carries the torch of a coveted lineage spanning seven generations of outstanding vocal and instrumental court musicians. Hidayat Khan has lent his versatility in several film score compositions and has performed in numerous classical and fusion concerts, independently and in collaboration with such illustrious musical names as, Ndugu Chancler, Ronnie Woods, Alicia Keys, Usher, Zakir Hussain, Pete Townshend, Will.I.Am, Jay Z and Darryl Jones.

Invited from all over the world, Hidayat Husain Khan has enthralled audiences with major performances in Europe, Japan, USA, Malaysia, Canada, Singapore, and India. He has performed in such prestigious venues as the Royal Albert Hall in London, Kennedy Center in Washington D.C, Carnegie Hall and Alicetuly Hall in New York.

Namita Devidayal
Namita Devidayal is the author of two books, "The Music Room" and 'Aftertaste.' She is a journalist with The Times of India and is also a trained Indian classical singer.
The National Gallery of Modern Art (NGMA) Mumbai, Ministry of Culture, Government of India is a repository of the cultural ethos of the country and showcases the changing art forms through the passage of the last 160 years starting from about 1857 in the field of visual and plastic arts.

The first NGMA was opened in New Delhi at the historic Jaipur House, in the presence of Prime Minister Jawaharlal Nehru and artists, as well as art lovers on March 29, 1954. The National Gallery of Modern Art, Mumbai was opened to the public in 1996. It hosts various exhibitions and also has its own art collections comprising paintings, sculptures and graphics with a focus on Indian and international artists. It is located in the precinct of the former auditorium the Sir Cowasji Jehangir Public Hall and the Institute of Science. This architecturally marvellous building was designed and built by the famous British architect George Wittet, which has been completely redesigned keeping only the facade edifice that was Public Hall. It has hosted eminent artists like, K.H. Ara, F. N. Souza, Gaitonde, S.H. Raza and M.F. Hussain, along with contemporary artists like, K.G. Subramanyam, Sudhir Patwardhan, Nalini Malini, Atul Dodiya and Sudarshan Shetty. The NGMA in Mumbai is run and administered as a subordinate office to the Ministry of Culture, Government of India, which has two branches one at Mumbai and the other at Bengaluru.


Avid Learning, a public programming platform and cultural arm of the Essar Group, has conducted over 750 programs and connected with more than 65,000 individuals since its inception in 2009. Driven by the belief that learning never stops, AVID's multiple formats like workshops, panel discussions, gallery walkthroughs, and festival platforms create a dynamic and interactive atmosphere that stimulates intellectual and creative growth across the fields of culture & heritage, literature, art and innovation.
Venue
National Gallery of Modern Art, Mumbai
Sir Cowasji Jahangir Public Hall, M G Road, Fort, Mantralaya, Fort, Mumbai, Maharashtra 400032