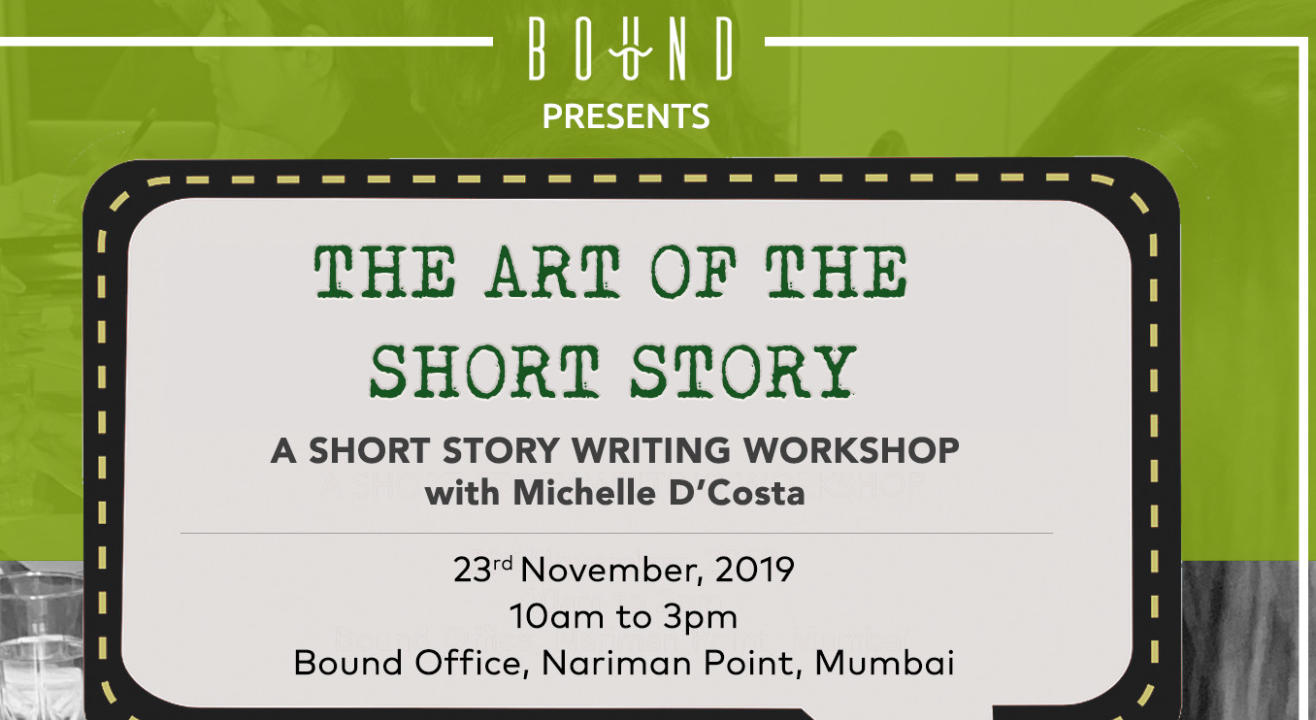 The Art of the Short Story- A Creative Writing Workshop by Michelle D'costa
The Editing Room, Bound Office
Invite your friends
and enjoy a shared experience
Invite your friends
and enjoy a shared experience
About the Event
"A short story must have a single mood and every sentence must build towards it."
― Edgar Allan Poe
The crux of any good short story is sentence construction. If you want to know how to do it well, then this short story workshop is for you.
'The Art of the Short Story' is curated for those who want to know more about storytelling, the short story form and how to find their voice.
If you want to build on your idea and create an engaging short story that readers can't put down, then join us!
You will get to explore your strengths and weaknesses as a writer and work on them in a supportive environment.
The workshop is designed to help you explore your creative side through interesting fiction writing exercises that will expose you to how good dialogues are written, how you can show instead of tell, how you can write an interesting opening line and more.
You will get to analyse short stories closely, you will be able to discuss your favourite short stories and understand why exactly those stories worked for you.
You will receive individual feedback and tips on publishing in online literary magazines in India and abroad.
Date: November 23, 2019
Time: 10 am to 3 pm
Lunch will be served.
Instructor:
Michelle D'costa is a Mangalorean from Mumbai. She was born and raised in Bahrain. Her poetry and prose has been published widely in journals like Eclectica, Litro UK, Queen Mob's Teahouse, Coldnoon and more. She loves to interview writers. Her debut full-length short story and poetry collections are complete. She edits Kaani, an ezine for fiction. She talks about books on YouTube and blogs on WordPress.
Takeaways:
A structured course on writing in this form
Group discussions, individual exercises and creative activities
Learn how to publish professionally
Write your own stories and receive feedback on them
Read examples of good contemporary short stories
A warm, intimate and experiential learning environment
Lunch, a sea view and lots of fun included!
About Bound:
A literary company that aims to encourage everyone to explore their inner creativity, we celebrate storytelling and believe in the power of immersive experiences. We plan week-long retreats in the most beautiful locations, where you can focus on your writing, and create long-lasting bonds with others in your community. We also conduct in-city workshops and discussions to ensure that you have the best advice and audience for your work. We offer editorial services and writing coaching through which we hope to sharpen writers' skills. It is our hope that our participants grow and eventually return to become teachers at BOUND.
The Editing Room, Bound Office
The Editing Room, Bound Office, 20th Floor, Nirmal Building, Nariman Point
GET DIRECTIONS