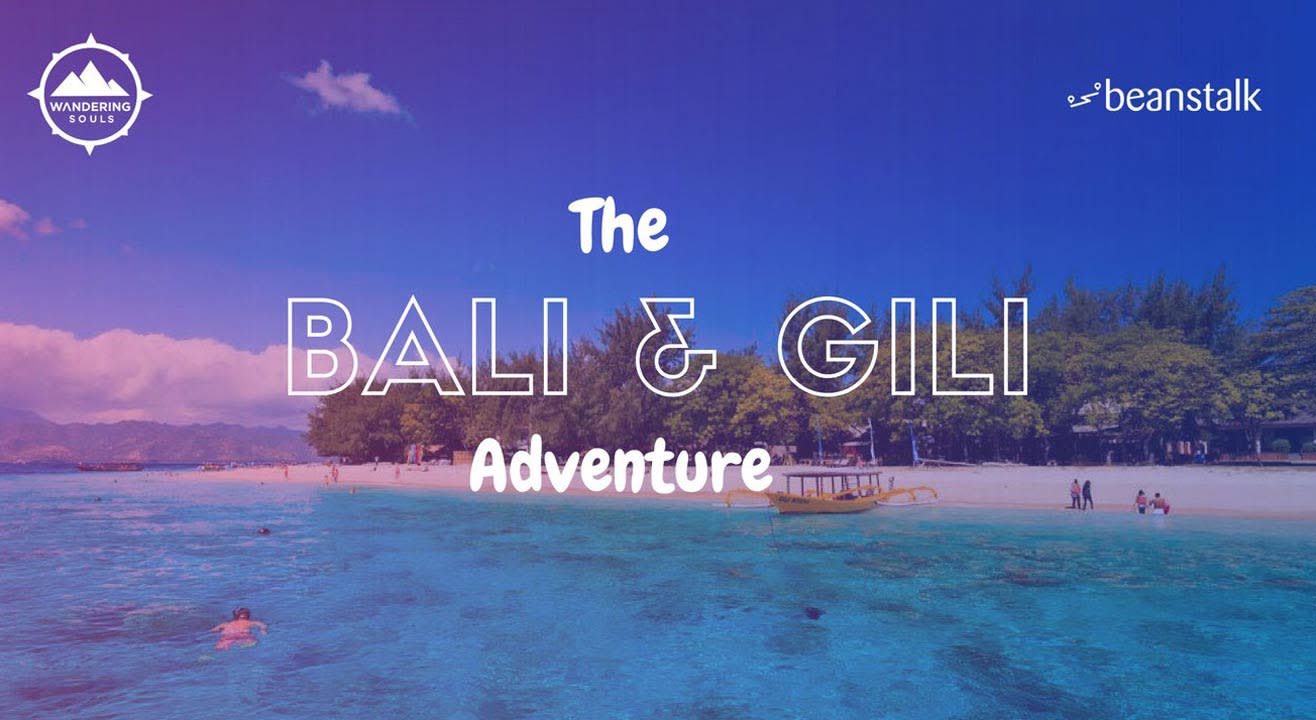 Experiences
The Bali & Gili Adventure
About
Snorkelling in the beautiful waters of Gili islands, hiking an active volcano, visiting the beautiful Balinese temples, getting a taste of surfing, soaking in waterfalls, taking in the most beautiful landscapes of Indonesia, partying into the sunset on a boat, and making new friends are just a few reasons why you should join us this September for our trip to Indonesia!
Our carefully curated itinerary ensures that you get the most of your time, and money, and leave with nothing but the best memories and experiences.
Day 1
Arrive into Bali and check in to your hotel in Seminyak. We get together in the evening as you meet your fellow travellers at our welcome dinner together, kickstarting a great week ahead!

Day 2
We start our Balinese adventure with a bang. We head to one of Bali's most famous beach destinations, Kuta Beach, where you enjoy surf lessons!
After you're done conquering the waves, we have lunch, then head to the gorgeous Uluwatu temple. A majestic Balinese sea temple, Uluwatu is perched on top of a steep cliff approximately 70 metres above sea level. We return at night and then head out to explore the famed night life of Bali.

Day 3
We check out after breakfast and make our way to the spectacular island of Gili Trawangan. The beaches of the Gilis are still powdery white, the water a beautiful clear blue and they are positioned perfectly for sunsets over Bali's Mt Agung and sunrise over Lombok's Mt Rinjani
Today we have the perfect island day - think snorkelling, sunbathing, bar-hopping & discovering Instagram worthy photo spots. Unique to the Gilis, all forms of motorized transport are still not allowed - meaning the only way to get around is on foot, by bicycle and in pony carts known as Cidomos. The entire perimeter of the island can be covered in just two hours on foot! We explore the island and then head out for a night full of revelry, as we discover first-hand the island's famed night life.

Day 4
After a morning at leisure, we set off in the afternoon for a 5 hour boat party, where we sail around all three Gili islands, make a swim stop by Lombok in crystal blue waters, all while being serenaded by the best DJs. We take in the spectacular sunset on the boat and then head back to the island and join the after parties.
Day 5
We depart from the Gili islands post breakfast and take a fast boat to Ubud. Located in the uplands of Bali, Ubud, is known as a center for traditional crafts and dance. The surrounding district's rainforest and terraced rice paddies, dotted with Hindu temples and shrines, are among Bali's most famous landscapes. We check in and watch the local dance in the evening, after which we recommend everyone sleep early, as we wake up at 2 am the next day for a trek of a life time.

Day 6
Wake up at 2 am and proceed to trek the amazing Mt. Batur. Located at 1717m above sea level, Mt. Batur is an active volcano that provides the setting for an unforgettable sunrise.
After we rest a while post the trek, we check out and visit the picturesque rice terraces of Ubud. Located in a beautiful valley, these are one of the most famous landscapes of Indonesia, and is a sight that you must see to believe. On our way back to Seminyak, we also stop for a swim at the gorgeous Tegenungan Waterfall. After checking in to our hotel in Seminyak, you have the evening free to explore the nightlife of Bali once more.

Day 7
We have an adventurous start to our last full day in Bali, as we make our way to indulge in a morning of white water rafting! Post the activity, we enjoy lunch & make our way to visit Tanah Lot Temple. One of Bali's most important landmarks, the temple is famed for its unique offshore setting and sunset backdrops. An ancient Hindu shrine perched on top of an outcrop amidst constantly crashing waves; Tanah Lot Temple is simply among Bali's not-to-be-missed icons.
We then head back and join once again for a group dinner, as we look back on the great week together, but not before a night out on the town once more!

Day 8
We say our final good byes, and start counting down the time for the next amazing trip together.
4 nights' accommodation at a 4* hotel in the Seminyak area
2 nights' accommodation at 4* hotel in Gili Trawangan
1-night accommodation at a 3* hotel in Ubud
Breakfasts, Welcome dinner, farewell Dinner, lunch post surfing, lunch post rafting
1 Surf lesson, White water rafting
Uluwatu tour
Snorkeling & Boat party at Gili
Return fast boat for Bali – Gili – Bali
Sun rise trekking at Mt Batur Volcano
Tanah lot temple visit
English speaking guide
Deluxe coach
Mineral water
Entry Fees
Airport transfer (there will be one group transfer at a fixed time according to convenience of majority. Should your flight details differ, you would be required to arrange for your own transport to/fro the airport or you can book it through us)
International Flight (we can help you find/book the best flights)
Lunch or dinner which are not mentioned in the itinerary
Other personal expenses
Fully refundable up to 1st July
Between 1st and 15th July – Cancelation charge of Rs. 15,000/-
After 15th July – Non refundable
Pick-up & Drop off Point: Bali Airport
Venue
Denpasar Airport, Bali
Ngurah Rai International Airport (DPS), Bandar Udara Internasional Ngurah Rai, Jalan Raya Gusti Ngurah Rai, Tuban, Kuta, Kabupaten Badung, Bali 80362, Indonesia