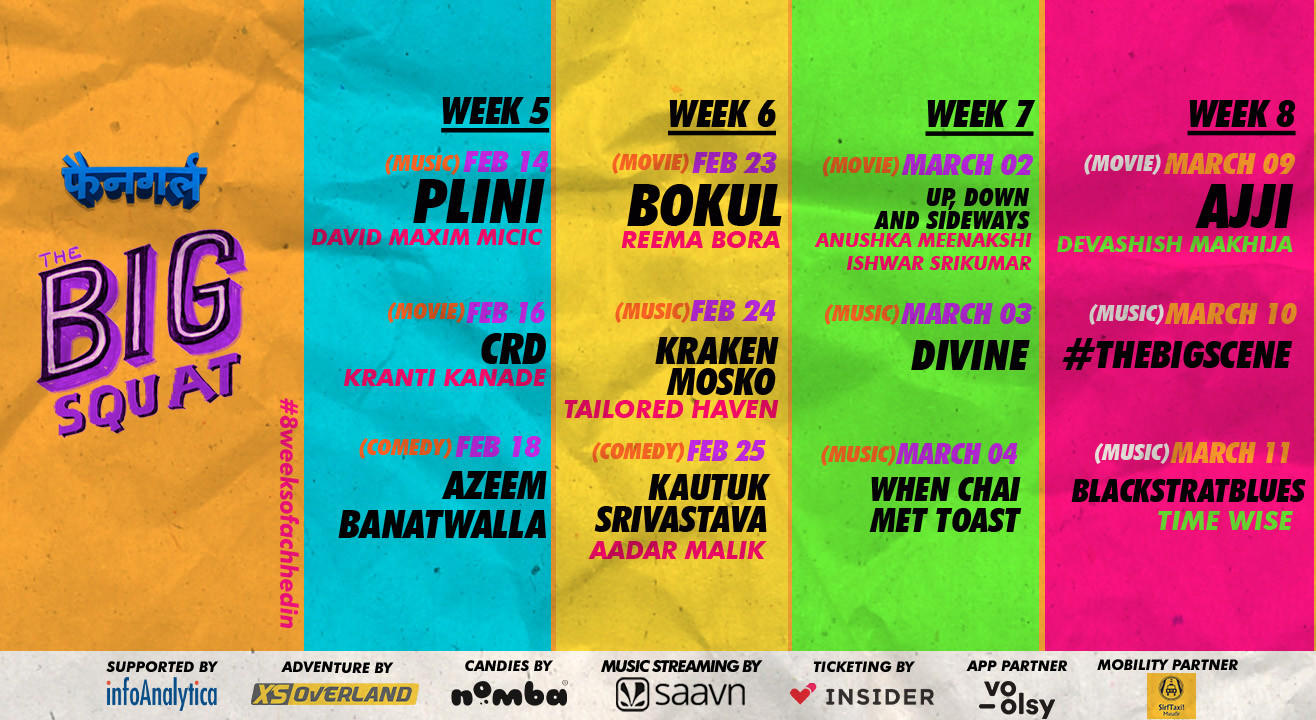 The Big Squat: An 8-week Entertainment Festival is Coming To Ahmedabad!
That's right! Top names in standup comedy, spoken word poetry and music, with some food and music for a whole 8 weeks, right here in Ahmedabad! Read on for details!
Invite your friends
and enjoy a shared experience
An art squat is a name used to describe the action of artists to occupy (or squat in) an abandoned building, thereby creating studio space to create art.

After an exhilarating first season in 2017, featuring concerts across Gujarat and making the state's first truly all-independent music festival - spanning across 2 days and 2 stages - Fangirl is back. Bigger, better, fresher.
Pesh hai The Big Squat! An effort spanning 8 weeks (yes!), starring 32 handpicked artists from the Indian Independent Circuit. The exciting format features standup comedy, films, spoken word poetry, food and of course - music!
The Format:
Fridays - Independent films

Saturdays - Music

Sundays - Comedy

All week - Food, Popup stalls

Lineups (Week 1-4)
Week 1
Music: Parvaaz (Hindi/Urdu psychedelic rock), Samar Mehdi (fingerstyle percussive guitar)
Comedy: Akash Mehta, Rag Brahmbhatt

Week 2
Music: Skrat (Garage Rock), The Malakar Experience (instrumental)
Comedy: Anirban Dasgupta, Urooj Ashfaq

Week 3
Music: Tejas (singer-songwriter), Shashwat, Euphony (experimental jazz)
Comedy: Kunal Kamra

Week 4
Music: Prateek Kuhad (singer-songwriter), Meera (singer-songwriter)
Comedy: Vaibhav Sethia, Sumukhi Suresh
Subscribe to receive our newsletter!
Find the best experiences happening out there in your city or enjoy handpicked content while sitting comfortably at home. Paytm Insider is your go-to place to figure out what to do today!