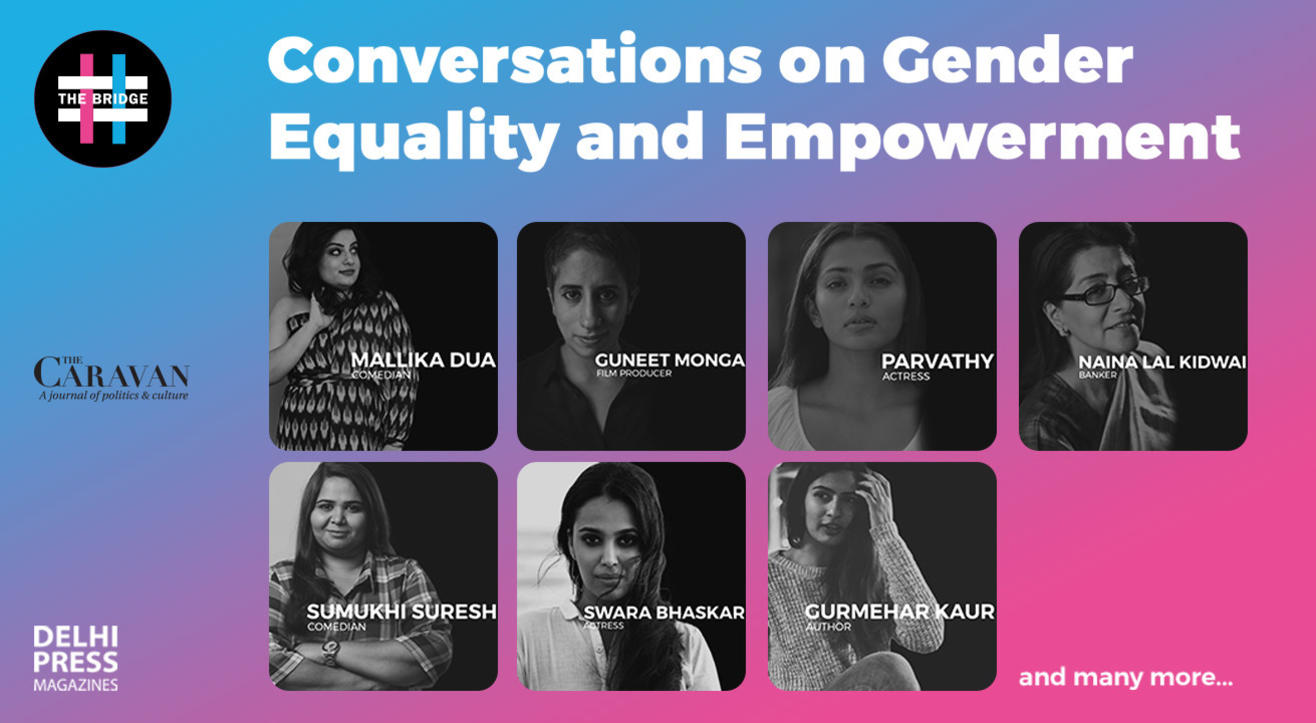 Shangri-La's Eros Hotel, New Delhi
Invite your friends
and enjoy a shared experience
Invite your friends
and enjoy a shared experience
About the Event
The Bridge is an initiative that aims to question and disrupt discourses that undermine the mission of gender empowerment to create new narratives and address the gap between theory and implementation.
Guneet Monga is an award-winning film producer. She has produced globally acclaimed films like Masaan Peddlers, Trishna and Gangs of Gangs of Wasseypur. Her film Lunchbox was nominated for the Best Foreign Film at BAFTA awards and Masaan won the FIPRESCI prize at Cannes in 2015.
Harish Iyer is an equal rights activist, columnist and a motivational speaker. He is the only Indian on the The Guardian's World Pride Powerlist of the 100 most influential LGBTQ persons in the world. He works extensively to create awareness on child abuse.
Mahua Moitra is a member of the legislative assembly in West Bengal. She has worked as an investment banker with JP Morgan in New York and London. In 2009, she quit her job to enter active grassroots politics in India. She is currently the General Secretary of the West Bengal Trinamool Congress and serves on two Standing Committees of the Legislative Assembly - on Health & Family Welfare and on Public Estimates.
Naina Lal Kidwai is chairman, Max Financial Services and Advent Private Equity. She retired as the executive director of HSBC Asia Pacific and chairman, HSBC India. Naina has edited two books "Contemporary Banking in India," and "30 Women in Power: Their Voices, Their Stories," and is the recipient of the Padma Shri award for her contribution to trade and industry.
Rahul Roy is an independent documentary filmmaker. His films explore the themes of masculinity and gender relations against the larger backdrop of communalism, labour, class identities and urban spaces. He is the author of a graphic book on masculinities titled "A Little Book on Men," and has co-edited (with Dr. Deepak Mehta) a volume titled "Violence and The Quest For Justice In South Asia."
Shehla Rashid Shora is a Ph.D. candidate at the Jawaharlal Nehru University, Delhi and the former vice-president of the students' union in JNU. An engineer turned activist, she's currently writing a book on student politics in India.
Sujatro Ghosh is a 24 year old artist and a photo-journalist. His satirical photo series on women wearing cow masks, which highlights the apathy towards women's safety in cities and the growing religious extremism in India, is very popular on social media and was covered by national and international media.
Swara Bhasker is an award winning actress in the Hindi film industry whose filmography includes the critically acclaimed Anaarkali Of Aarah (2017), the critical-commercial success Nil Battey Sannata (2016); super-hit blockbuster films Prem Ratan Dhan Paayo (2015), Tanu Weds Manu Returns (2015), Raanjhanaa (2013) and Tanu Weds Manu (2011). Swara is also an occasional writer and columnist and her short stories and articles have appeared in The Little Magazine, Seminar, The Himal Southasian, The Hindu and the Indian Express.
Shangri-La's Eros Hotel, New Delhi
19, Ashoka Rd, Janpath, Connaught Place, New Delhi, Delhi 110001
GET DIRECTIONS