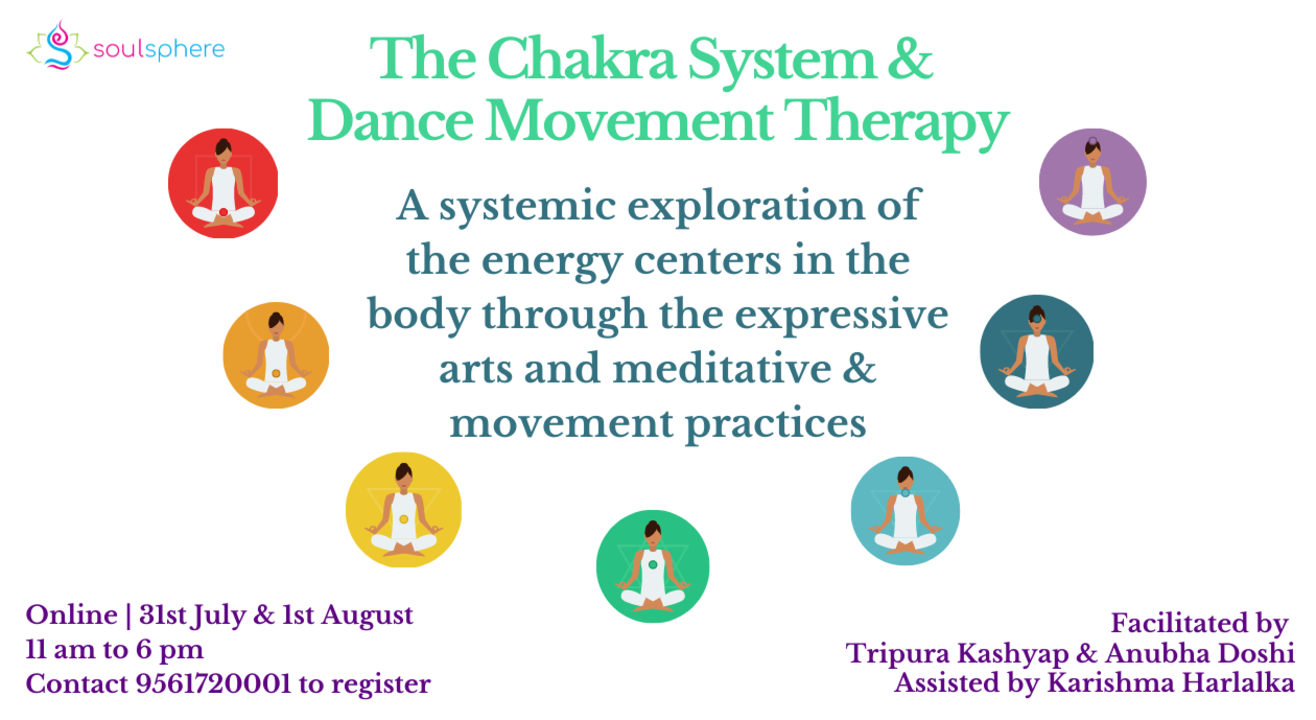 The Chakra System & Dance Movement Therapy (DMT)
July 31 | 11AM - August 1 | 6PM
Enjoy this event from your home
Event Guide
For Age(s)
Family Friendly
Masterclass
Learn from an expert
Invite your friends
and enjoy a shared experience
Event Guide
For Age(s)
Family Friendly
Masterclass
Learn from an expert
Invite your friends
and enjoy a shared experience
About the Event
A Systemic Exploration of the Energy Centers in the Body using the Expressive Arts and Meditative & Movement Practices.
By Tripura Kashyap and Anubha Doshi, assisted by Karishma Harlalka
Date: 31st July & 1st August
Time: 11 am to 6 pm (lunch break from 1 to 2 pm)
Fees: INR 3500/-
Register till 26th July for INR 3200/-
Register as a Group of 3 or more for INR 3200/-
Mode: Online
Contact 9561720001 or email us at info@soulspherepune.com to register
About the Workshop
DMT practitioners have consistently explored new ways of layering their practice with fresh techniques and theoretical frameworks from co-existing disciplines to enhance the therapeutics of movement experiences. In this workshop, facilitators will utilize specific movement activities from DMT alongside theory, voice work, psychotherapy, breath and meditation practice related to the 7 chakras or energy centres in our bodies.
This experiential workshop will help participants develop an understanding of various aspects of the Chakras, their individual strengths and their effects on our body-mind continuum. Artwork and verbal reflection will further deepen the overall experience and enhance our knowledge of how Chakra-DMT work can lead to harmony within ourselves, healing, balance and growth.
Join in the Chakra-dance! Experience its energies, rhythms, colours and qualities that contribute to our physical, emotional and mental well-being.
About the Facilitators
Tripura Kashyap
Tripura Kashyap pioneered Movement Therapy in India in 1990 and co-founded the Creative Movement Therapy Association of India (CMTAI) in 2014. She trained at the Hancock Centre for Dance/movement therapy (USA) and obtained an M.A. in Psychology. She has worked as a Movement therapist at Half-way homes, Special schools, Treatment and Rehabilitation centres as well as with individual clients.
Tripura received fellowships from the Ashoka International Foundation and Indian Ministry of Culture for her innovations in Movement therapy. She teaches on the Creative Movement Therapy and Therapeutic Dance in Education courses run by CMTAI. Tripura has been an ardent follower of Buddhism and has practised the discipline since 2014. She has authored 'Creative dance therapy' and 'Contemporary Dance: Practices, Paradigms and Practitioners' published by Penguin and Aayu publications respectively.
Anubha Doshi
A Psychologist, Mindfulness-based Practitioner, and Arts based Therapist, Anubha has completed her advanced PG diploma in Mindfulness & Presence Oriented Psychotherapy from Just Being. She has studied Chakra Healing as well as Reiki.
Her interest in Buddhism was first fuelled by the Certificate Course in Mahayana Buddhist Psychology and Ethics by the WCCL Foundation and the Department of Pali and Buddhist Studies at the Pune University. Her practice is unique as she explores the connection between Dance Movement Therapy (DMT), Mindfulness, Buddhist as well as Eastern philosophies.
She is the founder-director of Artsphere and Soulsphere, a unique arts and healing centre in Pune where performing arts and therapy co-exist under the same roof. She has been regularly conducting online workshops in mindfulness, dance therapy, positive psychology, resilience and mindfulness. She is the Editor of CMTAI's & Artsphere's online Indian Magazine of Dance/Movement therapy and faculty on the Dance Therapy course. She is on the Board of Studies of the Psychology department at the St. Mira's College for Girls, Pune. She is a parenting expert on the panel of the 'Keep Learning' initiative by the Times of India.
Karishma Harlalka
Karishma Harlalka is the co-founder of Artsphere and Soulsphere, a unique arts and healing center in Pune, where performing arts and therapy co-exist under the same roof. She is a psychologist, dancer, choreographer and therapeutic movement practitioner.
She has been learning and performing dance since the age of 4 and has received training in various dance forms such as Bharatanatyam, Ballet, Contemporary, Folk and Belly Dance. She has attended workshops in Latin American Dance Forms, Belly Dance, Kalaripayattu and Physical Theater. She first became interested in Dance Movement Therapy at the age of 16, when she attended a workshop under Tripura Kashyap. Since then, she has assisted and co-facilitated workshops in Dance Therapy and Arts-based Therapies with her sister Anubha Doshi, eventually going on to study Dance Therapy.
​​
She incorporates her practice of Yoga and body awareness and knowledge of anatomy in her own practices as well as the classes that she conducts. She has also studied Chakra Healing and Reiki. Alongside this, she is interested in Mindful Movement practices and is working on developing a cohesive movement program that combines the knowledge of Anatomy, Fascia, Chakra and Dance Therapy.