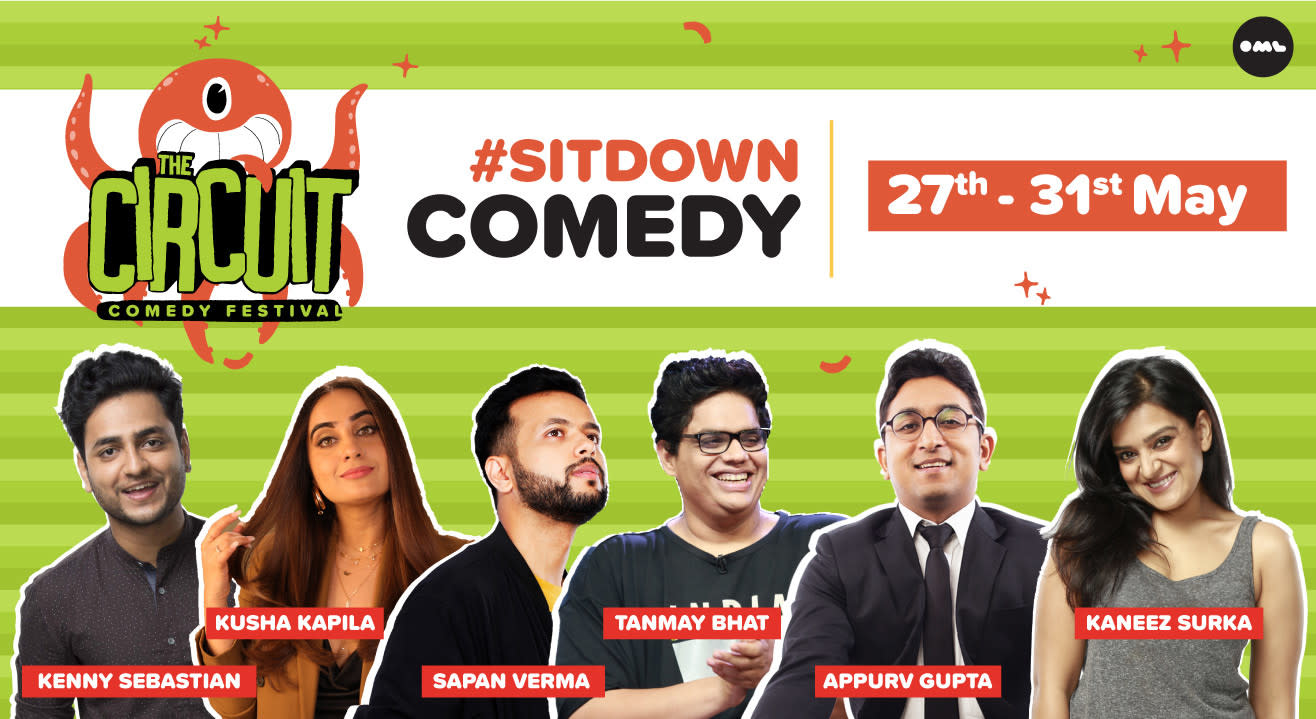 Comedy
The Circuit Comedy Festival 2020 - Edition 2.0
The Circuit Comedy Festival goes digital with #SitDownComedy - Edition 2.0
From your neighbourhood comedy club to a screen near you - The Circuit brings to you #SitDownComedy a digital comedy festival! And we're ready for Round 2! This month, get ready for 5 days, brand new shows and some all-time favourites, with more than 60 of your favourite comics.
We've got something for everyone - improv, regional shows, dark humour, ultimate roasts, twists on trending news, and game hosts (yes, where the points don't matter). The festival uses the best of this digital format to allow you, our beloved audience, to interact more with your favourite comedians while you sit in your pyjamas!
So, find the best spot in your house, sit down and get ready to rofl@home with us from 27-31 May 2020. We're here to seriously brighten your day.
Get your tickets for The Circuit's #SitDownComedy:
Aadar Malik • Aakash Gupta • Aayushi Jagad • Abish Mathew • Aditya Desai • Aishwarya Mohanraj • Angad Singh Ranyal • Anirban Dasgupta • Anu Menon • Apurv Gupta • Azeem Banatwalla • Chetan Muley • Chirayu Mistry • Dahab Chisti • Darpan Sonawale • Devanshi Shah • Gaurav Gupta • Gaurav Kapoor • Gaurav Pawar • Geek Fruit • Harsh Gujral • Joel D'souza • Kaneez Surka • Kautuk Srivastav • Kautuk Srivastava • Kenny Sebastian • Kumar Varun • Kumar Varun • Kunal Rao • Kusha Kapila • Manan Desai • Munawar Faruqui • Naveen Richard • Neeti Palta • Neville Shah • Omkar Rege • Pushkar Bendre • Rahul Subramanian • Rahul Subramanian • Ramya Ramapriya • Raunaq Rajani • Rohan Joshi • Rueben Kaduskar • Sahil Shah • Sapan Verma • Saurav Mehta • Shreeja Chaturvedi • Sonali Thakker • Sonali Thakker • Sorabh Pant • Sorabh Pant • Sourav Ghosh • Sumaira Shaikh • Sumukhi Suresh • Supriya Joshi • Tanmay Bhat • Trupti Khamkar • Urooj Ashfaq • Vaibhav Sethia • Varun Thakur
Subscribe to receive our newsletter!
Find the best experiences happening out there in your city or enjoy handpicked content while sitting comfortably at home. Paytm Insider is your go-to place to figure out what to do today!