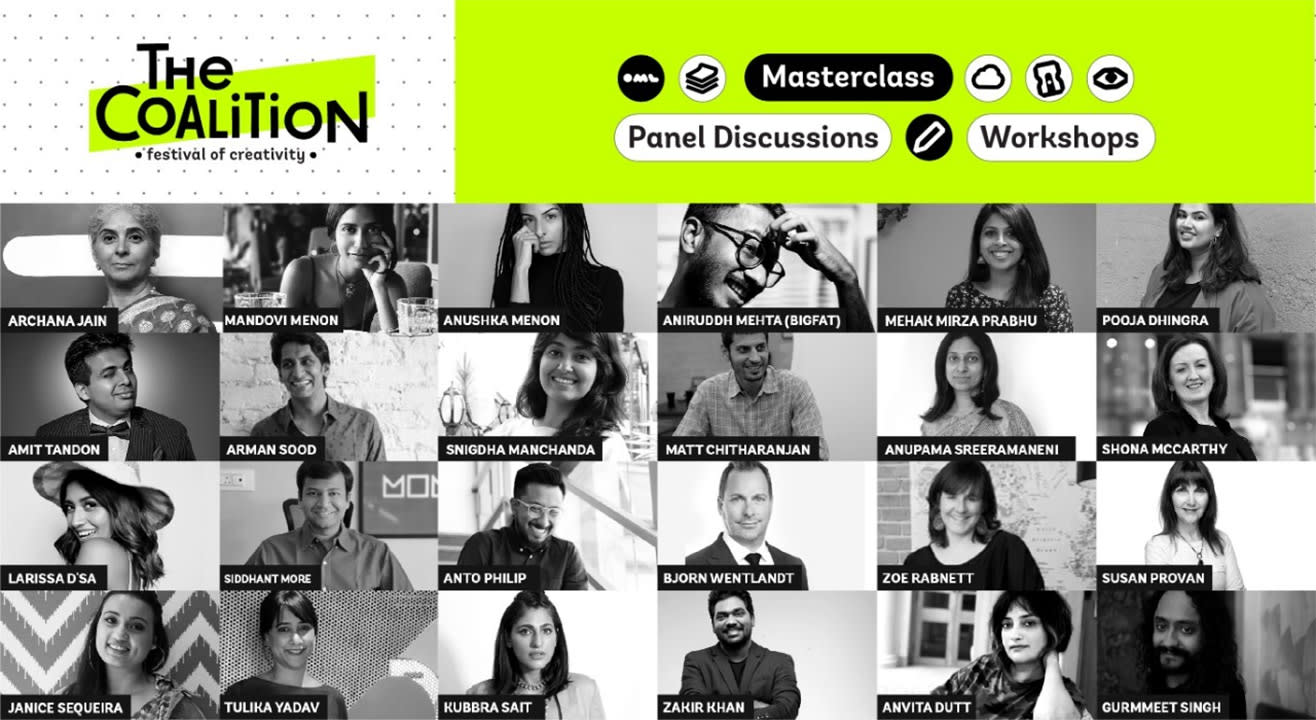 Calling all the creative people for The Coalition: Digital
The Coalition: Digital brings the entire creative community together to collaborate, innovate and fuel the next wave of creative ventures.
Invite your friends
and enjoy a shared experience
The Coalition (Digital) is a festival of creativity for entrepreneurs, artists, innovators, students, experts, and anyone who wishes to start a career in the creative industry.
It brings together established names from across creative fields to share their knowledge, experience and advice on how you can convert your ideas into sustainable business opportunities.
These experienced professionals and your mentors include:
Zoe Rabnett (Director of Canadian & International Programming, Just For Laughs)
Zakir Khan (Stand Up Comedian, Writer)
Tulika Yadav (Chief Marketing Officer, Paytm Insider)
Susan Provan (Festival Director & CEO, Melbourne International Comedy Festival)
Snigdha Manchanda (Founder, TeaTrunk)
Siddhant More (Founder, Mad Over Marketing)
Shona McCarthy (Chief Executive of the Edinburgh Festival Fringe Society)
Mandovi Menon (Writer & Creative Director)
Kubbra Sait (Actor)
Gurmmeet Singh (Director & Producer)
Bjorn Wentlandt (Agent, Comedy Touring at United Talent Agency)
Archana Jain (MD & CEO, PR Pundit)
Anvita Dutt (Director, Screenwriter , Lyricist)
Anto Philip (Co-Founder, U25)
Amit Tandon (Stand-up Comedian)
After a lot of successful sessions at the festival, The Coalition offers Workshops, Panel discissions & intensive detailed Masterclasses. So if you've got a vision and want to establish yourself as an entrepreneur, then get started on it at The Coalition.
Upcoming Panel Discussions:
Who is The Coalition for?
- Those who want to stay at home and learn.
- Take up creative courses and interactive workshops by experienced professionals to enhance their skill set.
- Entrepreneurs with a vision wanting to turn it into a viable business.
- Mid-level entrepreneurs, start-ups, experts, industry professionals, students or anyone willing to learn, collaborate and network.
Subscribe to receive our newsletter!
Find the best experiences happening out there in your city or enjoy handpicked content while sitting comfortably at home. Paytm Insider is your go-to place to figure out what to do today!