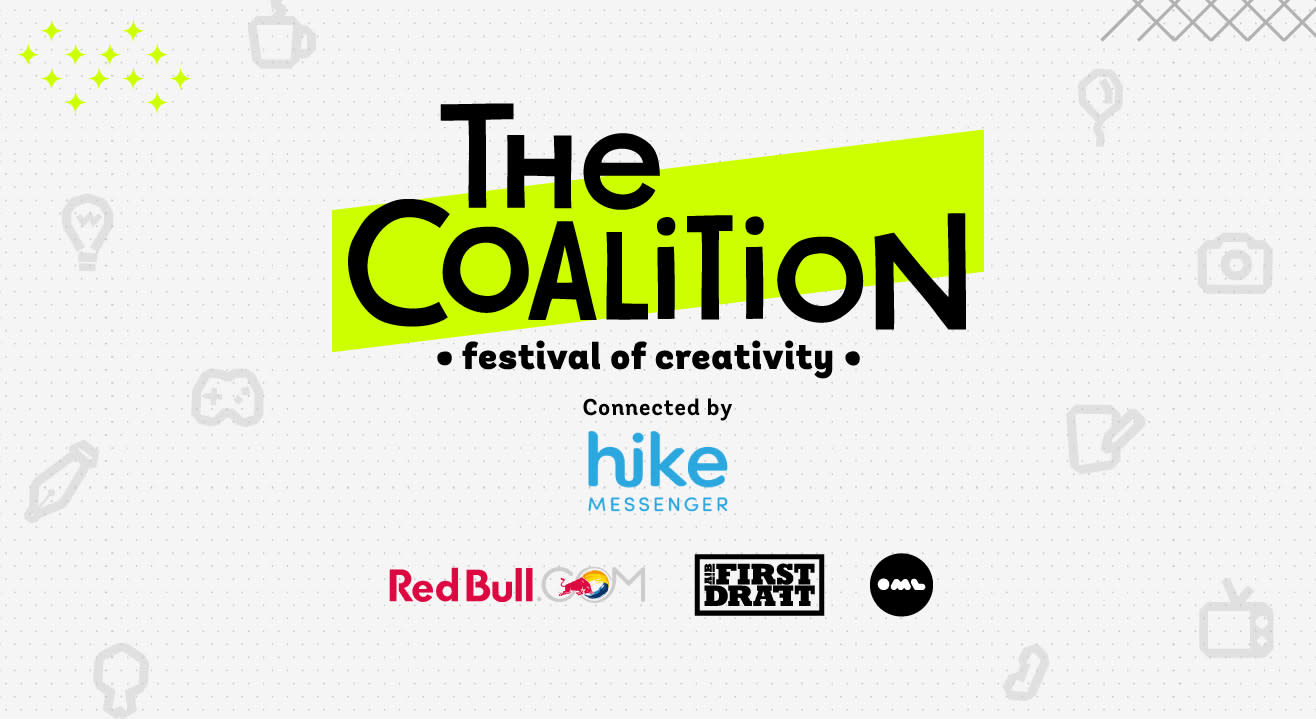 March 31 - 10:30AM | April 1 - 7PM
Bal Gandharva Rang Mandir, Bandra, Mumbai
Invite your friends
and enjoy a shared experience
March 31 - 10:30AM | April 1 - 7PM
Bal Gandharva Rang Mandir, Bandra, Mumbai
Invite your friends
and enjoy a shared experience
Invite your friends
and enjoy a shared experience
After three successful editions in Delhi, The Coalition heads to the entertainment capital of the country! This year The Coalition asks 'What's Next? ' As the creative community develops into the creative economy, we explore what this means for creators, entrepreneurs, marketers and consumers.
The Coalition (TC) brings India's creative community together with the aim of fueling the next wave of creative ventures in the country. The festival when it started in 2014 was set up as a creative enterprise boot camp, a quick stop to learn how to navigate the business of creativity. It then gave way to a festival that spoke to both, creatives as individuals, and creatives as a part of an industry, a movement.
Over the last three years, The Coalition has hosted leaders, innovators and experts not just from the creative fields but also from new technology businesses, brands and media platforms, making sure we're talking about what is relevant right now.
Who is TC for?
The Coalition is for everyone looking to learn, listen, collaborate, to harness their creativity and find the tools and resources to bring their ideas to fruition. It's for those looking to expand their tribe.
Whether you fall under the student, aspiring or established category or call yourself an artist, artist manager, writer, musician, producer, director, ad, marketing or events professional, designer, actor, comic, web developer, app designer, gamer, animator, Youtuber, social impact entrepreneur, chef, restaurateur or any combination of these, you are invited!
Amit Trivedi
Music Director
Amit Trivedi kicked off his career dabbling in stage shows, Gujarati plays and even background music for a daily TV serial for a general entertainment channel. His first big break came when he got an opportunity to meet director Anurag Kashyap and compose 18 songs for the film Dev D. The release of Dev D changed the course of not only Amit's career but also the sound of Bollywood music. It also won him a national award.
He has given music to films like Aamir, Udaan, Aisha, No One Killed Jessica, Chillar Party, Trishna, Ishaqzaade, Ek Main aur Ek Tu, English Vinglish, Luv Shuv Tey Chicken Khurana, Kai Po Che!, Bombay Talkies, Lootera, Queen, Bombay Velvet, Shandaar, Fitoor and the unforgettable Iktara from Wake Up Sid.

Anirban Blah
Founder, KWAN Entertainment
Anirban started out in the entertainment and sports marketing business as the CEO of Globosport. In 2009, he finally gave flight to his dream of a revolutionary one-stop-shop media company – KWAN, India's largest diversified Entertainment Company. KWAN works across celebrity management, live entertainment, sports, TV, licensing, movie packaging, music and regional cinema.
He is a co-founder and trustee of the Live Love Laugh Foundation, an organisation that addresses mental health issues, and a trustee of the Quest Foundation, an organisation that impacts the areas of rural education and vocational training.

Anshulika Dubey
Co-Founder, Wishberry
Anshulika Dubey is an Ex-McKinsey analyst, she discovered crowdfunding for creative arts while on a project at McKinsey. The concept fascinated her so much that she ditched a US job opportunity and started India's first crowd-funding platform for creative artists with her co-founder and ex-McKinsey consultant Priyanka Agarwal, in 2012.
Since then, her company – Wishberry has helped over 250 creative art projects raise over a million dollars from people all over the world. Wishberry has enabled Indian artists to create a community of patrons around their ideas, who can help financially sustain their creative ambitions. Many Wishberry crowd funded independent films, comics and graphic novels, music albums, and even technology products have gone on to receive national and international accolades and recognition. Anshulika doggedly believes that crowdfunding is a lifeline for creative artists in India.

Ashish Shakya
Member, All India Bakchod (AIB)
Ashish Shakya is a member of comedy collective All India Bakchod (AIB), stand-up comedian, humour columnist and TV writer with more than 7 years of work experience. On the TV front, he's worked with brands that include MTV, Channel V, and Bindaas to name a few. He has written stand-up sketches, magazine-style shows, reality TV and has also co-written the hit news comedy show 'The Week That Wasn't' with Cyrus Broacha on CNN-IBN for about 5 years.
AIB is one of India's finest and funniest motley crew of comedic talent, that has revolutionised comedy content in India. They started India's first ever and most heard comedy podcast, went on to become YouTube's biggest independent creator and followed it up by hosting the country's first ever roast.

Gul Panag
Actor and Entrepreneur
Gul is an actor and an entrepreneur who is one of India's most powerful opinion makers and thought leaders. She is a frontline advocate and activist who regularly engages and facilitates dialogue and debate on critical issues of gender equality and justice, environment issues, fundamental rights, secularism, corruption and political accountability. Gul holds a Masters degree in Political Science and is affiliated with the Aam Aadmi Party. Her social and political activism has had her being recognised as one of the most influential voices on social media and a youth icon.

Gursimran Khamba
Co-Founder, All India Bakchod (AIB)
Gursimran Khamba is one of the co-founders of All India Bakchod (AIB) and has been a stand-up comic since 2009. He enjoys talking about things people don't like talking about. After learning his chops on the Delhi open mic circuit, he moved to Mumbai and became a regular at The Canvas Laugh Factory and The Comedy Store. He is currently one of the most sought after comedians in India.
AIB is one of India's finest and funniest motley crew of comedic talent, that has revolutionised comedy content in India. They started India's first ever and most heard comedy podcast, went on to become YouTube's biggest independent creator and followed it up by hosting the country's first ever roast.

Harsha Bhogle
Sports Presenter
Harsha Bhogle is synonymous with sports in India and is one of the leading sports presenters in the country with a career spanning over 20 years.
He has hosted India's most watched sport shows and quizzes like Harsha Online, Harsha Unplugged, School Quiz Olympiad, Harsha Ki Khoj and Out of The Box with Harsha Bhogle.

Hosi Simon
Global General Manager, VICE
Under Simon's guidance, VICE has expanded and diversified to include a growing network of digital channels, a television and feature film production studio, a magazine, in-house creative services agencies, and a newly launched international television network, VICELAND, which has already received two Emmy nominations.
As Global General Manager, Simon oversees the strategy, growth and operations of VICE Digital globally, which includes VICE Media's suite of owned and operated channels, publishing partnerships (YouTube, Snapchat, Facebook, Apple, Twitch, et al), as well as mobile and OTT platforms.
Simon joined VICE in 2007 after five years at Rockstar Games where he served as a Senior Executive and managed brand development globally. Prior to working at Rockstar, he was Publisher and Editor-in-Chief of Flyer, and oversaw the publishing company globally.

Kartik Maheshwari
Head, Start-Up Practice Group, Nishith Desai Associates
Kartik Maheshwari heads the start-up practice group at the multi-skilled, research based international law firm, Nishith Desai Associates. He is a senior member of the Telecom - Media - Technology laws teams at NDA. Kartik is a leading attorney in various legal, tax and regulatory issues and works across cutting edge complex disruptive technologies/business models including M2M Communication, Internet of Things, smart cities, blockchain technology, and privatisation of space amongst others.
He co-authored the recently released 'Bharat Navodaya: StartUp India Reform Report', which recommends several changes required to make entrepreneurship simpler in India. He also has substantial experience in public policy matters and regularly works with the Department of Telecom, Department of Electronics and Information Technology, Ministry of Information and Broadcasting and the Telecom Regulatory Authority of India.

Kunal Shah
Founder, Freecharge
Kunal Shah is the founder and CEO of FreeCharge. He founded FreeCharge in 2010, along with Sandeep Tandon, seeing the potential of online recharging in a growing market. In April 2015, FreeCharge was acquired by Snapdeal for an estimated amount of $400 million.

Lakshmi Pratury
Founder and CEO, INK
Lakshmi is an entrepreneur, curator, interviewer, and speaker. Her riveting personality and penchant for community building led her to her current avatar - founder and CEO of INK, India's foremost platform for the exchange of cutting-edge ideas and inspiring stories.
INK is known for events like INK Conference and INK Asia and impact-oriented programs like INK Fellows and INK Makers.
Mallika Dua
Actor-Comedian
One of the most-loved and recognised faces on the Indian comedy scene today belongs to Mallika Dua, thanks to her hilarious character, 'Make-Up Didi'. She first shot to fame with her 'shit people say at Sarojini Nagar' video, that went on to become hugely popular and viral with coverage across all online publications and content platforms.
Mallika is now a full-time actor and comedian. Most recently, she was featured in a starring role in Disney's latest web series, The Trip.

Sarah Chawla
Co-Founder, Wild City, Magnetic Fields
Sarah is the co-founder of 'Wild City', an online music magazine and events company based in New Delhi. Wild City is a platform that supports and nurtures alternative music culture in India. They are also the regional partner of the Goethe-Institut initiative Border Movement, a project that focuses on cross-border collaborations and residencies in South Asia and Germany. Now going into its fifth year, Wild City is one of the founding partners of Magnetic Fields festival, along with THOT, WeThePPL, Alsisar Mahal and Undercover Agent. Magnetic Fields is best-known for its focus on the festival experience and its unique blend of Rajasthani heritage and hospitality, contemporary sound, and captivating location.

Priyanka Agarwal
Co-Founder and CEO, Wishberry
A perennially confused over-achiever, Priyanka graduated Wharton with two degrees (business and engineering), started her first company in college, worked at KPMG, Goldman Sachs, and McKinsey, all before co-founding Wishberry with Anshulika.
Priyanka believes crowdfunding is the answer to everything. "Screw it, let's do it!" she says for any and every crazy idea, inspired by the even crazier Richard Branson.

Pooja Jauhari
CEO, The Glitch
As CEO, Pooja is the custodian of the overall vision at The Glitch, one of India's leading creative agencies that crafts strategy for maximum brand impact across platforms. She works with core leadership teams across the country to drive culture-shifting strategic creative excellence with a focus on solving clients' business needs.
She has a vast array of experience spanning over 12 years working for Hindustan Unilever, J Walter Thompson, World Wide Media and Contract Advertising.

Ram Subramanian
Founder of Handloom Picture Company and Voiceofram.com
Ram Subramanian is a renowned ad filmmaker who is also known for his innovations in peace and political activism, all over the world. He is also known as father of digital dissent since his selfie and velfie campaigns for Indo-Pak peace have become the standard template for activists (who are fighting for a cause) or political parties (fighting elections).
Ram is the founder of Handloom Picture Company and Voiceofram.com.

Rega Jha
Editor, BuzzFeed India
Rega Jha is the founding editor and editor-in-chief of BuzzFeed India. She oversees a team in Mumbai, responsible for creating editorial, video, and social content, and expanding outreach for BuzzFeed in South Asia. Rega joined BuzzFeed as a staff writer in 2013 and spent a year at the New York headquarters creating viral posts covering topics including social justice, South Asian politics, and immigration, along with humour and general interest content. She graduated from Columbia University with a degree in writing. Her work has been published in The New Yorker, Rolling Stone, Vogue, and other top publications. She is based in Mumbai.

Roshan Abbas
TV Anchor, Communications Wiz and Entrepreneur
Roshan Abbas has spent two decades gathering domain expertise in radio, television, theatre, events and BTL and has recently entered Bollywood with his directorial debut under the banner of Shahrukh Khan's Red Chillies Production. He is a reputed television and radio anchor having won 7 national awards (for Family Fortunes, Public demand, Livewire, Khanak, Junior Janaab, Toofan Mail etc.).
Roshan's insatiable appetite to learn and innovate got him into the event management and communication arena. Driven by the desire to provide an all-encompassing service to clients, Encompass Events was born. As Managing Director, he led the agency with passion and creativity, becoming one of India's best experiential marketing companies that offer services spanning across events, BTL and content creation. Roshan is also currently a mentor partner at Glitch, which is amongst India's top independent digital agencies and is now a media entrepreneur and an angel investor in the media and technology space. He is passionate about and regularly conducts workshops on radio, mass communication and events.

Rohan Joshi
Member, All India Bakchod (AIB)
Rohan Joshi is a member of comedy collective All India Bakchod (AIB) and has been on the Times of India's list of Top 10 comedians in India - an honour which he has delivered upon year on year. He has done over 500 shows at premier venues in India and internationally. He has also performed at the Fringe Festival in Edinburgh, noted for being the largest and most prestigious comedy festival in the world.
AIB is one of India's finest and funniest motley crew of comedic talent, that has revolutionised comedy content in India. They started India's first ever and most heard comedy podcast, went on to become YouTube's biggest independent creator and followed it up by hosting the country's first ever roast.

Samir Bangara
Managing Director, Qyuki
Samir Bangara is the Managing Director of Qyuki, a youth MCN he co-founded with Shekhar Kapur and A.R. Rahman. Before this, he was the Managing Director (Digital) of DisneyUTV and has about 19 years of extensive experience in the media and technology industries - as investor, advisor and COO of Indiagames Ltd., and Vice President at Ernst and Young India's M and A advisory division, focused on Technology and Media.
Samir has been listed amongst the top 15 angel investors in India - 2013 by VC Circle. He is also the Founding Co-chair of h2 (h2.co) and a mentor/investor at GSF (Global Superangels Forum).

Shreyas Srinivasan
Founder and CEO, Insider.in and NH7.in
Shreyas Srinivasan joined Only Much Louder (OML) in April 2010 and founded the company's digital business. He has since been instrumental in creating and launching Insider.in and NH7.in. Before OML, he was the co-founder of RadioVeRVe, one of India's first internet radio stations dedicated to promoting independent music. He is a well-known open source developer and speaks extensively on open source and related technologies.
He hopes to be a professional tennis player in his next life and wants to build awesome products in this one.

Supriya Nair
National Editor, Brown Paper Bag
Supriya Nair is an editor at Brown Paper Bag and of the recently-released The Caravan Book Of Profiles. Previously, she was an associate editor at The Caravan magazine. Her writing has appeared in Mint, Vogue, Wisden and The New Republic.

Vikranth Pawar
Show Director and Head, Live Entertainment, Disney India
Vikranth is the show director of the Beauty and the Beast Broadway-style musical for the India market. He has been with Disney India for over three years and has been the force behind recreating the magic of the musical in the country.
Vikranth has been a part of the Indian theatre industry for more than 15 years now. He has directed 11 shows till date; some of his popular plays include Conditions Apply, Timing, Laughing Wild, Anything but Love and Jhumroo. Over the years, he has worked with directors such as Vijaya Mehta, Raell Padamsee, Alok Ulfat and Rehaan Engineer.

Tanmay Bhat
Co-Founder, All India Bakchod (AIB)
Tanmay Bhat is one of the co-founders of comedy collective All India Bakchod (AIB). He has donned many hats - from a feature film writer to a humour columnist with Firstpost and Time Out Mumbai. Tanmay has also been a television writer with over 8 years of experience. He has performed in Dubai, Singapore, The Comedy Store in London, the world's largest arts festival (Edinburgh Fringe) in Scotland and the Sydney Comedy Festival.
AIB is one of India's finest and funniest motley crew of comedic talent, that has revolutionised comedy content in India. They started India's first ever and most heard comedy podcast, went on to become YouTube's biggest independent creator and followed it up by hosting the country's first ever roast.

Trisha Bora
Commissioning Editor, Juggernaut Books
Trisha Bora is commissioning editor at Juggernaut Books. This radical publishing house aims to get more Indians to read books, to encourage more Indians to write and to make books less intimidating.
Trisha has also worked as an editor at Random House India, Rupa, and Dorling Kindersley. Apart from her considerable experience backing authors, Trisha's own debut novel will be published by HarperCollins in 2017.

Zakir Khan
Comedian
Zakir Khan is the quintessential launda : read : your friendly neighbourhood guy, a college senior, 4 am friend and experienced colleague. He has been through everything that you have – love, relationships and surviving as the small fish in a big pond - and is ready to share his own comic perspective on it.
Zakir has had the fastest growing channel on YouTube with more than 27 million views in less than a year. With over 15 sold out shows, performances in more than a 100 venues as well as shows in Singapore and Dubai, Zakir Khan has swiftly become the most sought after comic in the country.
Anirban Blah

Anshulika Dubey

Ashish Shakya

Gursimran Khamba

Kartik Maheshwari

Kunal Shah

Mallika Dua

Rohan Joshi

Samir Bangara

Shreyas Srinivasan

Tanmay Bhat

Zakir Khan

Roshan Abbas

Harsha Bhogle

Lakshmi Pratury

Trisha Bora

Rega Jha

Supriya Nair

Priyanka Aggarwal

Pooja Jauhari

Sarah Chawla

Hosi Simon

Gul Panag

Ram Subramanian

Sheelika Ravishankar

Amit Trivedi

Vikranth Pawar
Bal Gandharva Rang Mandir, Bandra
Junction 24th and 32nd Road, Near Patwardhan Park, Off Linking Road, Bandra West, Mumbai, Maharashtra 400050, India
GET DIRECTIONS
March 31 - 10:30AM | April 1 - 7PM
Bal Gandharva Rang Mandir, Bandra, Mumbai
Invite your friends
and enjoy a shared experience