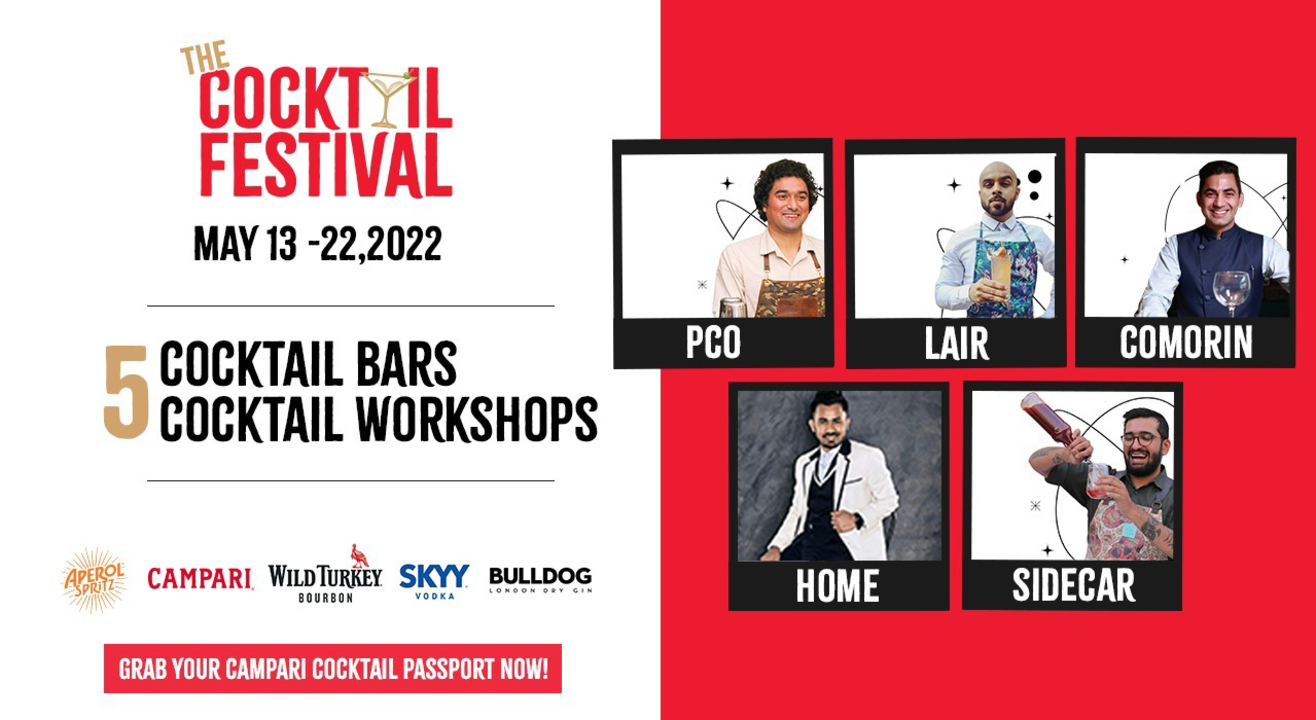 May 13 | 12AM - May 22 | 11PM
Venue to be announced, Delhi
Step out and enjoy this event
Event Guide
Celebration
Fun times ahead
Invite your friends
and enjoy a shared experience
May 13 | 12AM - May 22 | 11PM
Venue to be announced, Delhi
Step out and enjoy this event
Event Guide
Celebration
Fun times ahead
Invite your friends
and enjoy a shared experience
Event Guide
Celebration
Fun times ahead
Invite your friends
and enjoy a shared experience
With World Cocktail Day just around the corner, what better way to celebrate the day than in it's actual Spirit!
The Cocktail Story presents
THE COCKTAIL FESTIVAL
A week long grand celebration for all the cocktail lovers to gather and enjoy their favourite drinks and have a fun time.
The event menu is a blend of specially curated range of classics and original cocktails served by the most popular, awarded bartenders in town. The promotional menu will be served all week long at the top 5 bars for you to enjoy every ounce of it.
Why you shouldn't miss it?
● Longest cocktail crawl with 5 exclusive cocktail menus
● 5 dynamic cocktail workshops at the top 4 bars of Delhi
● Award Winning Mixologists Of India in action all week long
● 5 Free cocktails @699/- only with the Cocktail Passport
What's Exclusive?
THE COCKTAIL PASSPORT
5 top bars, 5 pro bartenders, 5 free cocktails
How to use it?
Show the passport at any partner bar
Get 1 free cocktail
Repeat x 5
Passport Validity:
Date: 13-22nd May
Partner Bars : Sidecar, PCO, Home PVR, Lair, Comorin
All the fun at just Rs.699/- (Early bird price)
Cocktail Workshops:
Come meet the best bartenders in India and learn to make the signature cocktails at award winning bars. Schedule as follows :
● May 18th : Cocktails Gone WILD By Rohan Matmary
4:00 - 5:00 PM, Wednesday, Sidecar
● May 18th: Reach for the Skyy with Vicky Thakur
6:00 - 7:00 PM, Wednesday, PCO
● May 19th: The perfect Bulldog G&T by Rohan Matmary
4:00 - 5:00 PM, Thursday, Sidecar
● May 21: Negroni Hour With by Santanu Chanda
4:00 - 5:00 PM, Saturday, Home PVR
● May 22: Aperitivo Hour by Navjot Singh
4:00 - 5:00 PM, Sunday, Lair
The event has been powered by Campari, a premium Italian liqueur known for its vibrant red bitterness. The blends of Campari are infused with herbs and fruits mixed with alcohol & water that brings an unforgettable taste & experience. Campari celebrates the cocktail world with its range of Whisky, Gin, Sodas and Negroni Cocktail enjoyed by spirit lovers all across the world.
The legacy of Campari dates back to the 1860s and has continued to spread their red passion to the contemporary world.
About The Cocktail Story:
The Cocktail Story is India's first and biggest platform for drink enthusiasts.
Aside from our content on Instagram about industry trends, product launches and the how-when-why-what of drinking, we regularly pamper our community members with unique experiences.
This includes social events, branded gifts, special invitations to tastings and workshops, and a chance to engage and interact with connoisseurs of the bar fraternity
If you're reading this, you're already part of the community!
Cheers
https://thecocktailstory.in/
https://www.instagram.com/thecocktailstory/
In case of any query related event contact us.
via call or WhatsApp on 9289343006
Free drink can only be handed to owner of the passport
Once lost/damaged, the passport book or any visa page cannot be replaced
This item is non returnable and non refundable
Rights of admission are reserved, even for valid ticket holders.
Content only meant for those above LDA.
Please remember to carry a valid government issued photo ID Proof (Driver's License/ Aadhar Card/ Passport). You may not be permitted to enter in the absence of a valid ID Proof
Individual venue rules apply.
*Insider QR code will not work, Need physical passport to redeem each drink.
In case of further queries, please contact team@thecocktailstory.co (not .com) or DM us @thecocktailstory on Instagram
By booking tickets for the event, you consent to your data being used for marketing and promotional activities by Insider and the organizer.
May 13 | 12AM - May 22 | 11PM
Venue to be announced, Delhi
Step out and enjoy this event
Event Guide
Celebration
Fun times ahead
Invite your friends
and enjoy a shared experience