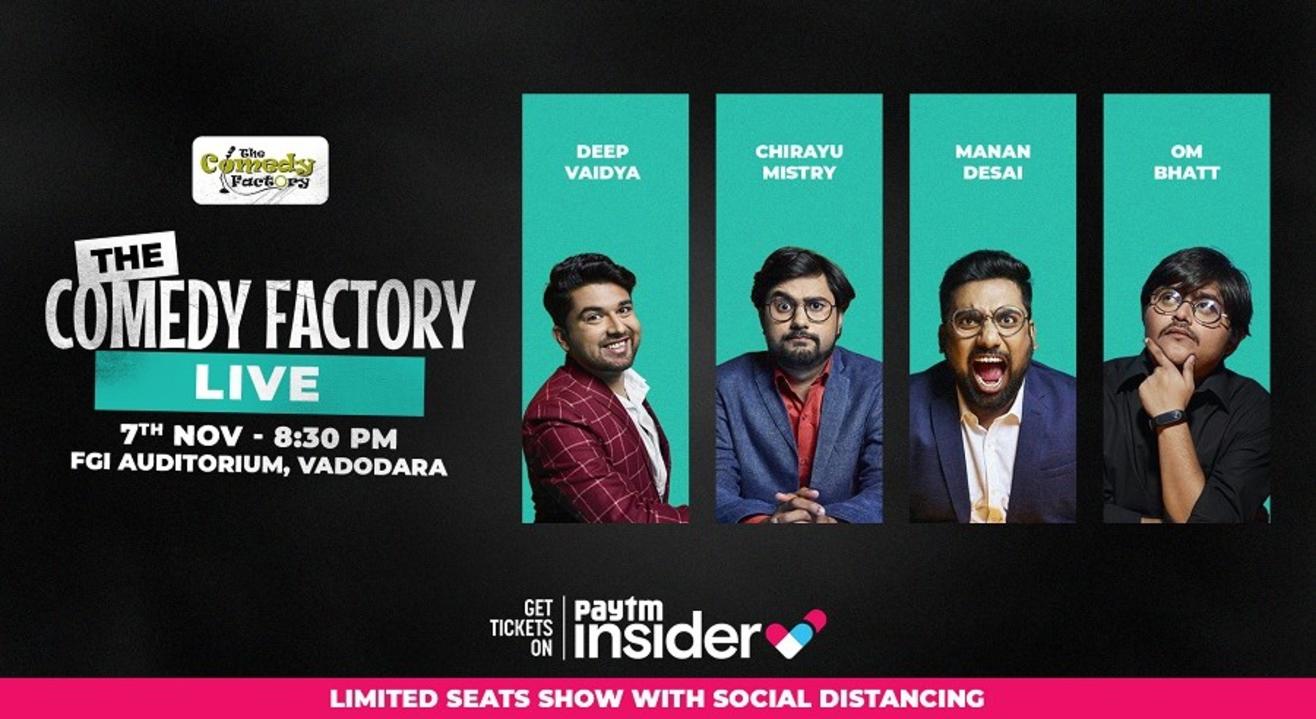 Federation of Gujarat Industries (FGI)
Step out and enjoy this event
Invite your friends
and enjoy a shared experience
Invite your friends
and enjoy a shared experience
About the Event
The Comedy Factory is back with live stage shows!
Due to the pandemic situation, public gatherings were on hold and as a result, we could not perform on stage for you. But after the Government's approval to start the public shows and events by following guidelines we are back in force again. We know how eager you all are to enjoy the live stand-up comedy by The Comedy Factory and more than that, we were eager to make you laugh again. Keeping your and our safety in mind we are performing with less than 50% of the auditorium's capacity. We will be taking all the safety measures for all of our safety and request you to do the same. We are really looking forward to this and hoping to see you soon. Please read all the terms & conditions before booking the tickets.
Artists:
Manan Desai
Chirayu Mistry
Om Bhatt
Deep Vaidya
Terms & Conditions:
A government issued, valid photo ID may be requested at entry.
Age limit for the show is 18+ years.
Strictly No Entry Without The Mask and you will have to wear it during the show as well.
Your body temperature will be checked upon arrival, if it is found questionable then you won't be allowed to enter the auditorium.
Kindly refrain from buying tickets if you are observing any symptoms of Covid in your body and/or you were in contact with a Covid Positive person and/or someone with Covid Symptoms in last 14 days.
Please cooperate with the team available at the venue.
Maintaining Social Distancing at the venue is important.
AUDIO OR VIDEO RECORDING OF THE SHOW IS NOT PERMITTED. You must not make, create, store, record or transmit any kind of sound recording, visual footage (recording), or store, record or transmit any information or other data with relation to the event. The organizers reserve the right to eject you from the venue for doing so.
Tickets are non-refundable and non-transferable in any case.
Carrying of liquids, alcohol, cigarettes and banned substances including outside food will not be permitted in the venue.
This is a single entry show. Once you exit the show area, you will not be permitted to enter again.
Make sure you have installed the Arogya Setu App in your mobile phone.
No dangerous or potentially hazardous objects including but not limited to weapons, knives, guns, fireworks, helmets, laser devices, bottles, musical instruments will be allowed in the venue and may be ejected with or without the owner from the venue.
The sponsors/performers/organizers are not responsible for any injury or damage occurring due to the event. Any claims regarding the same would be settled in courts in Vadodara.
Ticket holders in an inebriated state may not be allowed entry.
The Comedy Factory & The Venue reserves the right to eject any audience or performance member from the venue without a refund who is deemed to be a high nuisance.
We reserve the right to eject any person from the venue without a refund if they are disrupting any of the shows or performances and/or are deemed aggressive, either verbally or physically, to any of our staff, audience or artists.
No liability claims of food, pollution and other consumption poisoning will be entertained.
No tickets for the event shall be used by any person for advertising, promotional or commercial purposes, including but not limited to prizes, competition, contests or sweepstakes without obtaining written consent of the promoter The Comedy Factory.
Federation of Gujarat Industries (FGI)
FGI Business Centre, Gotri - Sevasi Rd, Nr, Sevasi, Khanpur, Gujarat 391101
GET DIRECTIONS