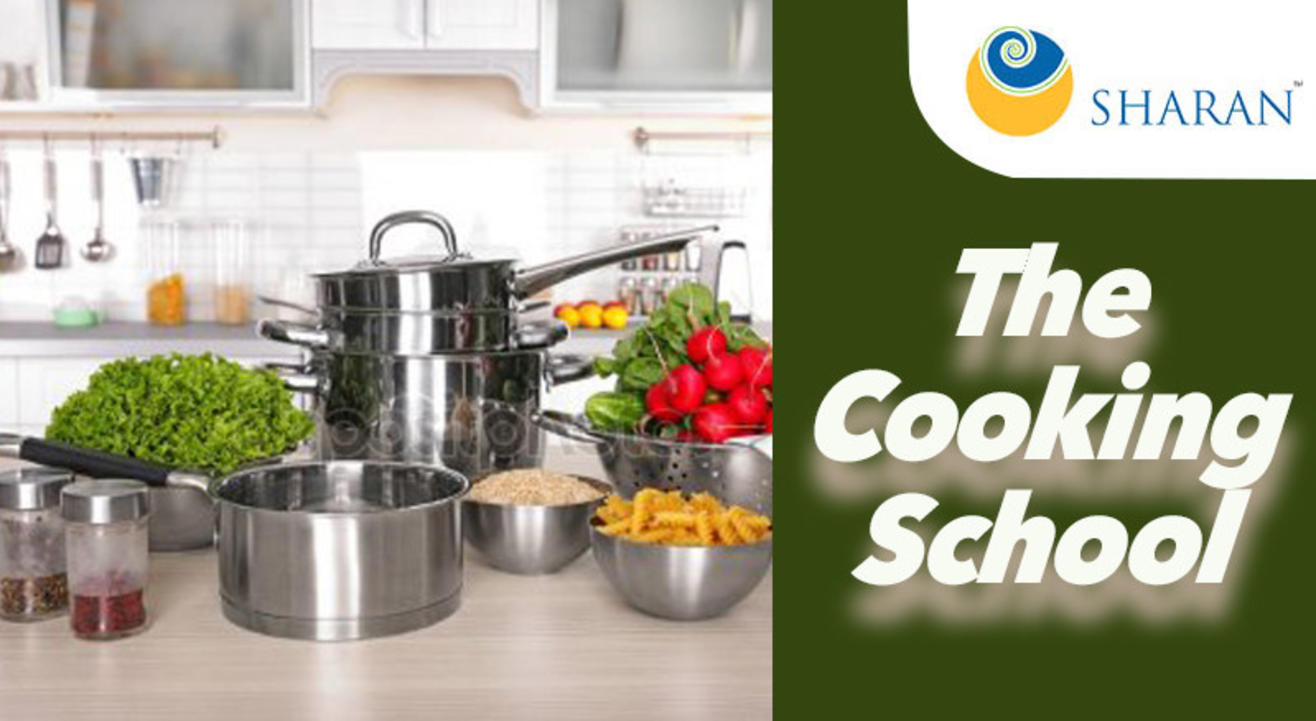 Invite your friends
and enjoy a shared experience
Invite your friends
and enjoy a shared experience
About the Event
Our workshops are magical as we teach something so simple yet so profound – Healthy food is Tasty Too! Not to mention the fact that the plant based diet heals and is highly recommended by Dr Nandita Shah to either reverse diseases or to live a life without medicines.
We keep receiving queries from all across India and the world that we wish to attend your workshops. So if you are one of those, then set five days aside and join our cooking school and get equipped to charm your loved ones with delicious recipes. If you conduct cooking sessions then add a whole new element of health in your workshops. If you are passionate about cooking then this is a school for you!
We have a set of two classes each day spread across 5 days. You can choose as many you like or all sessions!
1. The Basic Class – 1st February
Time: 11 am to 2 pm
The reason we are falling sick today or putting on weight is because of the food we eat. Once we start eating right, our body begins to heal. Get introduced to the right way of eating with SHARAN's Whole Plant Based Diet Workshop!
Thousands have actually been able to get rid off their medicines and even lose weight after adopting this diet. Some intelligent ones have even started doing this as the best health insurance!
The Class begins with a short talk entitled 'Your Health is in Your Hands' followed by the cooking demonstration.
Menu:
Green Smoothie
Herbal Tea
Masala Milk
Red Rice Idli
Peanut Butter Salad
Paneer Makhanwala
Dahi-wadas
Oil-free Pakodas
Cheese Pizza
Cookies
Ice cream
Presenters: Reyna and Rose
2. Cakes and Breads – 1st February
Time: 3 pm to 5.30 pm
Baked goods are devoured by one and all, and avoided too as they do contain all the not-so-good-for-our-body ingredients. Well you are in for a surprise as you will learn how to whip up some delicacies without the use of them!
Cakes
Moist chocolate cake with frosting
Vanilla cake with white frosting
Tea time Coconut cake
Apricot upside down cake
Breads
Garlic bread
Buckwheat and seed bread
Vegetable Foccasia
Quinoa and almond bread
Presenters: Madhura and Kommal
3. Meat Alternatives – 2nd February
Time: 11 am to 1.30 pm
It's the fat that comes from animal products which is the cause of most lifestyle diseases. And if you think about it, its not meat that tastes good, its the spices, the gravies which enhance the taste. So what if showed you how to make meat alternatives with healthier options, so that you or your family doesn't miss the flavours that they relished.
Scrambled eggs
Salami slices
Fish and chips with mayo
Lentil n mushroom burgers
Seekh kababs
Jackfruit soft tacos
Kheema naan
Caramel custard
Presenters: Rose and Madhura
4. Oil free Snacks – 2nd February
Time: 3 pm to 5 pm
What is the first thing that we add in our pan when we start cooking – Oil, of course!
Oil is pure fat, it's refined and full of preservatives – all elements that invite disease. Come to this interesting class and first learn why should we go oil-free, as only when we understand, then will we implement. Then learn how to actually cook without oil. Once you learn these techniques, you will be equipped to make almost everything without oil.
Samosa
Dal vada
No sabudana-sabudana vada
Dahi puri sev puri Batata vada with spicy chutney
Matar kachori
Cheese sticks
Hot Banana fritters with chocolate sauce
Presenters: Vandana and Shashi
5. Meal Replacer Salads – 3rd February
Time: 11 am to 1.30 pm
Greens & Salads spell Health. Come and learn innovative ways to include them in your daily meals adding wellness for you and your family and what if you can make a meal out of a salad! Won't that be wow!
Southwestern chipotle bean salad
Thai touch peanut salad
Mediterranean corn and greens salad
Lettuce cups with grilled tofu
Salad with Keiffier lime dressing
Hearty potato salad with nut free mayonnaise
Broccoli salad
Creamy greens salad with almond dressing
Presenters: Madhura and Jaishree
6. Dessert Special – 3rd February
Time: 3 pm to 5.30 pm
Sweets and no sugar….can't be! Can be in our super sweet class, which also includes no dairy and preservatives too!
Date n nut roll
Baklava cookies
Chocolate waffles with Nutella topping
Pumpkin pie Kulfi Falooda
Shahi tukda
Ras Malai
Kesar pedha
Presenters: Vandana and Kommal
7. Flavors of India – 4th February
Time: 11 am to 1.30 pm
We love our wonderful Indian cuisine. It's so rich, diverse and full of flavour. Plus we also know how to make it healthy and delicious too. You can learn too!
Vegetable makhanwala
Methi malai matar
Navratna korma
Aviyal
Oondhiyu
Hyderabadi dum biryani
Hariyanvi siddhu
Rabdi Malpua
Presenters: Smita D and Vandana
8. Cheese Special – 4th February
Time: 3 pm to 5 pm
We all love cheese!!
Store-brought cheese come with their share of chemicals, preservatives, refined sugars, oils, dairy, additives and more. While we wish to savor our favorite cheese, we also wish for the best quality of health for us and our loved ones.
Imagine if you could make cheese at home that is even better than those available in the supermarkets and that to dairy free?
Mozarella cheese slices
Feta cheese
Cheese cubes
Boursin
Pepper jack cheese
Tofu gouda
Chickpea cheese
Nut free cheese block
Presenters: Madhura and Ruchi
9. Tofu and Millet Magic – 5th February
Time: 11 am to 1.30 pm
Tofu is a super fine replacement for paneer and millets are so wonderful for our digestive system. Feel their magic in this special class.
How to make tofu
Millet Salad with tofu mayonnaise
Tofu Tikka skewers
Instant Jowar dosa with shredded tofu stuffing
Millet and corn croquettes
Millet kofta curry
Millet tofu tawa rice
Paneer millet barfi
Presenters: Ruchi and Rose


10. Raw Class – 5th February
Time: 3 pm to 5.30 pm
When we hear the word raw food, we only visualize salads. Imagine if we can make our regular food, but its all raw. Wouldn't that be fantastic? Less time to cook and more to gain in health.
To get the optimum nutrition, raw is the way to go! And it needn't be restricted to smoothies and salads!
Gazpacho
Raw sushi
Lasagna
Curry noodles
Dal khichadi
Raw raita/pickle
Vegetable coconut curry
Orange and pink layered cake
Presenters: Madhura and Shalini G
NOTE: Early Bird Till 30th Jan 2020. Please mention the events of you choice in comment section while registering.
If you have any diet restrictions / food allergies/ Jain food requirement, please intimate us at least 2 days prior to the event by sending a whatsapp message to +91 9769117747. Please mention class name and diet restrictions.
Cancellation Policy: Cancellation before 7 days from the event date attracts full refund towards another program. Cancellation between 7 days & 3 days before event date attracts 75% refund towards another program. No refunds for cancelling 3 days before the commencement of the program.
SHARAN MUMBAI CENTRE
306, Laxmi Mall, Above Axis Bank, Opp lane of Fun Republic, New Link Road, Andheri W, Mumbai
GET DIRECTIONS