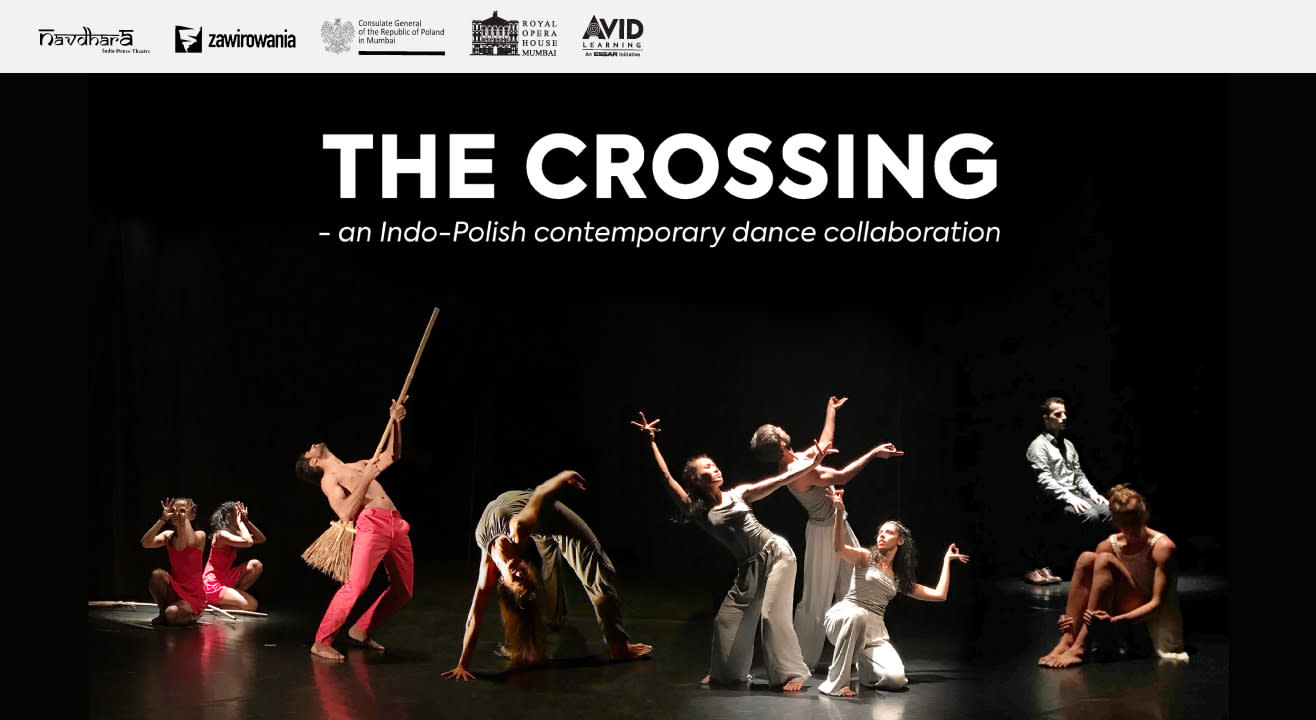 Dance
The Crossing At The Royal Opera House
The Royal Opera House, Mumbai
About
Royal Opera House, Mumbai in collaboration with The Consulate General of the Republic of Poland in Mumbai, and Avid Learning presents 'The Crossing', a contemporary dance performance involving dancers and choreographers from Poland and India, working together and sharing the stage, their knowledge, expertise and cultural experiences to create a cross-cultural artistic experience.
About The Performance
The Crossing is a collaborative contemporary dance production between Zawirowania Dance Theatre, based in Warsaw, Poland and Navdhara India Dance Theatre, based in Mumbai, India. The title refers to the cultural exchange that has taken place between the performers while working on this production. It represents the similarities and differences that arise during the coming together of two cultures - in this case Central European and South Asian, the spiritual East and the rational West.
In this production, Indian and Polish artists, through the mystical world of dance, celebrate their diversity and common experiences on stage. The performance comprises of 5 separate pieces choreographed by Indian-Australian choreographer Ashley Lobo and Polish choreographers, Karolina Kroczak and Elwira Piorun. Many of the dance pieces use Lobo's notable technique technique, Prana Paint and FlowTM which is a unique sensitizing approach developed by him that explores movement through yoga, breath, connectivity, and touch to help the dancer go deep within.
The project consists of 5 choreographies:
A section choreographed by Ashley Lobo with Indian dancers
A section choreographed by Ashley Lobo with Polish dancers
A section choreographed by the Polish choreographer with Polish dancers
A section choreographed by the Polish choreographer with Indian dancers
A section choreographed by Ashley and the Polish choreographers on Indian and Polish dancers.
This is a continuation of The Navdhara India Dance Theatre's collaboration with the Zawirowania Dance Theatre in Warsaw, with whom they have been working on a project with the aim to enrich the cultural exchange between these two nations. The first half of the project was presented at the Zawirowania Dance Festival earlier this year.
This is our first collaboration with the Consulate General of the Republic of Poland in Mumbai and we believe that in the realm of culture, excellent links and growing mutual artistic inspirations are our best assets in the strengthening of bilateral relations.
The Royal Opera House, Mumbai provides a unique platform in the city for people to encounter the breadth of the performing and visual Arts. In keeping with the legacy of this institution, where even in our early days we've showcased theatre, dance, cinema and music, we are keen to support and showcase unique events that defy easy categorization and blend the traditional with the contemporary, and find synergies between the arts in fascinating ways.
Ashley Lobo
Ashley Lobo is considered to be the spearhead of international dance in India. He is the Founder & Artistic Director of both The Danceworx Performing Arts Academy (TDX) and Navdhara India Dance Theatre (NIDT).

Trained in Australia at the Bodenweiser Dance Centre and at Sydney Dance Company, his career in performing arts comprises of over 32 years of performing, choreographing and teaching, in India and overseas.

Ashley is renowned for his Prana Paint™ technique, a unique sensitizing approach developed by him that explores movement through yoga, breath, connectivity and touch. This notable technique has put him on the international map and led to him being invited to teach and choreograph overseas. In 2017, he was invited to create a full-length contemporary dance production "Das Dschungelbuch" for The Ballet Chemnitz in Germany. In 2019, he is doing the same for Landestheater Linz in Austria.

Ashley has choreographed extensively for both stage and cinema, with over 30 feature films to his credit. His choreographic style has a strong influence of cinematic techniques combined with clear narrative. In film and stage, he is known for producing work with a uniquely strong sense of connection, which he has developed through his Prana Paint™ technique.

Karolina Kroczak
Dancer, teacher, choreographer. She graduated in Polish studies (culture theory) at the University of Warsaw. She has worked, as a dancer and choreographer, in Zawirowania Dance Theatre. She has worked with the group since 2006 – she has taken part in the following performances: Nic tylko błękit, Chopin Ambiente, Innocent when you dream, Fuera de Campo by Daniel Abreu). In 2005–2007, she participated in an educational project of the Silesian Dance Theatre. She collaborated with such artists as: Jaro Vinarsky, Hilke Diemer, Georg Blaschke, Juan de Torres, Daniel Abreu. She was also a choreographer of the 5th Edition of TV show "You Can Dance – po prostu tańcz"; in 2010, she created, as a choreographer and second director, a performance with dancers of "Dancing with the stars" Lady Fosse in Capitol Theatre in Warsaw. She is also a dancer and teacher of many dance techniques and physical methods, i.e. contemporary dance, physical modern, release modern, pilates. She runs workshops for all levels.

Elwira Piorun
Dancer, teacher, choreographer. She graduated from the Ballet School in Warsaw and in Ballet Pedagogy from the Fryderyk Chopin Academy of Music in Warsaw. For many years she was a soloist of the Teatr Wielki – Polish National Opera in Warsaw. For eight years (1990–1997) she worked in Germany (Hagen and Dortmund). In 2005 she founded, together with Włodzimierz Kaczkowski Zawirowania Dance Theatre. In the theatre she regularly co-produced group choreographies in which she also performed and featured performances of other artists such as Juan de Torres and Daniela Merlo. She is an active promoter of contemporary dance in Warsaw. She organized, together with the theatre, Zawirowania Dance Theatre Festival, taking place each year in June.


The Royal Opera House,
The Royal Opera House, Mumbai is widely touted as Mumbai's Cultural Crown Jewel and India's only surviving Opera House. The original idea for the space was conceived of in 1908, inaugurated in 1911 by King George V, and eventually completed in 1916. The design incorporated a blend of European and Indian detailing. The space became a cinema in later years before falling into disrepair and shutting by the 1990s. Fittingly, the space has been owned by the Royal Family of Gondal since 1952 and was eventually restored by conservation architect, Abha Narain Lambah under the leadership of His Highness, Maharaja Shri Jyotendrasinhji of Gondal. The Royal Opera House Mumbai, now one of the last remaining Baroque structures in the city, reopened after 23 years in October 2016. The building was included on the 2012 World Monuments Watch to raise awareness about its history and significance, and support preservation efforts. The building has since been recognized with an Award of Merit in the 2017 UNESCO Asia-Pacific Awards for Cultural Heritage Conservation. The restored facilities feature a 575-seater 3-level auditorium with an orchestra pit and state of the art technological upgradations, including acoustics, stagecraft, lighting and air-conditioning, alongside retaining the old world charm of the proscenium stage, the royal boxes and the magnificent regal chandeliers. Some more enhancements to the venue include a motorized screen, co-axial ceiling speaker system, Four-zone volume control and all round wifi access. Today, it stands as a key performance and creative hub in the city's cultural landscape, while being a premier heritage landmark.

The Consulate General of the Republic of Poland in Mumbai
The Consulate General of the Republic of Poland in Mumbai was opened in 1933. The first Consul Dr. Eugeniusz Banasiński held the post till 1944. During the World War 2 the Consulate was strongly involved in the logistics arrangements for 5000+ Polish citizens, rescued and taken out from the places of persecution in the Soviet Union and found shelter in India, in purpose-built settlements in Valivade (in the suburbs of Kolhapur) and in Balachadi (near Jamnagar). Since India's independence and establishment of bilateral diplomatic relations, the Consulate has played an important role in promoting Poland through conducting commercial, information, education projects, working with the media and public and encouraging academic, scientific and artistic exchanges.Consulate also provides passports, birth registration and many others services for visiting or resident Polish citizens in southern India as well as issues visas for Indians willing to travel to Poland.

Navdhara India Dance Theatre(NIDT)
NAVDHARA INDIA DANCE THEATRE (NIDT) is one of India's premier contemporary dance companies based out of Mumbai, India, founded by Indian-Australian choreographer Ashley Lobo. It was set up with the aim of helping young dancers in India channelize their creative energies, to give them a platform to reach out and communicate with an international audience. Combining the physical methodologies of western dance and the spiritual philosophies of India and Indian dance, including thoughts from the ancient Indian gurukul system, NIDT seeks to allow newer methodologies and works of theatre and dance to come through. The dancers' training process also includes a unique sensitizing approach developed by Ashley Lobo called Prana Paint™. This technique explores creative movement through yoga, breath, connectivity, and touch and helps each dancer develop a movement style that is completely individual yet universal, with the only allegiance being to the truth of breath and prana (life energy). NIDT's entire repertoire is created on the basis of this technique, making their work a seamless personal experience for any viewer. The focus is simplicity and communication, so all boundaries disappear and Nav-dhara or 'new flow' is achieved. NIDT has toured extensively with their work, performing in USA, Canada, South Africa, Germany, Israel, Turkey, China, Bahrain, Taiwan and Mexico.

Zawirowania Dance Theatre
Was founded in 2005. From its inception, the group's artistic director and main choreographer has been Elwira Piorun, a former soloist of the Teatr Wielki – Polish National Opera in Warsaw, who has performed in German ballet and dance theatres for several years. The group consists of dancers with various technical backgrounds, from classical dance, through contemporary and jazz dance, to pantomime. The combination of various backgrounds results in an interesting stage effect, widening the group's creative potential. Włodzimierz Kaczkowski, director, often responsible for narration in the performances, collaborates with Zawirowania. The group's main principle is to use contemporary dance techniques to create dance theater performances. They call for a story in dance, more and more often rejected by dance theatres which prefer non-narrative and non-linear performances. The group has performed abroad many times: Attakkalari India Biennial (Bangalore, India), Harare International Arts Festival (Harare, Zimbabwe), Abril en Danza (Alicante, Spain), TanzArt Ostwest Festival (Gießen, Germany), Festival Mouvements sur la Ville (Montpelier, France), Bielefeld Dance Festival (Bielefeld, Germany) and others. Since 2005 the Theatre has organized the Zawirowania Dance Theatre Festival, taking place each June in Warsaw. This event gathers dance theatres from Poland and abroad. From the beginning, apart from artists from neighbouring countries and the Visegrad Group, artists from all over the Europe also took part in the festival. In the following years, the geographical aspect of Zawirowania faded away. The profile of the festival has not changed, focusing on dance theatre. The festival also consists of educational workshops. Nowadays, every year we try to create a repertoire of the festival based on a specific topic or geographic region. Since the beginning of the festival we invited big and smaller groups from Europe and all around the world: Cullberg Ballet, Kibbutz, Norrdans, Leesaar, Zapalla Dance Company, Granhoj Dans, Tchekpo Dance Company, China Wave and others. The festival is accompanied by a block of educational workshops. The dance pieces are presented in different points of Warsaw, on different stages.

Avid Learning
A public programming platform and cultural arm of the Essar Group, has conducted over 950 programs and connected with more than 100,000 individuals since its inception in 2009. Driven by the belief that Learning Never Stops, AVID's multiple formats like Workshops, Panel Discussions, Gallery Walkthroughs, and Festival Platforms create a dynamic and interactive atmosphere that stimulates intellectual and creative growth across the fields of Culture & Heritage, Literature, Art and Innovation.