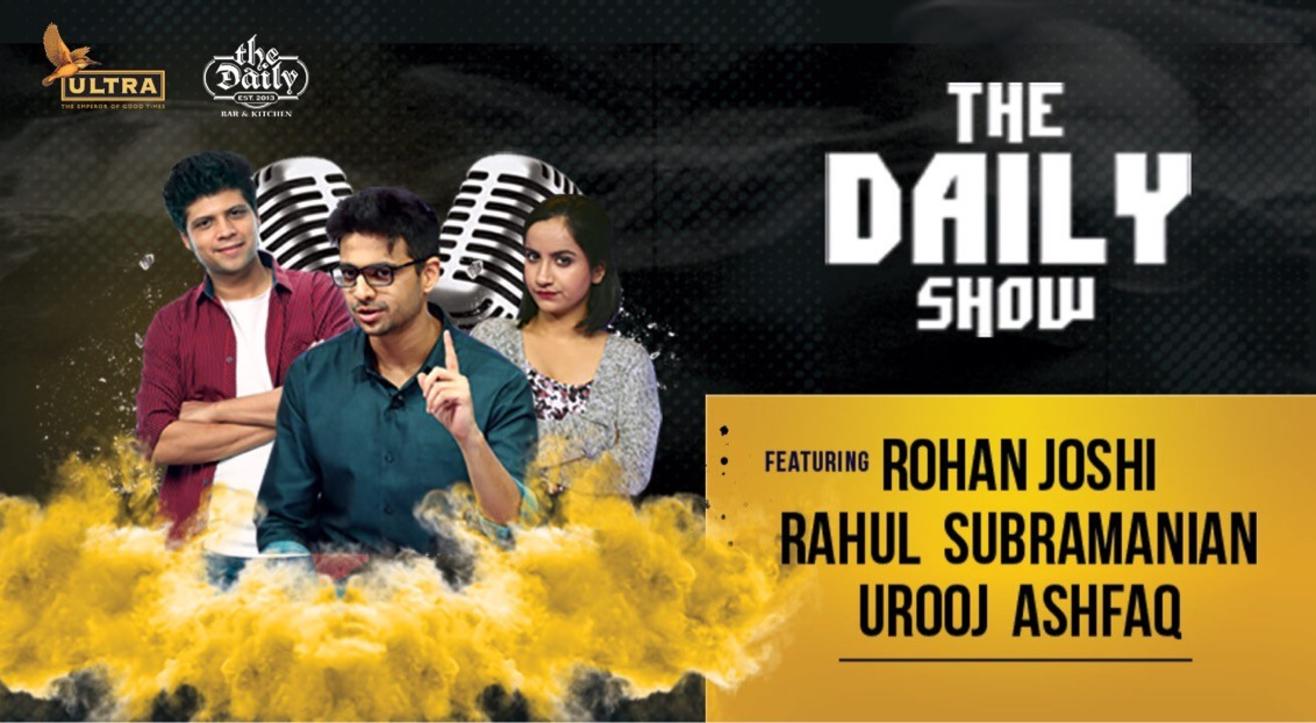 Comedy
The Daily Show: Rohan Joshi / Rahul Subramanian / Urooj Asfaaq
About
We kick off our monthly comedy nights property - THE DAILY SHOW with Rohan Joshi Rahul Subramanian and Urooj Ashfaq!
1 Free beer for every ticket that is purchased.
Rohan Joshi is a member of popular comedy collective AIB. As part of AIB, he has been a part of the collective's ambitious projects such as AIB Knockout (India's first ever comedy roast), AIB Diwas (a full-day open-air comedy show), On Air with AIB (the satirical news show telecast on primetime television and Hotstar), and AIB Presents Royal Turds (a Bollywood-themed spoof award show). One of the earliest stand-up comics in the country, he was on the Times of India's list of top ten comedians in India in 2012, with over 250 shows at premier venues in India and internationally. He performs regularly for corporate clients across India. Rohan has co-written the prestigious Filmfare awards. He is also a humour columnist for several publications, including a long-running column in Mid-Day. Excitingly for fans, he has returned to the stand-up stage in 2017, and is trying out new material. Other artists
Rahul Subramanian is a Brand-manager-turned-comedian who realized a little too late in life that he was too redundant for the corporate world. Since the realization, he has been a regular at all the leading comedy venues in the country and is currently touring his one hour solo titled Kal Main Udega. If you are someone who enjoys humour with a message then Rahul's comedy is made just for you, only disclaimer being you've to come up with a message of your own as Rahul has none to offer. This Mumbai-based comedian has been performing since 2014, as he broke into the scene by winning stand up competitions like Virgin Pants and Canvas Laugh Club (All India open-mics) and also the first ever Youtube Comedy Hunt (sketch video competition) along with his friend Kumar Varun for their channel Random Chikibum. When he is not doing stand up, or acting in videos by Random Chikibum or All India Bakchod, you will see him pursuing his hobbies which include seeing, waiting, and getting stuck in traffic, all things that help him write better jokes and sketches that make you go "that's happened to me too!"
Urooj Ashfaq is a 22 year old comedian. She jokes about a variety of topics hoping one of them will get a laugh. She was a finalist on Queens of Comedy and does open mics when she's not sleeping.
Venue
The Daily Bar & Kitchen
Ground Floor Behind Shoppers Stop, SV Road, Bandra West, Bandra West, Mumbai, Maharashtra 400050