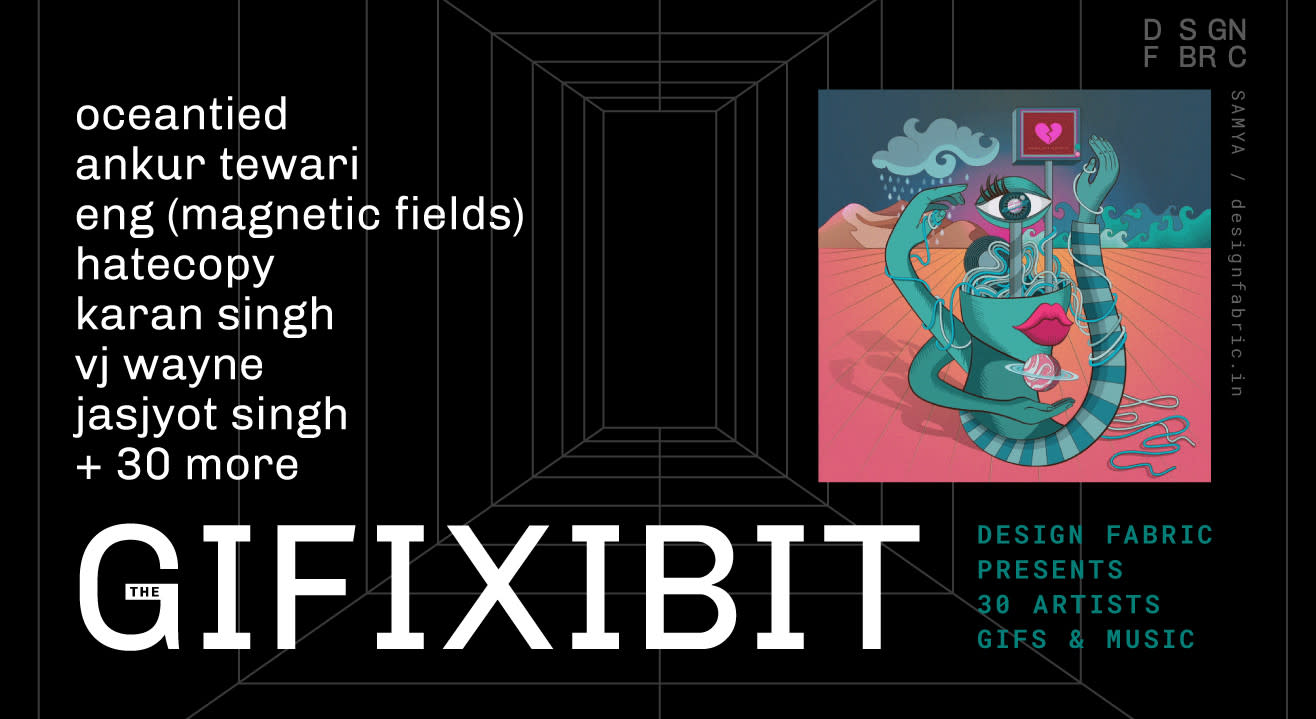 The GIFIXIBIT by Design Fabric
Invite your friends
and enjoy a shared experience
The GIFIXIBIT by Design Fabric
Invite your friends
and enjoy a shared experience
Invite your friends
and enjoy a shared experience
A year ago, a local design project was started in Mumbai, India called Taxi Fabric, where the makers collaborated with a constellation of top-tier local designers to create textile patterns inspired from indigenous cultures and symbols, and then fitted them inside taxis and rickshaws.
This year they are diversifying into a space that discusses design, art and the fabric of life in India, through Design Fabric (DF) - what one could call a collaboration platform that brings the Indian design scene to a level where the community gets amply recognised in the global design ecosystem.
To introduce Design Fabric, the creators have put together a one-of-a-kind show with an opening theme of 'GIFs', giving shelter to the works of some of the stellar Indian artists around the country and beyond.
Instagram/Twitter: @dsgnfbrc
Facebook: facebook.com/designfabric.in
Email: hello@designfabric.in
Event Hashtag: #gifixibit
Hatecopy / Oceantied / Karan Singh / Ankur Tewari / NorBlack NorWhite / Sanki King / Aman Makkar / Jasjyot Singh Hans / Katyayani Singh / Arushi Kathuria / Sandhya Prabhat / Sudeepti Tucker / ENG / Sana Nasir / Neethi Neethi / Anyaa Dev / Samya Arif / Kruttika Susarla / Sajid Wajid Shaikh / Harshit Vishwakarma / Prasanna Sankhe / Shantanu Suman / Pragun Agarwal / Pavithra Dikshit / Niteesh Yadav / Simoul Alva / Anupam Singh / Tanya Eden / Prateek Vatash / Adrita Das / Mayur Mengle
6:00PM Doors Open to The GIFixibit | Takalluf & VJ Wayne
7:00pm Ankur Tewari
8:00pm ENG (Magnetic Fields)
9:00pm Oceantied
10:00pm The GIFixibit Ends
Soul Patch
Soul Patch, 14, Cama Industrial Estate, Sun Mill Compound, Lower Parel, Mumbai 400013
GET DIRECTIONS
The GIFIXIBIT by Design Fabric
Invite your friends
and enjoy a shared experience