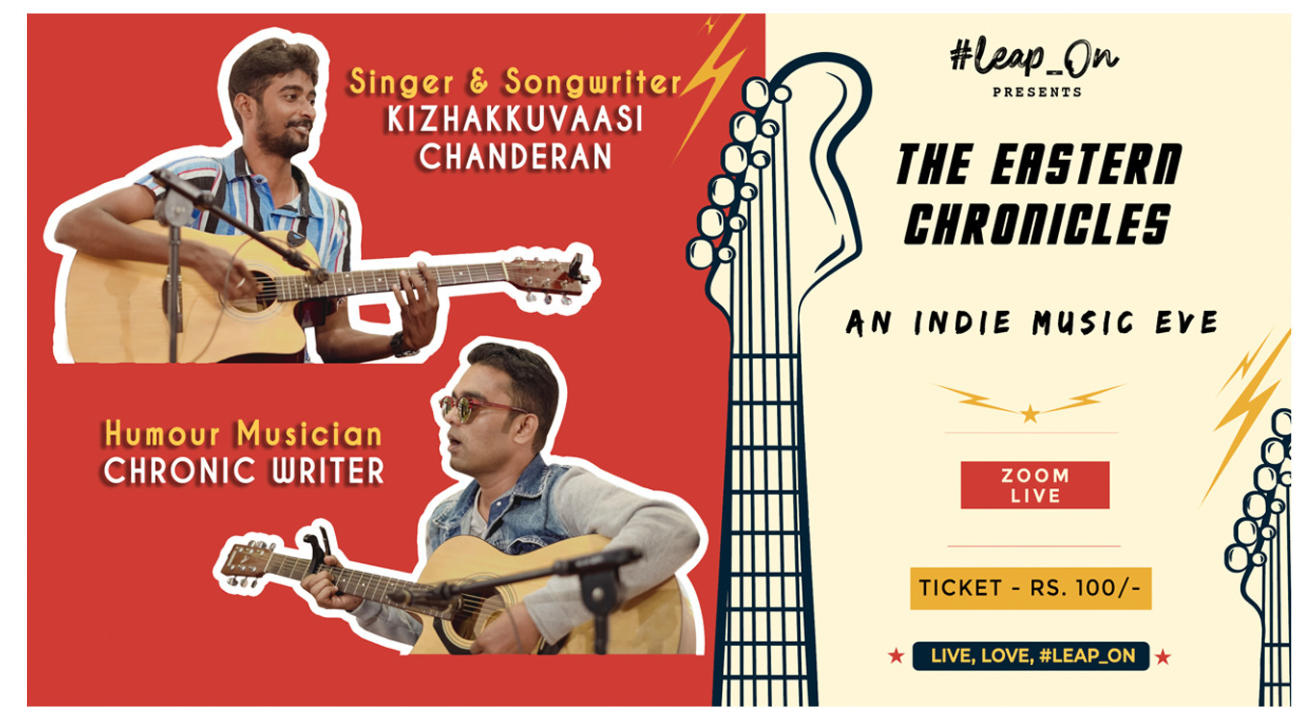 Music
The Eastern Chronicles - An Indie Music Eve
About
#Leap_On presents 'The Eastern Chronicles', as a part of its online gig series - 'Virtual Musique Atti'.
The Sunday eve will see Singer & Songwriter 'Kizhakkuvaasi' Chanderan and 'Humour Musician' Chronic Writer peform their originals.
Come and enjoy some quality Independent Music. The show will be a perfect get-to-gether for family and friends (age limit - 1 to 146)...
Note: Most of the Songs will be performed in Tamil (but Music has no language 😉)
'Kizhakkuvaasi' Chanderan
Singer & Songwriter Chanderan is the founder and lead vocalist of the Tamil Indie Band 'Kizhakkuvaasi'. Melodious Songs of Kizhakkuvaasi has its own seperate fan base! Be it love, philosophy or any walks of life, Kizhakkuvaasi's songs are rich in lyrical value. The divine tone of their songs, with a retro touch makes it a special blend which is not to be missed...
Chronic Writer
Prason Christopher Robin, an IT employee by day and a Musician by night is well known by his stage name 'Chronic Writer'. The Man made ripples in the Indie Music Scene with a rib tickling 'Upma Song' last year. His songs are super fun to listen to and his lines are hilarious roller coasters, hence Prason is rightly called the 'Humour Musician'!
#leap_On
Music Open Mic and Live Gig Producer - #leap_On is now venturing into Virtual Music Shows with our online gig series 'Virtual Musique Atti'. Budding Music Talents are what we look out for and we have a special affinity towards Independent Musicians, with absolutely no restrictions on languages or genres!
To know more,
IG - @leap_on_art
Email - leaponindia@gmail.com
Let's #leap_On!