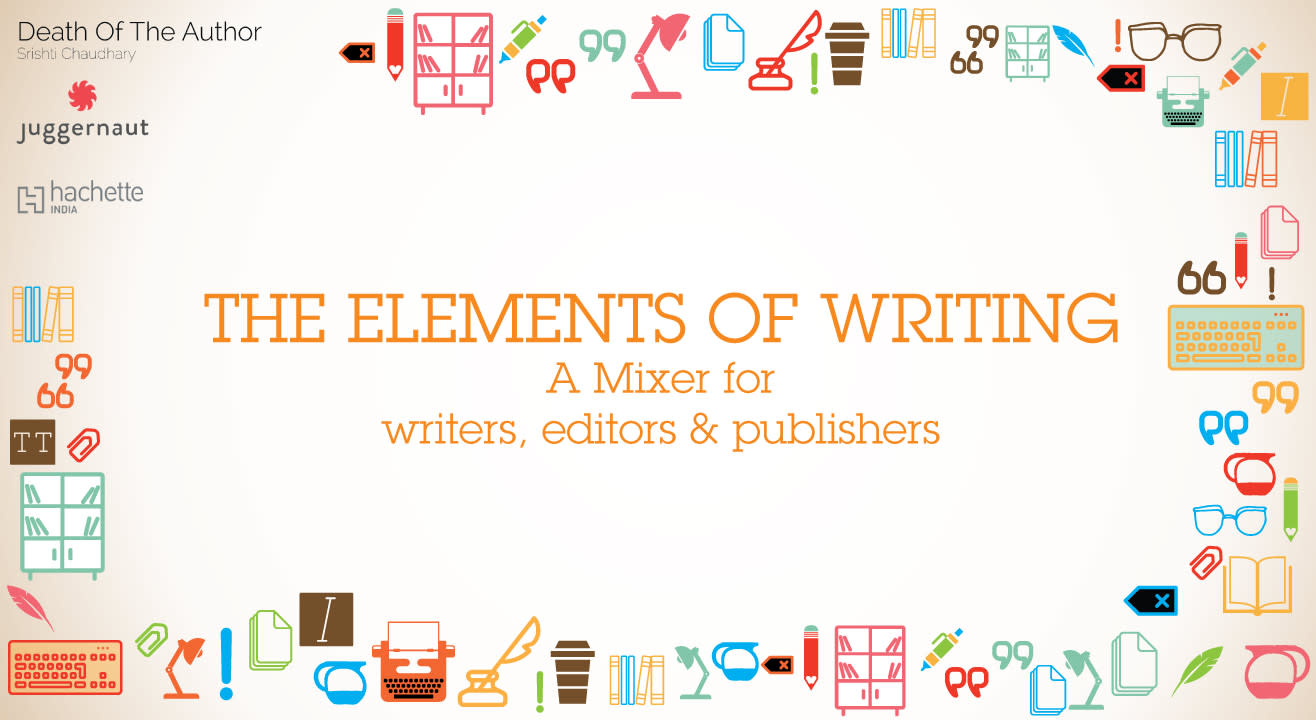 Literature
The Elements of Writing- A Mixer for Writers, Publishers, Editors
About
WHAT | A mixer for writers, editors and publishers with the aim to connect with others in the industry and propel their writing careers forward- a gateway to the inaccessible world of publishers
WHO'S WHO |
Chiki Sarkar, co-founder Juggernaut Books, former publisher and editor-in-chief Penguin Random House;
Poulomi Chatterjee, Editor-in-chief, Hachette India;
Kanishka Gupta, South Asia's leading literary agent
To know more.
11:00- 11:30 Get to Know Other Writers!
Mixing activity amongst writers: Who's writing what? What are other writers reading? How do they find the time with another job? Their aims, struggles, techniques? You only grow when you learn together so get to know other writers like yourself!

11:30-12:30 Tips From The Pros
Kanishka Gupta answers your biggest queries regarding, writing, editing and publishing in this virtual session. Simply send in your queries on the Google form (link below) and we will moderate discussions around them and his answers. What is the best length for commercial fiction? What genre sells? How do you sell it? How to get to inaccessible publishers? Are short stories in demand? How do I begin a novel? Do I really need to edit? How do I find an editor? Go wild in your queries!

12:30- 13:45
The Elements of Writing
All You Need to Know About Writing and Publishing in India Leading publishers, Chiki Sarakar of Juggernaut and Poulomi Chatterjee of Hachette come together in this first-of-its-kind talk to a room full of writers. Publishers have always been an inaccessible lot and we are bringing them right to your nose- they will talk about everything that falls under the writing and publishing world

13:45-14:00 Juggernaut Short Story Competition Prize Giving Ceremony

PRE-EVENT ACTIVITIES |

How do I Publish?! | Submit your questions for Kanishka Gupta, South Asia's leading literary agent, on this form, and they will be answered on the day of the event. Sumbit here

Juggernaut Short Story Contest
Already got what it takes? Email your short story, any theme, between 2000-8000 words- winner gets a publishing contract from Juggernaut! Email the story to contest@juggernaut.in with the subject 'Writers Salon'.
Venue
Workly, Delhi
Plot no. 1, second floor, Lajpat Nagar IV, Ring Road,, Above Axis bank,, Nirmal Puri, Nirmal Colony, Block 6, Lajpat Nagar IV, Lajpat Nagar, New Delhi, Delhi 110024