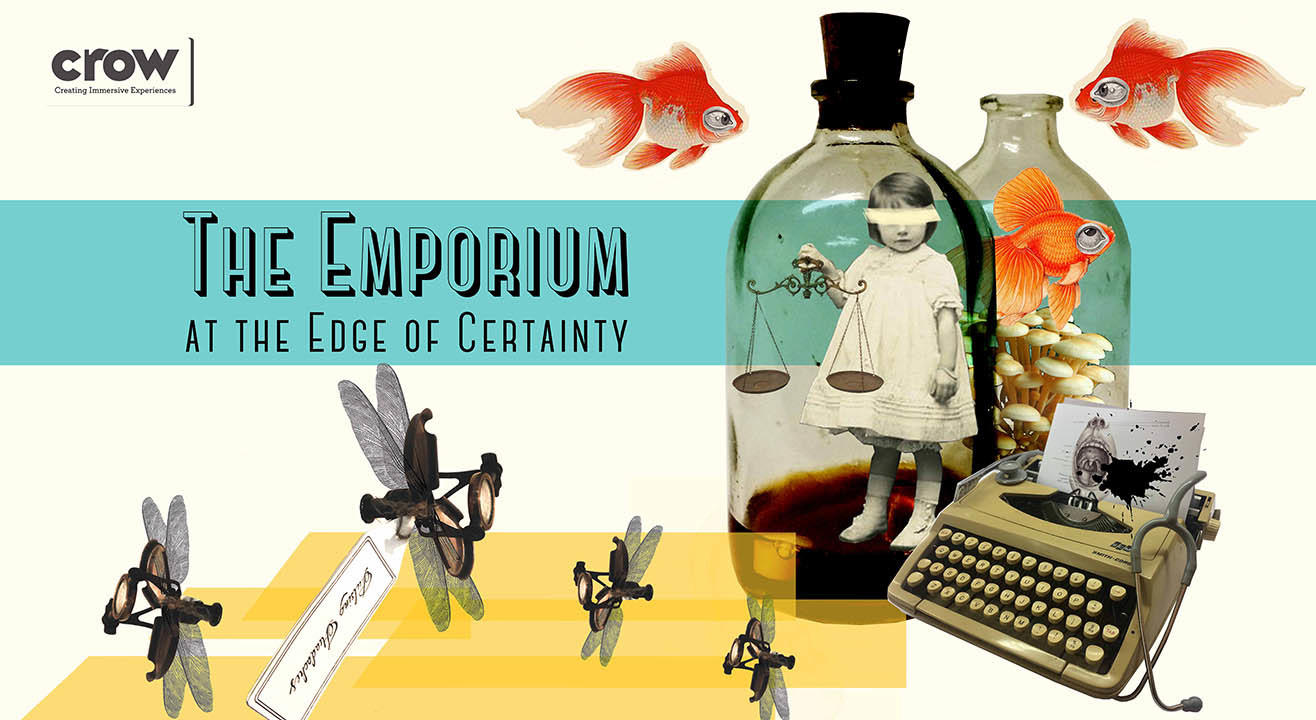 The Emporium at the Edge of Certainty
Multiple Shows | 6PM & 7:30PM
Crow HQ Okhla, D-149 Okhla, Phase 3, Delhi
Invite your friends
and enjoy a shared experience
The Emporium at the Edge of Certainty
Multiple Shows | 6PM & 7:30PM
Crow HQ Okhla, D-149 Okhla, Phase 3, Delhi
Invite your friends
and enjoy a shared experience
Invite your friends
and enjoy a shared experience
Out at the edge of certainty lies an emporium where all manner of wares are bought and sold. Acquire an exquisite headache, bring back a forgotten word, bargain for a lost fragment of time. You might even walk away with a brand-new life.
But what would you be willing to part with in exchange? Everything at the Emporium has its price, and your common currency will not serve you here. A word to the wise: be mindful of what you may lose.
The Emporium at the Edge of Certainty is an immersive theatre experience by Crow and has been created with the support of the Gujral Foundation.

At Crow we combine the liveness of theatre and the interactivity of gaming to build multi-sensoral worlds that the audience can explore, touch, inhabit and influence.

Founded by director-designer Nayantara Kotian and writer-actor Prashant Prakash in 2014, Crow is one of the first to bring this form of storytelling to India. Crow are the makers of The Floating Market (2016), The Hungry Hearts Supper Club (2017) and A Tall Tale (2017).
Crow HQ Okhla, D-149 Okhla, Phase 3
Crow HQ Okhla, D-149 Okhla, Phase 3
GET DIRECTIONS
The Emporium at the Edge of Certainty
Multiple Shows | 6PM & 7:30PM
Crow HQ Okhla, D-149 Okhla, Phase 3, Delhi
Invite your friends
and enjoy a shared experience