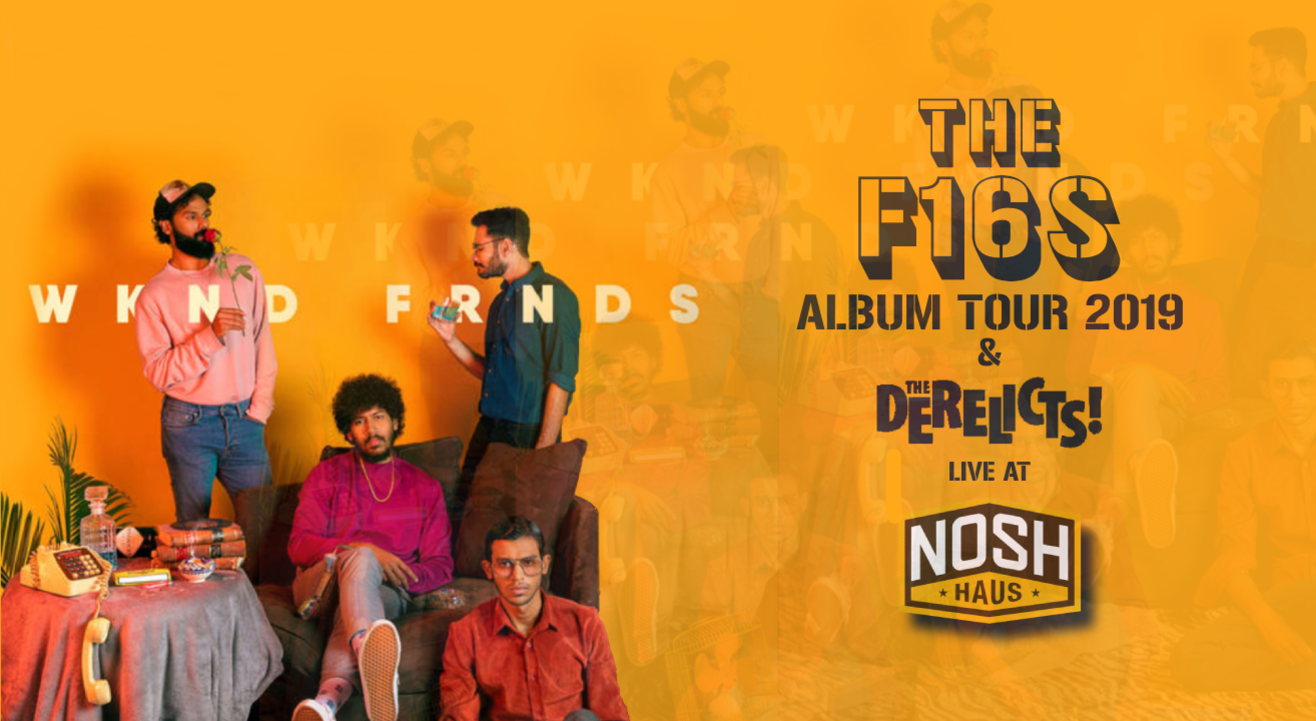 Music
The F16s WKND FRNDS Album Launch Tour 2019 with The Derelicts!
About
Chennai based Alt-Pop band, The F16s performing live at Nosh Haus, Kochi, as a part of the launch tour of their new EP "WKND FRNDS" along with The Derelicts!
The F16s
The F16s are an alternative band hailing from the port city of Chennai, India. Their music, echoes the melancholia that grapples with the mundanity of everyday life in a town that serves very little outside of itself. Lyrically driven, the 'sound' of the band rests in an arc that also includes acts like LCD Soundsystem, Julian Casablancas and the Voidz and The Horrors; beat-driven yet innately melodic. The band already has a couple of prior releases attached to them: a 6-song EP released in 2013 called Kaleidoscope, and a 2-track recorded in Brooklyn, New York called Nobody's Gonna Wait.
Their debut full-length album, Triggerpunkte; a nine-song offering that was recorded in Chennai and Mumbai for over a year. Both lyrically and musically, the album meanders between reverb-heavy sentimentality and fast-paced assault. Triggerpunkte is a reaction to the bands previous efforts where we explore the bands identity. the outcome is a populist, experimental, healing, agitating, straightforward, highly polished, and multi-layered album.
Currently, a 4-track EP titled "WKND FRNDS" is out now on all streaming platforms.
The Derelicts!
They play a unique blend of 80s inspired disco with modern pop, alternative & rock. The initial line up was formed in October 2016 with Ashwin Nath, Sreekanth Bhasi & Sabarish Menon Jamming to programmed drums to compose songs. After finishing 6 songs, the band decided to play a live set at "The Kraken Fest 2016". With the addition of Biju Karthik to the line up, the band was complete and writing process took a new turn from there into building a new sound for itself. After completing some new tracks & reworking some old ones, the band decided to enter the studio in late JUNE 2017. After a long process of recording music & maintaining a live feel in the recorded tracks. The band released its debut EP in 2018 through artist collective 'overfeed records' to much critical acclaim. The EP was featured on Bandcamp's new and notable, in multiple rolling stones lists, various international magazines like earbuddy, atwood, vice India etc. The band was apple music's artist of the month July 2018. The band is currently playing shows all round south India.
Venue
NOSH HAUS
Thomas Aykareth Square, Opposite Metro Pillar No 106, Companypadi, Thaikkatukara P. O, Companypadi Junction, Choornikkara, Aluva, Kerala 683106
GET DIRECTIONS