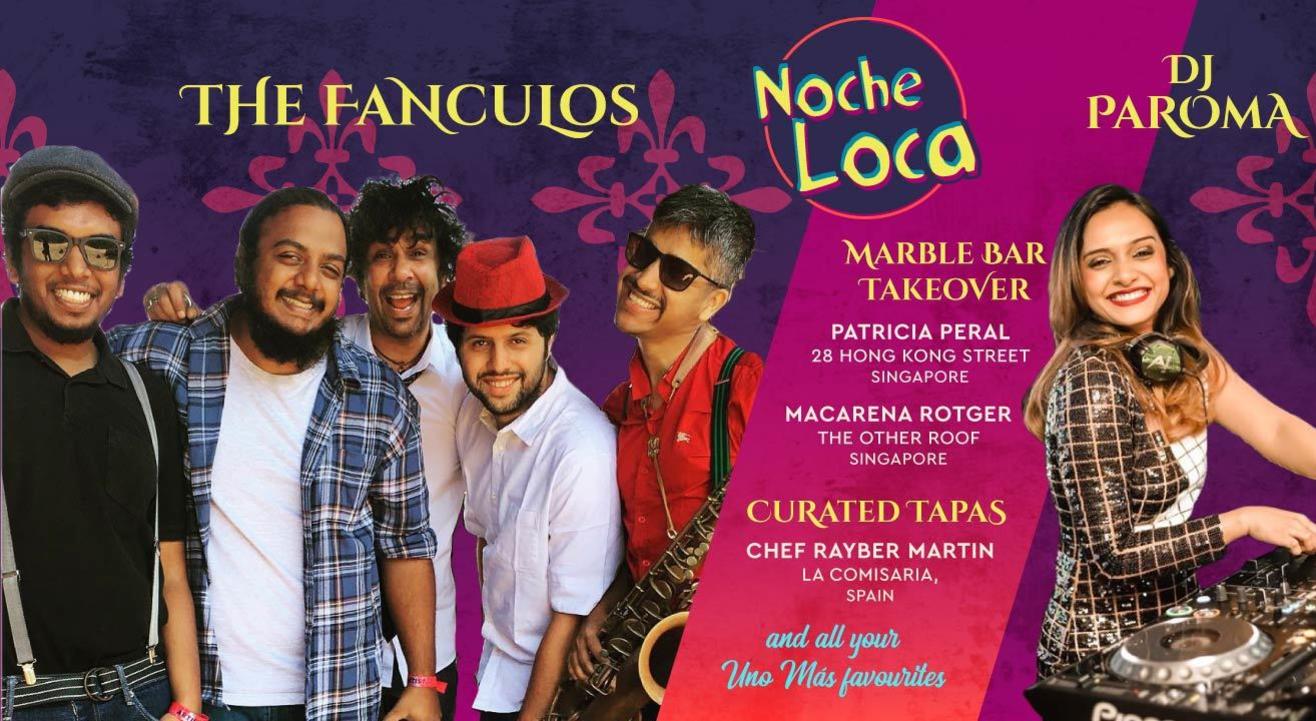 Music
The Fanculos & Dj Paroma at Noche Loca || Vamos A Fiesta! Uno Más turns One
Uno Más - Tapas. Bar. Kitchen, Mumbai
About
With the relaxed pace of Spanish life, it seems just like yesterday that we opened our doors with our first ¡Hola! Yet before you know it, Uno Más is bringing in its very FIRST birthday and we are intent to pull out all stops to celebrate! A three-day-long fiesta is on the cards and we cannot contain our excitement. Over the past year, Uno Más has grown in reputation and it's only onwards and upwards from here! We're throwing the biggest Anniversary Bash of the year and invite you to Fiesta like there is no Mañana!
The party of the year is here! Kicking off the festivities, we bring Noche Loca with a fête that will be the talk of the town! We take things up a couple of notches with a party for absolutely anyone and everyone who would like to drink to the birthday of Uno Más! Festivities' kick in with the exhilarating band The Fanculos taking you through the night followed by Mumbai's finest DJ Paroma directing all your dance moves! The night only gets better with International Mixologists Macarena Rotger from The Other Roof, Singapore and Patricia Lozano Peral of 28 HongKong Street, both on Asia's 50 Best Bars List 2019 taking over The Marble Bar. An incredible Tapas menu birthed from the collaboration of the kitchens of La Comisaria from Valencia, Spain will leave you saying "Uno Más" all night long!
Entry by RSVP only on a First Come First Serve Basis.
The Fanculos
This horn-fronted, five-piece powerband was dreamt up by musician Ramon Ibrahim. Ramon was heavily influenced at an early age by British SKA bands such as The Specials, The Beat, Madness, etc. and recently set about writing an original set based on his own interpretation of SKA and Reggae.
Their live set is a mixture of high energy Ska, Dub, Reggae, Funk and even more high-energy SKA! The main focus of this band is live performance, audience interaction, good times and just general fanculery and all set to blow the roof off the place at Uno Más' very first anniversary!
DJ Paroma
A complete clubbing soul, nightlife lover and bling freak from Mumbai India will be on the ones and twos and will have everybody dancing to her beats! To Paroma, the sense of rhythm and beats came straight from within naturally! Taking absolute pride in her passion she left her career as a cabin crew at a reputed airline to represent Indian DJ's and travel all over the world to play her music! Nightclubs, college and corporate gigs, she has conquered them all and has gained immense popularity through her work! DJ'ing and Paroma seem like they belong together just as Uno Más and delicious Tapas do and will have you on your feet till the wee hours of the night!
Venue
Uno Más - Tapas. Bar. Kitchen, Mumbai
Next to MGL gas station Inspire BKC Restaurant, no. 2, Bandra Kurla Complex Road, G Block BKC, Patthar Nagar, Bandra Kurla Complex, Bandra East, Mumbai, Maharashtra 400051
GET DIRECTIONS