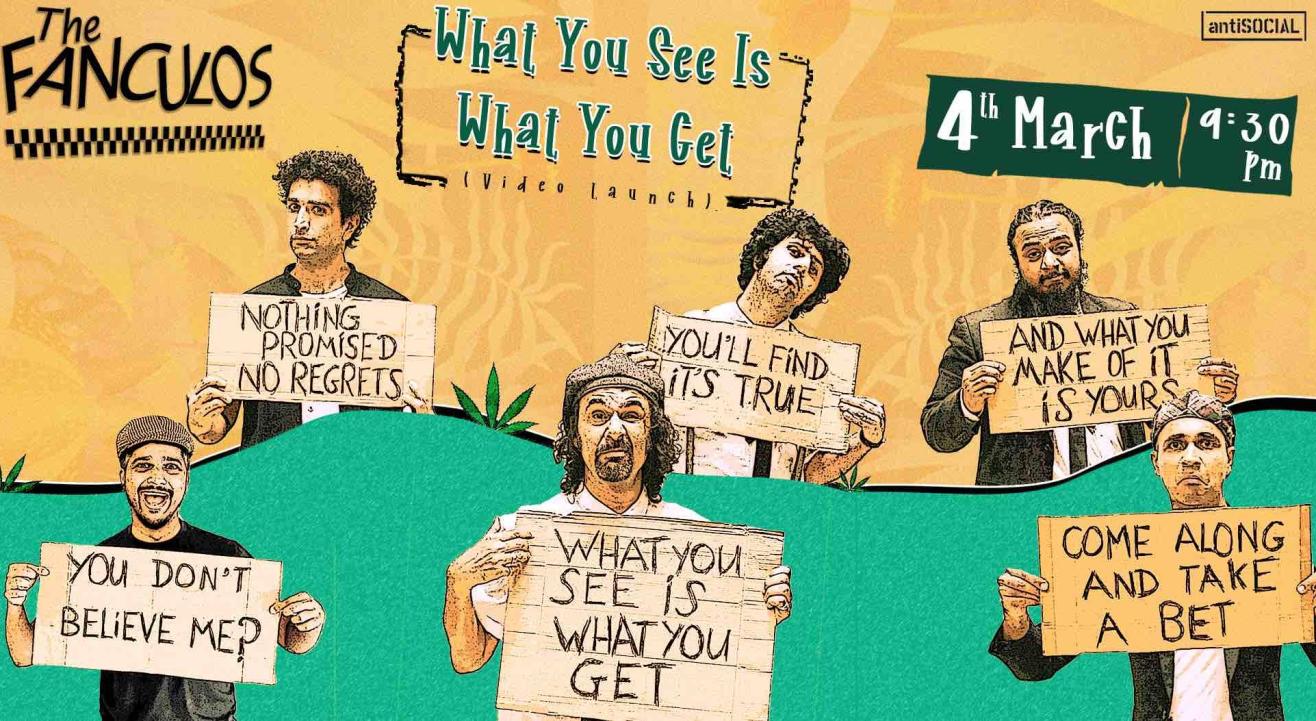 Music
The Fanculos - What You See Is What You Get (Video Launch)
March 4 | 9PM - March 5 | 1AM
About
What You See Is What You Get is the first music video by The Fanculos from The Fanculos Album. The boys are featured in all their wonderful, whiffy, gritty, warts-and-all glory! There is much high energy jumping around, silliness and general fanculery a must-watch for all the family! What you see really is what you get!
About The Fanculos
This 5/6-piece band was formed of local musicians by Italian/Guyanese, British-born musician Ramon Ibrahim who settled in Mumbai in 2011. Ramon was heavily influenced at an early age by British SKA bands such as The Specials, The Beat, Madness, etc. and set about writing an original set based on his own interpretation of SKA, reggae and other cool things.
Since starting in 2016, band has performed at festivals like Sula Fest, Nariyal Paani, Under 25, Kwala (Reunion Island), Covelong Point Surf, Beer Circus, Echoes of Earth, Wonderflip, Goa Sunsplash, Vh1 Supersonic and Beantown Backyard festival. They are known for their high-energy, extremely entertaining and very dancable live performances.
The Fanculos have released their first full length album - "The Fanculos Album" currently available on all platforms. The album is a collection of 9 songs varying in lyrical content from racist episodes in Ramon's childhood (Playground) to sarcastic stabs at the Indian economy (Seriously Good Skanking).
It was lovingly performed and recorded at a temporary farmhouse-studio just outside Mumbai over a week last March 2018.
The Fanculos are-
Ramon Ibrahim
Apurv Isaac
Jehangir Jehangir
Ryan Sadri
Saurabh Suman
Rhys Sebastian Dsouza
Venue
antiSOCIAL Mumbai
CS #242, Near Viva Centre, Mathuradas Mill Compund, Lower Parel West, Mumbai
GET DIRECTIONS