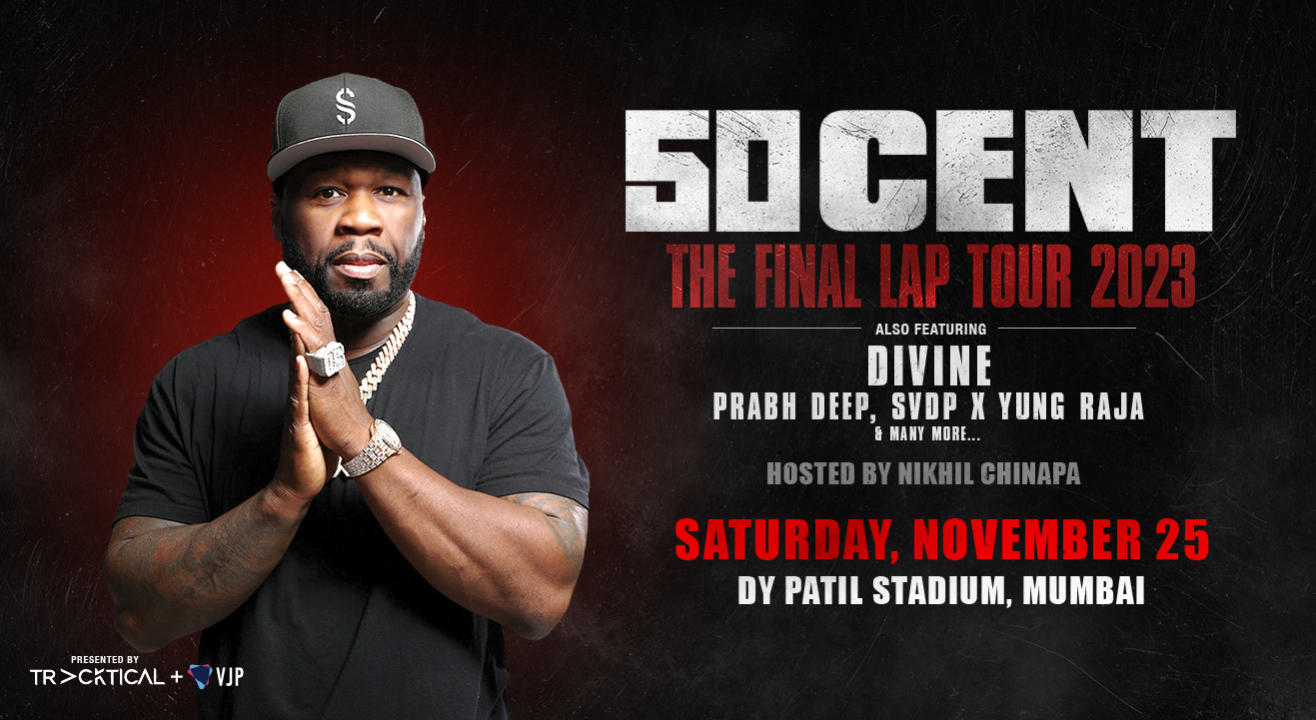 50 Cent | The Final Lap Tour 2023 | Mumbai
November 25 | Gates Open 3:30PM Onwards
D Y Patil Sports Stadium, Navi Mumbai
Invite your friends
and enjoy a shared experience
50 Cent | The Final Lap Tour 2023 | Mumbai
November 25 | Gates Open 3:30PM Onwards
D Y Patil Sports Stadium, Navi Mumbai
Invite your friends
and enjoy a shared experience
Invite your friends
and enjoy a shared experience
NOTE:
Early Access tickets are now SOLD OUT!
Exclusive Offline Ticketing Partner
LiveFiesta
9833070733 / 9619272554
ABOUT
The Final Lap Tour 2023 will feature rap royalty 50 Cent, performing chart-topping hits alongside rare tracks. Renowned for his record-breaking debut album, 'Get Rich or Die Tryin',' 50 Cent has sold over 30 million albums globally and achieved success in multiple fields. Witness a historic event in India's hip-hop scene as Tracktical Concerts presents 50 Cent's global farewell tour in Mumbai before his retirement from music.
Amping up the adrenaline in an epic build up to 50 Cent's performance is Mumbai's very own - DIVINE celebrated for his ability to capture the hustle and hum of Mumbai's street life through raw, authentic and fiery bars. With hits like '3:59 AM', the chart-topping 'Mere Gully Mein' and most recently 'Baazigar', DIVINE has enthralled not just his devoted fan base but the whole world.
Joining him is Prabh Deep, who has carved a space for himself as an avant-garde creative visionary in India's cultural landscape. Consistently reimagining and reinventing his sound, Prabh's music shifts away from the mainstream styles commonly associated with Indian independent music - with projects such as 'Class-Sikh', 'K I N G', 'Bhram' and 'Tabia' receiving critical acclaim for their intense and mature themes.
Also part of the pulsating mix is SVDP, a.k.a. Shan Vincent De Paul from Toronto, an acclaimed and dynamic musician making waves with his unique sound and accolades and wins at the Independent Music Awards and Toronto Independent Music Awards in the Best Rap/Hip-Hop category.
Completing the powerhouse pack is breakthrough rapper Yung Raja, who has been dubbed as Southeast Asia's next avant-garde hip-hop artist, known for the tasteful unification of English and Tamil culture in his lyrics with hit numbers such as 'Mustafa', 'Mad Blessings' and 'The Dance Song'.
FAQ's
Q. When & where is the concert?
A. 50 Cent The Final Lap Tour 2023 India will take place on November 25, 2023 at DY Patil Stadium, Mumbai. Venue layout will be shared closer to the event date.
Q. What time does the event start and end ?
A. Gates open 3:30 PM
Concert ends 10:00 PM*
Concert schedule with artist/stage timings will be announced closer to the event date.
*Indicative timings only. Subject to change, basis final plans.
Q. Can I transfer my ticket to someone else?
A. Sorry, you won't be able to transfer your tickets. So plan ahead and you'll be fine.
Q. Can I cancel my ticket?
A. Sorry, no backsies here. We will not be able to cancel/refund tickets. In case of queries, write to us here help@insider.in
Q. Can I switch my ticket to a different category?
A. Yes, tickets can be upgraded. Write to us at help@insider.in
Q. When will I receive my wristband?
A. Few spots across Mumbai will be open 2-3 days before the event to pick up wristbands. Follow us on social media for such updates. You can also collect your band at the box office before you enter the event.
Q. What if I lose my band?
A. Wristbands that are lost or misplaced before or during the event will not be replaced. You will not be allowed to re-enter the concert without your wristband. So please take very good care & keep it on throughout.
Q. Do I have to bring a printout of my event ticket?
A. We always strive to be as green as we can be, so the folks at the box office are happy to see your ticket on your mobile phone. Be warned that there is a limited mobile network at the venue, so remember to save the ticket on your phone. You can also show the SMS sent by Paytm Insider at the time of ticket purchase.
Q. Will the tickets be available for sale on any other platform?
A. The official tickets will be available for sale on Insider.in and official offline ticketing partner is LiveFiesta (9821261553 / 9833070733 / 9619272554). We strongly recommend you not to purchase them via any third party to avoid the possibility of counterfeit tickets.
Q. Can I buy tickets at the event?
A. Yes, the Box Office will be open for onground sales. However, we suggest you buy sooner than later and grab your preferred category.
Q. What kind of ID do I need?
A. To enter the concert, you must present identification. So please carry a valid, government-issued ID, such as a passport, Aadhar Card, PAN Card, or driver's license. Letters from your grandma claiming how old you are won't do, sorry :(
Q. How do I contact the concert organizers ?
A. Follow www.tracktical.com / @tracktical on socials for updates!
Email us on the for:
General/ticketing queries: help@insider.in
Sponsorship inquiries : MARKETING@TRACKTICAL.COM
Press & Editorial inquiries : CONTACT@TRACKTICAL.COM
Corporate bookings : CONTACT@TRACKTICAL.COM
Q. Will there be F&B available at the venue?
A. Yes, food and beverages will both be available for purchase at the venue. Outside food or beverages will not be permitted.
Q. Is smoking allowed at the show?
A. Smoking is not allowed at the venue. There will be signages at the event, in case designated zones will be made available. Patrons are encouraged to dispose of their cigarette waste responsibly into the bins/pouches. This is a drug-free concert. Anyone found with any illegal substances will be removed immediately.
Q. Is this a seated show?
A. The event is a walk-in standing concert experience. Seating options will be available in the stadium stands category i.e., GA only.
Q. Is the venue air-conditioned?
A. No, this is an open-air concert event.
Q. Is there parking available at the venue
A. General parking is currently not available at the venue. Parking perks on special category tickets are mentioned in the ticket descriptions. We highly encourage usage of public transport and more related information will be shared closer to the event.
Q. What can I bring with me to the concert?
A. Your friends and family, good vibes, and everything in between.
Q. Do you have medical assistance on the ground?
A. Yes, there will be on-ground medical professionals as well as an ambulance on standby.
While we do not provide wheelchairs for our concert attendees, one will be provided in case of an on-ground medical emergency. However, the event is wheelchair-friendly and our crew will be happy to assist anyone with special needs. For more queries, write to us help@insider.in
Q. Does the venue have ATMs?
A. No! Having said that, we encourage cash & digital wallet transactions at the coupon counters for food & bar.
Q. Is there an official hashtag?
A. Yes! Just like no celebration is complete without one, we have an official hashtag too. Use #50CentIndia and #TheFinalLapTour on Twitter, Instagram, and Facebook, and you might just get a shoutout from us!
DIVINE



PRABH DEEP



SVDP



YUNG RAJA



D Y Patil Sports Stadium
Sector 7, Nerul, Navi Mumbai, Maharashtra 400706, India
GET DIRECTIONS
50 Cent | The Final Lap Tour 2023 | Mumbai
November 25 | Gates Open 3:30PM Onwards
D Y Patil Sports Stadium, Navi Mumbai
Invite your friends
and enjoy a shared experience